Spaceflight Now +





Premium video content for our Spaceflight Now Plus subscribers.

X-43A launched
NASA's experimental X-43A hypersonic research aircraft is successfully launched by a Pegasus rocket off the coast of California on March 27. (2min 40sec file)
Play video
More clips

Latest Mars rover news
The latest pictures and science results from the twin Mars Exploration Rovers Spirit and Opportunity are presented at this briefing on Friday. (50min 02sec file)
Play video
More clips

Mars water discovery
Scientists present evidence from the Mars rover Opportunity during this Tuesday news conference that shows the landing site was once the bottom of a salty sea. (76min 48sec file)
Play video
MP3 audio download

Armstrong speech
Neil Armstrong accepts the Rotary National Space Trophy for career contributions in aerospace. He says President Bush's plan to return to the Moon is economically feasible and has "substantial merit and promise." (12min 10sec)
Play video

Become a subscriber
More video




NewsAlert





Sign up for our NewsAlert service and have the latest news in astronomy and space e-mailed direct to your desktop.


Privacy note: your e-mail address will not be used for any other purpose.





Hunt for extrasolar Earth-like planets intensifies
ROYAL ASTRONOMICAL SOCIETY NEWS RELEASE
Posted: April 1, 2004


An international group of astronomers led by Dr. Jean-Philippe Beaulieu (Institut d'Astrophysique de Paris) and Dr. Martin Dominik (University of St Andrews) are about to continue their hunt for extrasolar planets with an enhanced world-wide telescope network in May this year.

They are hoping to secure the firm evidence for the existence of Earth-mass planets orbiting stars other than the Sun, which has so far eluded astronomers. Dr Dominik will describe the project, known as PLANET (Probing Lensing Anomalies NETwork), at the Royal Astronomical Society National Astronomy Meeting at the Open University on Thursday.

Recent scientific research shows that the existence of life on other worlds is a realistic scenario. By measuring the periodic variation of the radial velocity of stars induced by an orbiting planet, astronomers have so far detected over 100 planets but all of them are large, similar to Jupiter and Saturn in our solar system, and environmental conditions suitable for life do not exist on such gas giant planets.

The only technique currently capable of detecting planets similar to Earth makes use of the phenomenon called "galactic microlensing." In a microlensing event, a star temporarily appears brighter than it really is because another astronomical body is passing between it and observers on Earth; the gravitational field of the intervening object affects the starlight in a way similar to a lens.

If the intervening object is a star, it causes a characteristic signal that lasts about a month. Any planets orbiting this star can produce significant deviations in the signal, lasting days for giant planets down to hours for Earth-mass planets. The probability of this happening is between 1.5% and 20% depending on the mass of the planet.

The PLANET campaign performs nearly-continuous round-the-clock high-precision monitoring of ongoing microlensing events, sampling the lightcurve at intervals that may be as little as few minutes with a world-wide network of telescopes. The backbone of the network is formed by the Danish 1.54-m telescope at the European Southern Observatory at La Silla (Chile), the Canopus Observatory 1.0-m telescope (Tasmania, Australia), the Perth 0.6-m telescope (Western Australia), and the Boyden 1.5-m telescope (South Africa), which is supplemented by some other telescopes.

PLANET will share information and some resources with the microlensing campaign performed with RoboNet, a UK robotic telescope network comprised of the Liverpool 2.0-m (Canary Islands, Spain) and the two Faulkes 2.0-m telescopes (Hawaii and Australia).

From the 500-700 microlensing events announced annually by the survey campaigns OGLE and MOA that monitor tens of millions of stars on a daily basis, PLANET focuses on up to 75 events that are selected as most suitable candidates for the detection of planets around the intervening lens star. "If 20% of these stars are surrounded by planets, 10-15 giant planets and 1 or 2 terrestrial planets are expected to reveal their existence over three years of operation", Dr. Dominik said.

While PLANET might detect a second Earth, its typical expected distance would be 20,000 light years - much too far to think of establishing any contact!
John Glenn Mission Patch
Free shipping to U.S. addresses!

The historic first orbital flight by an American is marked by this commemorative patch for John Glenn and Friendship 7.

U.S. STORE
WORLDWIDE STORE
Final Shuttle Mission Patch
Free shipping to U.S. addresses!

The crew emblem for the final space shuttle mission is available in our store. Get this piece of history!

U.S. STORE
WORLDWIDE STORE
Celebrate the shuttle program
Free shipping to U.S. addresses!

This special commemorative patch marks the retirement of NASA's Space Shuttle Program. Available in our store!

U.S. STORE
WORLDWIDE STORE
Anniversary Shuttle Patch
Free shipping to U.S. addresses!
This embroidered patch commemorates the 30th anniversary of the Space Shuttle Program. The design features the space shuttle Columbia's historic maiden flight of April 12, 1981.

U.S. STORE
WORLDWIDE STORE
Mercury anniversary
Free shipping to U.S. addresses!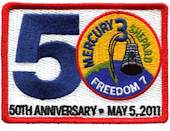 Celebrate the 50th anniversary of Alan Shephard's historic Mercury mission with this collectors' item, the official commemorative embroidered patch.

U.S. STORE
WORLDWIDE STORE
Fallen Heroes Patch Collection

The official patches from Apollo 1, the shuttle Challenger and Columbia crews are available in the store.

U.S. STORE
WORLDWIDE STORE
Mars rover collectible patch
Free shipping to U.S. addresses!

This commemorative patch celebrates NASA's Curiosity rover mission of the Mars Science Laboratory in search of clues whether the Red Planet was once hospitable to life.

U.S. STORE
WORLDWIDE STORE
Columbia Report
The official accident investigation report into the loss of the space shuttle Columbia and its crew of seven. Includes CD-ROM.

Choose your store:
U.S.