Spaceflight Now +





Premium video content for our Spaceflight Now Plus subscribers.

Friday's rover briefing
The latest pictures and science results from the twin Mars Exploration Rovers Spirit and Opportunity are presented at this briefing on Friday. (50min 02sec file)
Play video

Columbia Hills
Spirit looks forward to the Columbia Hills in the distance where the rover is headed in this imagery narrated by mission manager Matt Wallace. (50sec file)
Play video

Spirit extends arm
Spirit's science instrument arm is employed to examine a light-colored rock as explained by Ray Arvidson, deputy principal investigator. (1min 35sec file)
Play video

Plan for Spirit
The plan for Spirit trek to the hills is described by science team member Larry Crumpler. (2min 37sec file)
Play video

Panorama in crater
A panorama of Eagle Crater where the Opportunity landed and has explored for the past two months is presented with narration by mission manager Matt Wallace. (2min 29sec file)
Play video

Pan outside crater
Following its exit from Eagle Crater, Opportunity snapped this panorama looking back at the shallow crater in the flat plains of Meridiani Planum as presented with narration by mission manager Matt Wallace. (40sec file)
Play video

Become a subscriber
More video





New phase of exploration beginning for Mars rovers
MISSION CONTROL REPORT
Posted: March 26, 2004


NASA's Spirit will begin trekking toward hills on its eastern horizon in the next few days, entering a new phase of the rover's exploration of Mars just before its prime three-month mission ends and its extended mission begins, rover team members said today.

This image shows the rocky road the Spirit rover will travel to reach its ultimate destination - the Columbia Hills. The hills, seen here in the background, are located 2.3 kilometers (1.4 miles) away in the southeast direction. Credit: NASA/JPL
Download a larger image here



The range of peaks named "Columbia Hills" is an island of older rock surrounded by a younger volcanic layer which surfaces the plain that Spirit has been crossing, said Dr. Ray Arvidson of Washington University, St. Louis. He is deputy principal investigator for the science payload on both Spirit and its twin rover, Opportunity.

Older rocks may hold evidence of an ancient body of water thought to have once filled Gusev Crater. Spirit landed inside that 150-kilometer-wide (95-mile-wide) crater 12 weeks ago, and the rover's main task is to find geological clues about whether the region ever had a wet environment. Spirit has spent much of its time since landing driving toward a 200-meter-wide (660-foot-wide) crater nicknamed "Bonneville." Rover scientists had anticipated that the impact that excavated Bonneville might have ejected rocks old enough to hold clues about whether Gusev held water.

"The ejecta from Bonneville didn't get excavated from deep enough to get below the volcanic layer," Arvidson said. So, after finishing an examination of a light-colored rock on the crater's rim, Spirit will head for the hills.

NASA's Jet Propulsion Laboratory, Pasadena, Calif., built each of the two Mars Exploration Rovers for a prime mission of 90 martian days of operation. Both rovers are healthy and could operate for several additional months, said JPL's Matt Wallace, mission manager. A martian day, or sol, lasts about 40 minutes longer than an Earth day, and Spirit's 82nd sol began on Friday. "Spirit will start driving toward the hills on sol 84 or a little after that," Wallace said.

Scientists have examined the terrain between Bonneville Crater and Columbia Hills in photographs taken from orbit by NASA's Mars Global Surveyor and found several features to inspect along the route. These include some small craters and a dark streak apparently left by a whirlwind that removed dust.

This map shows thSpirit's past and future routes across the Gusev Crater floor. The solid red line shows where the rover has traveled so far, from lander to the rim of the large crater dubbed "Bonneville." The dotted red line indicates proposed future paths to the Columbia Hills. Credit: NASA/JPL/MSSS/New Mexico Museum of Natural History and Science
Download a larger image here



Science team member Dr. Larry Crumpler of New Mexico Museum of Natural History, Albuquerque, said, "It won't be a continuous drive, like a bad road trip. We'll actually get out and do some touristy things along the way."

With stops for "traverse science" along the way, the trip of about 2.3 kilometers (1.3 miles) to the near edge of Columbia Hills will probably take 60 to 90 sols, Arvidson said.

Beginning next week and continuing into the extended mission, Spirit's controllers will switch from working on Mars time - with schedules set to coincide with day or night at Gusev crater - to an Earth time schedule easier to maintain for the long haul. The Opportunity team will shift the following week, Wallace said.

Opportunity is also at the start of a trek. This week, it climbed out of the small impact crater informally named "Eagle Crater" that it had been examining since it landed nine weeks ago. Rocks in an outcrop within the crater have provided evidence that the site was once under flowing water. In coming weeks, Opportunity will drive about 750 meters (nearly half a mile) to a crater nicknamed "Endurance," where scientists hope to find and examine a thicker set of bedrock layers to learn more about the duration of the region's wet history.

Before leaving Eagle Crater, Opportunity inspected the soil at five sites in the opposite half of the crater from the outcrop. The target patches show a diversity of particle sizes and shapes on the surface. "We're seeing the effects of differences in wind speed," said Bethany Ehlmann, a science team collaborator from the University of Washington, St. Louis. In some patches more than others, winds have removed small particles and left large particles behind, she said.

Spherical gray particles that have been fancifully called blueberries are plentiful in some soil patches higher on the inner slope of the crater than near the center of the crater. A reading by Opportunity's Moessbauer spectrometer on one of the higher patches found the highest concentration of hematite seen so far in the mission, reported Dr. Goestar Klingelhoefer of the University of Mainz, Germany. He is the lead scientist for that instrument, which is used for identifying iron-containing minerals. The type of hematite Opportunity has been finding usually forms on Earth under wet environmental conditions.

JPL, a division of the California Institute of Technology in Pasadena, manages the Mars Exploration Rover project for NASA's Office of Space Science, Washington, D.C.
Columbia Report
A reproduction of the official accident investigation report into the loss of the space shuttle Columbia and its crew of seven.

Choose your store:
U.S. - U.K. - E.U. - Worldwide
Mars Panorama

DISCOUNTED! This 360 degree image was taken by the Mars Pathfinder, which landed on the Red Planet in July 1997. The Sojourner Rover is visible in the image.

Choose your store:
U.S.
Apollo 11 Mission Report
Apollo 11 - The NASA Mission Reports Vol. 3 is the first comprehensive study of man's first mission to another world is revealed in all of its startling complexity. Includes DVD!

Choose your store:
U.S. - U.K. - E.U. - Worldwide
Rocket DVD
If you've ever watched a launch from Kennedy Space Center, Cape Canaveral, Vandenberg Air Force Base or even Kodiak Island Alaska, there's no better way to describe what you witnessed than with this DVD.

Choose your store:
U.S. - U.K. - E.U. - Worldwide
Gemini 7
Gemini 7: The NASA Mission Reports covers this 14-day mission by Borman and Lovell as they demonstrated some of the more essential facts of space flight. Includes CD-ROM.

Choose your store:
U.S. - U.K. - E.U. - Worldwide
Apollo patches
The Apollo Patch Collection: Includes all 12 Apollo mission patches plus the Apollo Program Patch. Save over 20% off the Individual price.

Choose your store:
U.S. - U.K. - E.U. - Worldwide
Mars Rover mission patch
A mission patch featuring NASA's Mars Exploration Rover is available from our online.

Choose your store:
U.S. - U.K. - E.U. - Worldwide
Apollo 9 DVD
On the road to the moon, the mission of Apollo 9 stands as an important gateway in experience and procedures. This 2-DVD collection presents the crucial mission on the voyage to the moon.

Choose your store:
U.S. - U.K. - E.U. - Worldwide
Gemini 12
Gemini 12: The NASA Mission Reports covers the voyage of James Lovell and Buzz Aldrin that capped the Gemini program's efforts to prove the technologies and techniques that would be needed for the Apollo Moon landings. Includes CD-ROM.

Choose your store:
U.S. - U.K. - E.U. - Worldwide
Final Shuttle Mission Patch
Free shipping to U.S. addresses!

The crew emblem for the final space shuttle mission is now available in our store. Get this piece of history!

U.S. STORE
WORLDWIDE STORE
STS-134 Patch
Free shipping to U.S. addresses!

The final planned flight of space shuttle Endeavour is symbolized in the official embroidered crew patch for STS-134. Available in our store!

U.S. STORE
WORLDWIDE STORE
Ares 1-X Patch

The official embroidered patch for the Ares 1-X rocket test flight, is available for purchase.

U.S. STORE
WORLDWIDE STORE
Apollo Collage

This beautiful one piece set features the Apollo program emblem surrounded by the individual mission logos.

U.S. STORE
WORLDWIDE STORE
Project Orion

The Orion crew exploration vehicle is NASA's first new human spacecraft developed since the space shuttle a quarter-century earlier. The capsule is one of the key elements of returning astronauts to the Moon.

U.S. STORE
Fallen Heroes Patch Collection

The official patches from Apollo 1, the shuttle Challenger and Columbia crews are available in the store.

U.S. STORE
WORLDWIDE STORE
New Station
Crew Patch
Free shipping to U.S. addresses!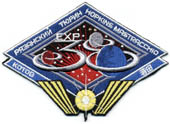 The Expedition 38 embroidered crew patch for the International Space Station is now available in our store!

U.S. STORE
WORLDWIDE STORE