Space shuttle Enterprise lands in the Big Apple
BY JUSTIN RAY
SPACEFLIGHT NOW
Posted: April 27, 2012

The trailblazing prototype for the space shuttle fleet, the Enterprise, was hauled today atop a modified Boeing 747 to New York City where it will become a new exhibit aboard the Intrepid Sea, Air & Space Museum, a vintage aircraft carrier turned museum anchored in the Hudson River.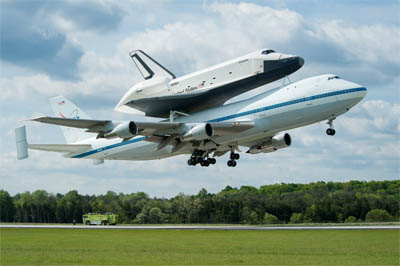 Credit: NASA/Smithsonian Institution/Mark Avino



With her aerodynamic tailcone still attached, Enterprise will be set within a protective bubble on the aircraft carrier's flight deck starting this summer, a unique artifact of the space program to display in the nation's largest city.

Nearly one million people visit the Intrepid each year, but museum officials expect the addition of Enterprise will boost the attendance to two million annually. It's that high-level of traffic and making the Enterprise visible to large numbers of people that helped make the popular museum a winner in the shuttle sweepstakes.

Enterprise, which performed early shuttle approach and landing tests in the 1970s, left the National Air and Space Museum's Steven F. Udvar-Hazy Center outside Washington, D.C. last Thursday, vacating the display spot where it had been an exhibit since that facility opened in December 2003.

The most-flown reusable spaceship in history, shuttle Discovery, took Enterprise's Smithsonian role, freeing Enterprise to relocate to New York City as part of NASA's distribution of retired space shuttles.

The process began last Tuesday when Discovery, a shuttle with 39 spaceflights to its credit, departed her homeport at the Kennedy Space Center in Florida atop the modified 747 carrier aircraft for the trek up the eastern seaboard to Washington's Dulles International Airport.

Once there, technicians used a mobile crane system to offload Discovery for handover to the Smithsonian. Enterprise then got hoisted atop the same aircraft last Friday to depart Washington this morning bound for John F. Kennedy International Airport in New York at 9:39 a.m. EDT today.

After a dazzling low-altitude flyover of the New York skyline and landmarks, the Shuttle Carrier Aircraft, under the controls of pilot Bill Rieke, touched down at 11:22 a.m. EDT.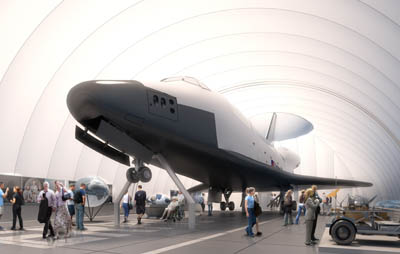 This illustration by the Museum shows Enterprise aboard the Intrepid.



But the 747 and Enterprise will remain coupled together for a while, sitting patiently within a large tent-like de-icing facility at the airport while the mobile crane contraption is moved from Northern Virginia to JFK and reassembled.

Once plucked off the jumbo jet, Enterprise will temporary storage at the airport before taking a two-day, 30-mile cruise starting June 4 aboard a barge, sailing past the Statue of Liberty and lower Manhattan on the route to reach the Intrepid museum complex located at Pier 86 on the Hudson River.

Another crane will do the lifting June 6 to hoist Enterprise onto the Intrepid.

Intrepid officials are designing a protective, climate-controlled covering to shield Enterprise from the elements while it sits aboard the historic military aircraft carrier, a ship originally commissioned in 1943 and served in World War II. Construction of that pavilion begins June 7 in preparation for opening the shuttle exhibit to the public in mid-July.

Enterprise was used in 1977 for approach and landing test flights at Edwards Air Force Base in California, making five free-flights with two alternating crews to demonstrate a shuttle's ability to perform a powerless touchdown on a runway.

The craft was utilized in space shuttle vehicle vibration tests with an attached external fuel tank and solid rocket boosters at Marshall Space Flight Center in Alabama and for launch pad fit checks at Kennedy Space Center in Florida and Vandenberg Air Force Base in California.

The Intrepid Sea, Air & Space Museum. Credit: NASA/Bill Ingalls



In 1985, NASA transferred Enterprise to the Smithsonian Institution's National Air and Space Museum. The orbiter was parked in a storage hangar at Dulles International Airport until late 2003 when the museum's new annex was completed.

Also in 2003, several of Enterprise's wing-leading edge panels were removed while engineers conducted foam impact testing during the Columbia accident investigation.

Enterprise, built in 1976 as the first shuttle, was only a test vehicle. It was never outfitted to actually fly in space.

NASA formally signed over the ownership title of Enterprise to the Intrepid Sea, Air & Space Museum on Nov. 22.

The other two orbiters -- Atlantis and Endeavour -- are slated for display at the Kennedy Space Center's Visitor Complex and the California Science Center in Los Angeles, respectively.





Venture back in history to relive Enterprise's moments
Spaceflight Now+Plus viewers can travel back to the late 1970s and mid 1980s right now and watch fun footage of space shuttle Enterprise, NASA's prototype orbiter, during its landing tests at Edwards Air Force Base in California, assembly and pad checks at Kennedy Space Center in Florida, then demonstrations for the West Coast launch site at Vandenberg Air Force Base, California.


Additional coverage for subscribers:


VIDEO: "THE SPACE SHUTTLE: TRANSPORT FOR TOMORROW" PLAY


VIDEO: ENTERPRISE TAKES PIGGYBACK TEST-RIDE ATOP 747 PLAY


VIDEO: THE SHUTTLE'S FIRST APPROACH AND LANDING TEST PLAY


VIDEO: HOISTING ENTERPRISE IN VEHICLE ASSEMBLY BUILDING PLAY


VIDEO: SHUTTLE ENTERPRISE ROLLS TO LAUNCH PAD 39A PLAY


VIDEO: ENTERPRISE FINISHES LAUNCH PAD FIT-CHECKS PLAY


VIDEO: PACKING UP ENTERPRISE TO LEAVE FLORIDA PLAY


VIDEO: TESTING AT VANDENBERG'S SHUTTLE PAD PLAY


VIDEO: THE SATURN 5 AND ENTERPRISE PLAY


SUBSCRIBE NOW