Air Force's mini space shuttle prepares for landing
BY JUSTIN RAY
SPACEFLIGHT NOW
Posted: May 30, 2012

After 15 months circling the planet on its clandestine military mission, the Pentagon's miniature space shuttle will be coming back to Earth for a pinpoint touchdown at Vandenberg Air Force Base in the next couple of weeks.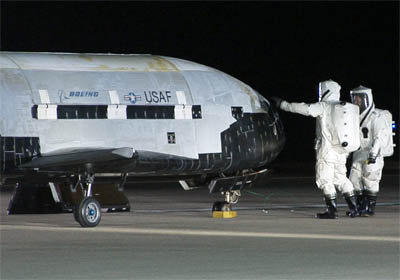 File image of first X-37B spaceplane on the runway after landing at Vandenberg Air Force Base in 2010. Credit: Air Force



The base, located about 150 miles northwest of Los Angeles, announced Wednesday that preparations are underway to receive the second reusable spaceplane in the "the early- to mid-June timeframe."

The exact landing date and time "will depend on technical and weather considerations," the base said in a statement to reporters.

The Orbital Test Vehicle will use Vandenberg's three-mile-long concrete runway once envisioned to support manned space shuttle landings from polar-orbiting military flights.

"The men and women of Team Vandenberg are ready to execute safe landing operations anytime and at a moment's notice," said Col. Nina Armagno, 30th Space Wing commander.

Operating on a sophisticated autopilot and GPS navigation, the OTV will fire its propulsion system to brake from orbit and plunge through the atmosphere over the Pacific Ocean towards the Air Force installation for a tire-smoking touchdown.

"Space professionals from the 30th Space Wing will monitor the de-orbit and landing of the Air Force's X-37B Orbital Test Vehicle mission, called OTV 2," Vandenberg's statement said.

The base said its crews have conducted extensive, periodic training in preparation for landing.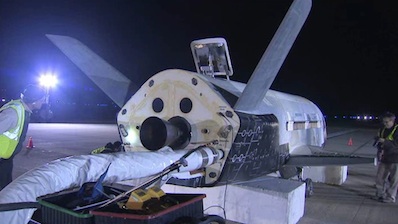 Photo of the first X-37B spaceplane on the runway after landing at Vandenberg Air Force Base in 2010. Credit: Boeing



Launched atop an Atlas 5 rocket from Cape Canaveral on March 5, 2011, the winged craft has been operating in low-Earth-orbit carrying out a mission of unknown purpose. The military considers the payload classified.

Its pickup truck-size payload bay could be filled with experimental equipment being exposed to the harsh environment of space for proof testing or the cargo hold could contain operational instruments for reconnaissance.

"Although I can't talk about mission specifics, suffice it to say this mission has been a spectacular success," General William L. Shelton, commander of Air Force Space Command, said in a recent speech.

Built by Boeing's Phantom Works division, the spaceplane is 29 feet long with a wing span of 14 feet. It can weigh up to 11,000 pounds fueled for launch. The in-space design life is 270 days, but good performance on this mission enabled ground controllers to keep it aloft significantly longer.

Hobbyist satellite trackers have kept close tabs on the vehicle since its launch, monitoring it in an initial 206-mile (331 km) orbit inclined 42.8 degrees to the equator. Last summer, the orbit was raised slightly to 209 miles (337 km).

"It maintained this altitude against the effects of drag through frequent small orbit maneuvers," said Ted Molczan, a respected hobbyist tracker.

Earlier this month, however, the craft began lowering its altitude, briefly slipping out of the observers' sight until being discovered in the new orbit of 182 miles (293 km) tilted 41.9 degrees relative to the equator.

The new orbit causes its ground track to repeat, almost precisely, every three days; the previous altitude repeated every two days. Molczan said satellites with ground tracks repeating at intervals of two, three or four days have long been favored for U.S. imagery intelligence satellites, potentially offering a clue to the craft's mission.

This is the second of the Orbital Test Vehicles to fly in the X-37B program, following the maiden mission in 2010 that spent 224 days in space, frequently maneuvering in what was considered to be a shakedown cruise to demonstrate the spaceplane's capabilities.

The original vehicle has been refurbished for shipment to Cape Canaveral and a return to space. Another United Launch Alliance Atlas 5 rocket will haul the craft to orbit in a liftoff targeted for October.