NASA starts counting down to Thursday's shuttle launch
BY SPACEFLIGHT NOW
Posted: April 2, 2002

| | |
| --- | --- |
| | File image of Atlantis sitting on the launch pad. Photo: NASA-KSC |
It began in secret sometime Monday but NASA says the three-day countdown to Thursday's launch of space shuttle Atlantis is underway at the Kennedy Space Center.

"I'm pleased to be here this morning to report that the STS-110 launch countdown has been begun," NASA Test Director Jeff Spaulding announced to the world at 9 a.m. EST today.

"Things are proceeding very well. The shuttle Atlantis is in excellent shape," Spaulding reported.

Atlantis is loaded with the 27,000 pound S0 truss structure that will delivered to the space station during the 11-day flight. The S0 truss is the centerpiece of a cross truss that eventually will stretch the length of a football field, supporting four huge sets of solar arrays.

The Atlantis flight marks the first time in the 21-year history of the space shuttle program that NASA is trying to keep secret the launch time for a civilian mission.

NASA isn't saying exactly when launch will occur, only that will happen sometime between 2 and 6 p.m. EST (1900-2300 GMT). The precise launch time to be announced officially 24 hours in advance as part of the agency's new security plan.

But NASA-provided tracking elements of the space station's orbit can be used with readily available home computer software to show Atlantis will take off within a few minutes of 5:16 p.m. EST (2216 GMT) Thursday.

Atlantis' seven astronauts -- commander Mike Bloomfield, pilot Steve Frick, flight engineer Ellen Ochoa and spacewalkers Jerry Ross, Steve Smith, Lee Morin and Rex Walheim -- arrived at Kennedy Space Center from their homes in Houston on Monday at about 12 noon EST.

The arrival lacked the usual fanfare as NASA barred the press from attending the event and the agency did not provide its usual live TV coverage.

"We're really happy to be down here to the Cape," said Bloomfield, speaking to an agency video camera set up at the runway to record the arrival for replay three hours later. "A trip into space always begins down here at the Kennedy Space Center and there's a great group of people down here that build spaceships that allow people to go into space. We're very fortunate to be part of that team."

The seven astronauts gather to make a taped statement to the public after their arrival at Kennedy Space Center for launch. Photo: NASA-KSC



The weather forecast for Thursday now calls for a 70 percent chance of acceptable conditions. Meteorologists will be keeping a close eye on low cloud ceilings and rain as possible constraints to liftoff.

"A cold front will be moving through Florida on launch day. The front will be located in the northern Florida peninsula in the morning and moving through central Florida during the late morning. By launch time, the front will be located south in the vicinity of Lake Okeechobee. Expect thunderstorms and showers ahead of the front intermittently affecting KSC throughout the day. A threat of showers and low cloud ceilings will also continue behind the front," said Kathy Winters, the shuttle weather officer.

The launch time conditions are predicted to include scattered stratcumulus clouds at 2,000 feet with 4/8ths and occasional 5/8ths sky coverage and tops at 5,000 feet, altoscattered cumulus clouds at 10,000 feet with 3/8ths sky coverage and tops at 13,000 feet and scattered cirrus clouds at 25,000 feet with 3/8ths sky coverage and tops at 27,000 feet, visibility of 7 miles, north-northwesterly winds from 340 degrees at 12 peaking to 17 knots, temperature of 74 degrees F and relative humidity of 79 percent.

Should the launch slip to Friday for some reason, the weather improves to a 80 percent chance of meeting the launch rules. The concerns are low cloud ceilings and crosswinds.

Saturday's forecast is worse with a 60 percent chance of acceptable weather due to low cloud ceilings, rain and crosswinds.
Recent updates

FRIDAY
01:30 PM

Quick-look Data

07:30 AM

Entry Timeline

THURSDAY
12:00 AM

Master Flight Plan
Daily Flight Plan (FD-11/12)

WEDNESDAY
12:50 AM

Undocking timeline

TUESDAY
11:50 PM

NASA TV Sked (rev. I)

05:40 PM

Spacewalk Stats
Columbia Report
A reproduction of the official accident investigation report into the loss of the space shuttle Columbia and its crew of seven.

Choose your store:
U.S. - U.K. - E.U. - Worldwide
Mars Panorama

DISCOUNTED! This 360 degree image was taken by the Mars Pathfinder, which landed on the Red Planet in July 1997. The Sojourner Rover is visible in the image.

Choose your store:
U.S.
Apollo 11 Mission Report
Apollo 11 - The NASA Mission Reports Vol. 3 is the first comprehensive study of man's first mission to another world is revealed in all of its startling complexity. Includes DVD!

Choose your store:
U.S. - U.K. - E.U. - Worldwide
Rocket DVD
If you've ever watched a launch from Kennedy Space Center, Cape Canaveral, Vandenberg Air Force Base or even Kodiak Island Alaska, there's no better way to describe what you witnessed than with this DVD.

Choose your store:
U.S. - U.K. - E.U. - Worldwide
An insider's view of how Apollo flight controllers operated and just what they faced when events were crucial.

Choose your store:
U.S.
John Glenn Mission Patch
Free shipping to U.S. addresses!

The historic first orbital flight by an American is marked by this commemorative patch for John Glenn and Friendship 7.

U.S. STORE
WORLDWIDE STORE
Final Shuttle Mission Patch
Free shipping to U.S. addresses!

The crew emblem for the final space shuttle mission is available in our store. Get this piece of history!

U.S. STORE
WORLDWIDE STORE
Celebrate the shuttle program
Free shipping to U.S. addresses!

This special commemorative patch marks the retirement of NASA's Space Shuttle Program. Available in our store!

U.S. STORE
WORLDWIDE STORE
Anniversary Shuttle Patch
Free shipping to U.S. addresses!
This embroidered patch commemorates the 30th anniversary of the Space Shuttle Program. The design features the space shuttle Columbia's historic maiden flight of April 12, 1981.

U.S. STORE
WORLDWIDE STORE
Mercury anniversary
Free shipping to U.S. addresses!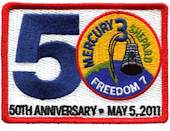 Celebrate the 50th anniversary of Alan Shephard's historic Mercury mission with this collectors' item, the official commemorative embroidered patch.

U.S. STORE
WORLDWIDE STORE
Fallen Heroes Patch Collection

The official patches from Apollo 1, the shuttle Challenger and Columbia crews are available in the store.

U.S. STORE
WORLDWIDE STORE
Creating Space
Creating Space groups together the history, the vehicles and the models into logical and meaningful categories. This book is equally valuable to space enthusiasts, modellers, and space historians.

U.S. STORE
WORLDWIDE STORE

Get e-mail updates
Sign up for our NewsAlert service and have the latest news in astronomy and space e-mailed direct to your desktop (privacy note: your e-mail address will not be used for any other purpose).

Apollo 12 tribute DVD set

New! Featuring the jovial crew of Pete Conrad, Dick Gordon and Alan Bean, the Apollo 12 mission was struck by lightning shortly after liftoff but proceeded on the second successful exploration voyage to the lunar surface. This three-disc DVD brings the mission to life with extraordinary detail.

Choose your store:
U.S. - U.K. - E.U. - Worldwide
Fallen Heroes special patch
This special 12-inch embroidered patch commemorates the U.S. astronauts who made the ultimate sacrifice, honoring the crews of Apollo 1, Challenger and Columbia.

Choose your store:
U.S. - U.K. - E.U. - Worldwide
Women in Space
Women of Space: Cool Careers on the Final Frontier is for girls, young women, and anyone else interested in learning about exciting careers in space exploration. Includes CD-ROM.

Choose your store:
U.S. - U.K. - E.U. - Worldwide
Mars rover poster
This new poster features some of the best pictures from NASA's amazing Mars Exploration Rovers Spirit and Opportunity.

Choose your store:
U.S.