NewsAlert





Sign up for our NewsAlert service and have the latest space news e-mailed direct to your desktop.


Privacy note: your e-mail address will not be used for any other purpose.





Avionics box to blame for delay in next crew's launch
BY STEPHEN CLARK
SPACEFLIGHT NOW
Posted: September 21, 2012

The replacement of a balky avionics box on a Russian Soyuz capsule will push back the October launch of the International Space Station's next three-man crew by about one week, Russian and NASA officials said.

NASA astronaut Kevin Ford (left) and Russian cosmonauts Oleg Novitskiy (center) and Evgeny Tarelkin (right) comprise the next crew on the International Space Station. Credit: Gagarin Cosmonaut Training Center



During standard preflight testing, Russian engineers discovered a problem with an avionics unit which controls the Soyuz descent module during re-entry and landing. Officials opted to remove and replace the suspect part on the Soyuz capsule assigned to deliver three new residents to the space station in October.

The Soyuz TMA-06M spacecraft and its Soyuz FG launch vehicle are being prepared for launch at the Baikonur Cosmodrome in Kazakhstan.

The flight had been set to lift off Oct. 15, but space station managers expect the launch will now occur around Oct. 22 or Oct. 23.

NASA astronaut Kevin Ford and Russian cosmonauts Oleg Novitskiy and Evgeny Tarelkin are slated to spend nearly five months on the space station as part of the Expedition 33 and Expedition 34 missions.

The Soyuz delay will give SpaceX more launch opportunities for its first operational cargo resupply flight to the space station, which is due to take off in as soon as Oct. 7, according to Vladimir Popovkin, head of Roscosmos, the Russian space agency.

Space station officials prefer to schedule the arrivals and departures of visiting spacecraft several days apart to avoid interference and overworking the lab's crew.

Another Soyuz crew launch set for December may also slip about two weeks from Dec. 5 to around Dec. 19, but a NASA manager said the schedule for that mission is still under discussion.

Veteran Canadian astronaut Chris Hadfield, commander of Expedition 35, NASA astronaut Tom Marshburn, and Russian cosmonaut Roman Romanenko are assigned to the December launch.
John Glenn Mission Patch
Free shipping to U.S. addresses!

The historic first orbital flight by an American is marked by this commemorative patch for John Glenn and Friendship 7.

U.S. STORE
WORLDWIDE STORE
Final Shuttle Mission Patch
Free shipping to U.S. addresses!

The crew emblem for the final space shuttle mission is available in our store. Get this piece of history!

U.S. STORE
WORLDWIDE STORE
Celebrate the shuttle program
Free shipping to U.S. addresses!

This special commemorative patch marks the retirement of NASA's Space Shuttle Program. Available in our store!

U.S. STORE
WORLDWIDE STORE
Anniversary Shuttle Patch
Free shipping to U.S. addresses!
This embroidered patch commemorates the 30th anniversary of the Space Shuttle Program. The design features the space shuttle Columbia's historic maiden flight of April 12, 1981.

U.S. STORE
WORLDWIDE STORE
Mercury anniversary
Free shipping to U.S. addresses!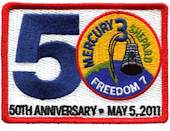 Celebrate the 50th anniversary of Alan Shephard's historic Mercury mission with this collectors' item, the official commemorative embroidered patch.

U.S. STORE
WORLDWIDE STORE
Fallen Heroes Patch Collection

The official patches from Apollo 1, the shuttle Challenger and Columbia crews are available in the store.

U.S. STORE
WORLDWIDE STORE