NewsAlert





Sign up for our NewsAlert service and have the latest news in astronomy and space e-mailed direct to your desktop.


Privacy note: your e-mail address will not be used for any other purpose.





Mission extended for three space station residents
BY STEPHEN CLARK
SPACEFLIGHT NOW
Posted: September 1, 2011

Two Russian cosmonauts and an American astronaut living aboard the International Space Station are scheduled to return to Earth on Sept. 16, leaving the outpost with a three-person crew until Russia can resume crewed launches of the grounded Soyuz rocket.

NASA astronaut Ron Garan, Russian cosmonaut Alexander Samokutyaev and space station commander Andrey Borisenko. Credit: NASA



Space station commander Andrey Borisenko, Russian cosmonaut Alexander Samokutyaev and NASA flight engineer Ronald Garan will crawl into their Soyuz TMA-21 capsule Sept. 15, undock from the complex and parachute back to Earth to a landing zone in Kazakhstan.

Touchdown is expected early Sept. 16, U.S. Eastern time, or in the mid-morning hours at the Kazakhstan landing site.

Borisenko, Samokutyaev and Garan will wrap up approximately 165 days in orbit since launching April 4. The trio reached the space station two days after liftoff.

Space station managers delayed the Expedition 28 crew's return from Sept. 8 in the wake of the launch failure of a Soyuz rocket last week with an unpiloted Progress resupply ship bound for the orbiting lab. The mission extension will allow the space station to continue functioning with a full six-person crew an extra week, freeing up more time for scientific research.

Russian engineers traced the Aug. 24 failure to an anomaly in the Soyuz rocket's third stage RD-0110 engine.

The Progress mission used a Soyuz-U rocket, which employs the same third stage as the Soyuz-FG rocket used launch manned spacecraft. Officials say the Soyuz rocket won't launch another crew until Russia completes its investigation, implements corrective actions and conducts test flights of the rocket with unmanned payloads.

Astronaut Michael Fossum, Russian flight engineer Sergei Volkov and Japanese flier Satoshi Furukawa will remain aboard the space station until mid-November.

Russia plans to launch the next three-person crew on a Soyuz rocket before Fossum's crew returns to Earth, assuming officials finish their investigation and a pair of unmanned launches go as planned.

If the Soyuz rocket is unable to ferry another crew into space by mid-November, NASA says the space station will probably be temporarily abandoned until the next set of astronauts arrive.
John Glenn Mission Patch
Free shipping to U.S. addresses!

The historic first orbital flight by an American is marked by this commemorative patch for John Glenn and Friendship 7.

U.S. STORE
WORLDWIDE STORE
Final Shuttle Mission Patch
Free shipping to U.S. addresses!

The crew emblem for the final space shuttle mission is available in our store. Get this piece of history!

U.S. STORE
WORLDWIDE STORE
Celebrate the shuttle program
Free shipping to U.S. addresses!

This special commemorative patch marks the retirement of NASA's Space Shuttle Program. Available in our store!

U.S. STORE
WORLDWIDE STORE
Anniversary Shuttle Patch
Free shipping to U.S. addresses!
This embroidered patch commemorates the 30th anniversary of the Space Shuttle Program. The design features the space shuttle Columbia's historic maiden flight of April 12, 1981.

U.S. STORE
WORLDWIDE STORE
Mercury anniversary
Free shipping to U.S. addresses!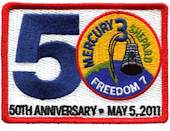 Celebrate the 50th anniversary of Alan Shephard's historic Mercury mission with this collectors' item, the official commemorative embroidered patch.

U.S. STORE
WORLDWIDE STORE
Fallen Heroes Patch Collection

The official patches from Apollo 1, the shuttle Challenger and Columbia crews are available in the store.

U.S. STORE
WORLDWIDE STORE