United Space Alliance announces shuttle layoffs
BY WILLIAM HARWOOD
STORY WRITTEN FOR CBS NEWS "SPACE PLACE" & USED WITH PERMISSION
Posted: July 6, 2010

With only two shuttle flights remaining on NASA's manifest, prime contractor United Space Alliance plans to lay off about 15 percent of its 8,100-strong space shuttle workforce Oct. 1, company officials announced Tuesday.

Credit: Justin Ray/Spaceflight Now



Eight hundred to 1,000 jobs will be lost at the Kennedy Space Center in Florida, with another 300 to 400 in Texas and 10 in Alabama. Another 743 USA jobs were lost in two earlier rounds of layoffs.

"Our workforce has known for several years that the space shuttle program has been scheduled to end, but layoffs are always difficult for everyone involved," Virginia Barnes, USA President and chief executive officer, said in a statement. "The accomplishments of this team are unmatched in human spaceflight. We acknowledge the tremendous talent and commitment of our teammates and congratulate them on their achievements."

NASA plans to launch the shuttle Discovery Nov. 1 on a mission to deliver critical supplies and equipment to the International Space Station. The final currently planned flight, using the shuttle Endeavour, is scheduled for launch Feb. 26.

Both of those flights are covered by the shuttle program's current budget and a congressional pledge for an additional $600 million that originally was intended to cover program costs through the end of the calendar year. Shuttle managers now say they can stretch current funding to cover Endeavour's flight in February.

NASA managers are lobbying for a third and final space station resupply mission with the shuttle Atlantis in the June 2011 timeframe. Atlantis is being processed for stand-by duty as an emergency rescue vehicle for Endeavour's crew, but if a rescue flight is not needed, NASA would like to launch Atlantis on a final resupply mission.

By launching Atlantis with a crew of four, NASA would not need a second shuttle for stand-by duty. Instead, a four-person crew could seek safe haven aboard the space station, if necessary, and get back to Earth aboard Russian Soyuz spacecraft.

Shuttle program managers are studying cost projections and potential savings to see how far they can stretch current funding. The shuttle program normally costs about $200 million a month to operate and even with projected savings, sources say additional money almost certainly will be required to cover a final mission with Atlantis.

NASA managers are expected to make a decision in August. A USA spokeswoman said the Atlantis mission, whether it is added or not, will not affect the current round of projected layoffs.
John Glenn Mission Patch
Free shipping to U.S. addresses!

The historic first orbital flight by an American is marked by this commemorative patch for John Glenn and Friendship 7.

U.S. STORE
WORLDWIDE STORE
Final Shuttle Mission Patch
Free shipping to U.S. addresses!

The crew emblem for the final space shuttle mission is available in our store. Get this piece of history!

U.S. STORE
WORLDWIDE STORE
Celebrate the shuttle program
Free shipping to U.S. addresses!

This special commemorative patch marks the retirement of NASA's Space Shuttle Program. Available in our store!

U.S. STORE
WORLDWIDE STORE
Anniversary Shuttle Patch
Free shipping to U.S. addresses!
This embroidered patch commemorates the 30th anniversary of the Space Shuttle Program. The design features the space shuttle Columbia's historic maiden flight of April 12, 1981.

U.S. STORE
WORLDWIDE STORE
Mercury anniversary
Free shipping to U.S. addresses!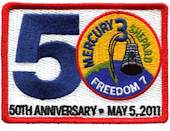 Celebrate the 50th anniversary of Alan Shephard's historic Mercury mission with this collectors' item, the official commemorative embroidered patch.

U.S. STORE
WORLDWIDE STORE
Fallen Heroes Patch Collection

The official patches from Apollo 1, the shuttle Challenger and Columbia crews are available in the store.

U.S. STORE
WORLDWIDE STORE