Video Coverage






The most complete source of video from the countdown, launch and mission of space shuttle Discovery is available here!

Video Collection




Spaceflight Now +





Premium video content for our Spaceflight Now Plus subscribers.

New lunar mission
During this NASA news conference on April 10, agency officials unveil the Lunar Crater Observation and Sensing Satellite, or LCROSS, that will launch piggyback with the Lunar Reconnaissance Orbiter spacecraft in October 2008. LCROSS will use the launch vehicle's spent upper stage to crash into the moon's south pole in an explosive search for water.

Dial-up | Broadband

LCROSS mission plan
Daniel Andrews, the LCROSS project manager from NASA's Ames Research Center, narrates this animation depicting the mission from launch through impact on the lunar surface.

Play video

STS-1 crew looks back
In this highly entertaining program, commander John Young and pilot Bob Crippen of the first space shuttle crew tell stories and memories from STS-1. The two respected astronauts visited Kennedy Space Center on April 6 to mark the upcoming 25th anniversary of Columbia's maiden voyage.

Dial-up | Broadband

STS-41G crew film
The October 1984 flight of space shuttle Challenger featured a diverse set of accomplishments. The Earth Radiation Budget Satellite environmental spacecraft was deployed and a planet-mapping radar was tested. The seven-person crew was led by Bob Crippen and included the first Canadian in space, Marc Garneau, and the first time two women, Sally Ride and Kathryn Sullivan, had flown aboard one flight. Sullivan and Dave Leestma also conducted a spacewalk to demonstrate techniques for refueling satellites. The crew narrates this post-flight film of STS-41G.

Small | Medium | Large

STS-37 anniversary
On April 5, 1991, space shuttle Atlantis lifted off from Kennedy Space Center carrying the Compton Gamma Ray Observatory -- NASA's second Great Observatory. Launch occurred at 9:23 a.m. from pad 39B.

Play video

Next station crew
Full coverage of the Expedition 13 crew's launch aboard a Russian Soyuz spacecraft to begin a six-month mission aboard the International Space Station.

Play video

Solar eclipse from ISS
External cameras on the International Space Station captured this incredible footage of the March 29 solar eclipse. The station flew through the eclipse over the Middle East as the moon passed in front of the sun and cast its shadow on the Earth.

Play video

Total solar eclipse
A total solar eclipse occurred March 29. This video from Side, Turkey shows the period of totality when the moon slid between the Earth and Sun. The eclipse revealed the Sun's glowing outer halo of million-degree gas, called the solar corona.

Play video

Become a subscriber
More video





Spacewalk strategy revised for next shuttle flight
BY WILLIAM HARWOOD
STORY WRITTEN FOR CBS NEWS "SPACE PLACE" & USED WITH PERMISSION
Posted: April 17, 2006


Because of an over-loaded crew timeline and new heat-shield inspection requirements, shuttle flight planners have decided to eliminate one of three previously planned spacewalks from Discovery's upcoming mission - a spacewalk devoted to testing heat-shield repair techniques - in order to give the crew more time off in orbit, officials say. If the astronauts can conserve enough power, however, and if Discovery doesn't tarry on the launch pad, the mission will be extended one day and the spacewalk will be put back in the flight plan.

The goals of Discovery's mission are to carry supplies and equipment to the international space station; to repair a robot arm carrier on the station's main solar array truss; and to perform a variety of other tasks to ready the complex for resumption of assembly later this year.

Three spacewalks, carried out by Piers Sellers and Michael Fossum, were planned:

- EVA-1: Preliminary repair work on the robot arm mobile base station; and tests to determine the stability of the shuttle's robot arm when it is equipped with a 50-foot extension. The extension is used to inspect the shuttle's tiles, nose and wing leading edges for signs of impact damage. NASA planners want to know if the arm-boom combination can carry an astronaut on the end for possible repair work in the future.

- EVA-2: Station robot arm mobile base station repair. The mobile base station moves along rails on the main solar array truss to position the lab's robot arm for assembly work as required. Two ribbon-like power/data cables unreel or wind up in front and behind the cart as it moves along. One of the two cables was inadvertently cut by an on-board safety system last year. During Discovery's mission, Fossum and Sellers will replace the cut cable and its reel and make sure the cables cannot be inadvertently severed in the future. They also will move a new pump module to the station.

- EVA-3: Tests of repair techniques that could be used someday to fix relatively minor damage to the shuttle's tiles, reinforced carbon carbon wing leading edge panels, and RCC nose cap.

The flight plan calls for the crew to carry out an extensive heat-shield inspection, as usual, on the second day of the mission using the robot arm boom extension. The station crew will examine the ship with high-powered cameras during final approach and additional remote inspections will be done the next day. Similar inspections were carried out during the first post-Columbia mission last year.

In recent weeks, however, NASA added additional post-launch heat-shield inspection work to Discovery's flight the day before undocking from the station and also shortly after it departs. Those additional inspections, designed to look for micrometeoroid or space debris impacts, reduced the crew's off-duty time to a single half day over the duration of the mission.

Here is the flight plan with all three spacewalks:
07/01 (Flight day 1): Launch
07/02 (FD-2): Heat-shield inspections
07/03 (FD-3): Docking with the international space station
07/04 (FD-4): Cargo module installation; additional heat-shield inspections
07/05 (FD-5): Spacewalk 1
07/06 (FD-6): Equipment/supplies transfer; crew news conference
07/07 (FD-7): Spacewalk 2
07/08 (FD-8): Equipment transfers; crew off-duty time
07/09 (FD-9): Spacewalk 3
07/10 (FD-10): Cargo module reberthing; port-side heat-shield inspection
07/11 (FD-11): Undocking; post-undocking starboard/nose heat-shield inspections
07/12 (FD-12): Cabin stow; re-entry systems checkout
07/13 (FD-13): Landing
Concerned about allowing the crew just a half-shift for rest and relaxation in a busy flight, NASA managers considered simply extending the mission one day up front. But in the end, they decided to replace the third spacewalk with crew off-duty time on flight day nine.
NASA is holding open the possibility of reinserting the tile-repair demonstration spacewalk on flight day 10 if the astronauts can conserve enough electrical power for a one-day mission extension.
They also will need a bit of help before launch.
The shuttle's on-board supplies of hydrogen and oxygen, used to generate electricity, diminish with every day the ship stays on the ground after loading. To have a chance for a mission extension, Discovery needs to get off the pad within three days of its eventual target launch date. Otherwise, the flight will be put on hold for 72 hours so the hydrogen and oxygen supplies can be topped off.
In more "routine" launch campaigns, the shuttle can make three attempts over four to five days before a stand down to reload ground tanks and on-board fuel cell supplies.
John Glenn Mission Patch
Free shipping to U.S. addresses!

The historic first orbital flight by an American is marked by this commemorative patch for John Glenn and Friendship 7.

U.S. STORE
WORLDWIDE STORE
Final Shuttle Mission Patch
Free shipping to U.S. addresses!

The crew emblem for the final space shuttle mission is available in our store. Get this piece of history!

U.S. STORE
WORLDWIDE STORE
Celebrate the shuttle program
Free shipping to U.S. addresses!

This special commemorative patch marks the retirement of NASA's Space Shuttle Program. Available in our store!

U.S. STORE
WORLDWIDE STORE
Anniversary Shuttle Patch
Free shipping to U.S. addresses!
This embroidered patch commemorates the 30th anniversary of the Space Shuttle Program. The design features the space shuttle Columbia's historic maiden flight of April 12, 1981.

U.S. STORE
WORLDWIDE STORE
Mercury anniversary
Free shipping to U.S. addresses!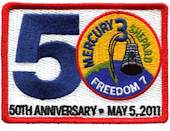 Celebrate the 50th anniversary of Alan Shephard's historic Mercury mission with this collectors' item, the official commemorative embroidered patch.

U.S. STORE
WORLDWIDE STORE
Fallen Heroes Patch Collection

The official patches from Apollo 1, the shuttle Challenger and Columbia crews are available in the store.

U.S. STORE
WORLDWIDE STORE
Ares 1-X Patch
The official embroidered patch for the Ares 1-X rocket test flight, is available for purchase.

U.S. STORE
WORLDWIDE STORE
Apollo Collage
This beautiful one piece set features the Apollo program emblem surrounded by the individual mission logos.

U.S. STORE
Expedition 21
The official embroidered patch for the International Space Station Expedition 21 crew is now available from our stores.

U.S. STORE
WORLDWIDE STORE
Hubble Patch
The official embroidered patch for mission STS-125, the space shuttle's last planned service call to the Hubble Space Telescope, is available for purchase.

U.S. STORE
WORLDWIDE STORE