Spaceflight Now +





Subscribe to Spaceflight Now Plus for access to our extensive video collections!
How do I sign up?
Video archive

Atlantis date set

NASA leaders hold this news briefing to announce shuttle Atlantis' launch date and recap the Flight Readiness Review.

Play

Phoenix: At the Cape

NASA's Mars lander named Phoenix has arrive at Kennedy Space Center to begin preparations for launch in August.

Full coverage

STS-63: A rendezvous with space station Mir

As a prelude to future dockings between American space shuttles and the Russian space station Mir, the two countries had a test rendezvous in Feb. 1995.

Play

"Apollo 17: On The Shoulders of Giants"

Apollo's final lunar voyage is relived in this movie. The film depicts the highlights of Apollo 17's journey to Taurus-Littrow and looks to the future Skylab, Apollo-Soyuz and shuttle programs.

Play

Atlantis returns to pad

Two months after rolling off the launch pad to seek repairs to the hail-damaged external fuel tank, space shuttle Atlantis returns to pad 39A for mission STS-117.

Part 1 | Part 2

Become a subscriber
More video





Atlantis astronauts arrive at the Cape for launch
BY WILLIAM HARWOOD
STORY WRITTEN FOR CBS NEWS "SPACE PLACE" & USED WITH PERMISSION
Posted: June 4, 2007


Credit: Ben Cooper/Spaceflight Now



The crew of shuttle Atlantis flew to the Kennedy Space Center today for final preparations before blastoff Friday on a long-delayed space station assembly mission. Arriving in two waves aboard T-38 jet trainers, the astronauts took a moment to greet reporters at the Shuttle Landing Facility around 6:45 p.m.

"It's great to be down here in Florida," said commander Rick Sturckow. "We appreciate this great weather you got for us today to fly in here. If you can just get some weather like this for us on Friday evening, we'll appreciate that, too.

"The crew is very excited to be in Florida. We've spent a long time training for this mission. As you know, we had a little bit of a setback, we were supposed to go in March. We especially appreciate all the great work that was done on ET-124, our external tank. ... We just flew by the launch pad on the way in here. It looks great."

Running three months late because of hail damage to the shuttle's external fuel tank insulation, Atlantis' crew plans to deliver and install a $367 million set of solar arrays and a powerful rotary joint to help them track the sun. They also plan to complete the retraction of another set of arrays so it can be moved as required later this year.

Three spacewalks are planned and the crew is prepared to stage a fourth, supplies permitting, if they run into problems retracting the P6-2B solar array wing.

The countdown for shuttle mission STS-117 is scheduled to begin at 9 p.m. Tuesday, setting up a launch attempt at 7:38:02 p.m. Friday. NASA's Spaceflight Meteorology Group has not yet released a launch forecast, but the National Weather Service in nearby Melbourne predicts partly cloudy skies and a 30 percent chance of scattered showers and thunderstorms Friday, decreasing to 20 percent Saturday night.

If all goes well, engineers will pump liquid hydrogen and oxygen aboard the orbiter Wednesday evening to power the ship's three electricity producing fuel cells. NASA's mission management team will meet Friday morning to assess launch processing and the weather. If no major problems develop, the shuttle's huge external fuel tank will be loaded with a half-million gallons of liquid hydrogen and oxygen starting around 9:42 a.m.

Sturckow and his crewmates are scheduled to suit up and head for pad 39A a few minutes before 4 p.m. Friday to strap in for launch.

Today's crew arrival kicks off a busy week of space activity. Aboard the international space station, Expedition 15 commander Fyodor Yurchikhin and flight engineer Oleg Kotov are gearing up for a six-hour spacewalk Wednesday to complete the installation of micrometeoroid shields on the Zvezda command module.

Yurchikhin and Kotov installed five panels during a spacewalk last week and another 12 are to be installed Wednesday. The spacewalk is scheduled to begin at 10:30 a.m.
John Glenn Mission Patch
Free shipping to U.S. addresses!

The historic first orbital flight by an American is marked by this commemorative patch for John Glenn and Friendship 7.

U.S. STORE
WORLDWIDE STORE
Final Shuttle Mission Patch
Free shipping to U.S. addresses!

The crew emblem for the final space shuttle mission is available in our store. Get this piece of history!

U.S. STORE
WORLDWIDE STORE
Celebrate the shuttle program
Free shipping to U.S. addresses!

This special commemorative patch marks the retirement of NASA's Space Shuttle Program. Available in our store!

U.S. STORE
WORLDWIDE STORE
Anniversary Shuttle Patch
Free shipping to U.S. addresses!
This embroidered patch commemorates the 30th anniversary of the Space Shuttle Program. The design features the space shuttle Columbia's historic maiden flight of April 12, 1981.

U.S. STORE
WORLDWIDE STORE
Mercury anniversary
Free shipping to U.S. addresses!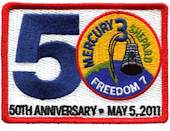 Celebrate the 50th anniversary of Alan Shephard's historic Mercury mission with this collectors' item, the official commemorative embroidered patch.

U.S. STORE
WORLDWIDE STORE
Fallen Heroes Patch Collection

The official patches from Apollo 1, the shuttle Challenger and Columbia crews are available in the store.

U.S. STORE
WORLDWIDE STORE