NewsAlert





Sign up for our NewsAlert service and have the latest space news e-mailed direct to your desktop.


Privacy note: your e-mail address will not be used for any other purpose.





Soviet-era missile boosts South Korean satellite
BY STEPHEN CLARK
SPACEFLIGHT NOW
Posted: August 22, 2013

A converted Russian ballistic missile rocketed out of an underground silo in southern Russia on Thursday and delivered a radar-equipped South Korean observing satellite to a 340-mile-high orbit, kicking off a five-year mission to collect high-resolution imagery to aid urban planners, emergency responders and environmental scientists.

Credit: Kosmotras

The three-stage Dnepr booster, derived from an SS-18 missile built to carry Russian nuclear weapons, launched at 1439 GMT (10:39 a.m. EDT) from a space base near Yasny, Russia, a small community in the Orenburg region in the southern part of the country.
The KOMPSAT 5 satellite deployed from the Dnepr's third stage in sun-synchronous orbit about 15 minutes later, and a Norwegian ground station in Antarctica received the first radio signals from the spacecraft a few minutes later, according to the Korea Aerospace Research Institute, or KARI.
On its Facebook page, KARI reported the 3,086-pound deployed its solar panels and was healthy following the successful launch, which marked the 17th success in 18 Dnepr rocket missions since 1999. The launch was conducted by Russian military forces for Kosmotras, a joint Russian-Ukrainian company which markets Dnepr rocket launches commercially.
KOMPSAT 5 is South Korea's first radar imaging satellite, joining two other operational Earth observation platforms to broaden the nation's high-resolution observing capabilities to include imaging at night and in all weather conditions. South Korea's satellites with optical cameras can only see the ground during daytime and in clear weather.

Artist's concept of the KOMPSAT 5 satellite. Credit: KARI

KOMPSAT 5's synthetic aperture radar, built by Thales Alenia Space, will scan Earth's surface with a top resolution of 1 meter, or about 3.3 feet. The radar also has the ability to operate in medium-resolution and wide-swatch modes to observe larger areas.
South Korean officials say KOMPSAT 5's imagery will be used to compile geographic information systems and in ocean management, land management, disaster response and environmental monitoring applications.
KOMPSAT 5's secondary mission is to help researchers collect atmospheric sounding data using a dual-frequency GPS receiver and laser reflectors. Scientists will watch how Earth's atmosphere distorts radio signals to learn more about conditions at various layers of the atmosphere.
John Glenn Mission Patch
Free shipping to U.S. addresses!

The historic first orbital flight by an American is marked by this commemorative patch for John Glenn and Friendship 7.

U.S. STORE
WORLDWIDE STORE
Final Shuttle Mission Patch
Free shipping to U.S. addresses!

The crew emblem for the final space shuttle mission is available in our store. Get this piece of history!

U.S. STORE
WORLDWIDE STORE
Celebrate the shuttle program
Free shipping to U.S. addresses!

This special commemorative patch marks the retirement of NASA's Space Shuttle Program. Available in our store!

U.S. STORE
WORLDWIDE STORE
Anniversary Shuttle Patch
Free shipping to U.S. addresses!
This embroidered patch commemorates the 30th anniversary of the Space Shuttle Program. The design features the space shuttle Columbia's historic maiden flight of April 12, 1981.

U.S. STORE
WORLDWIDE STORE
Mercury anniversary
Free shipping to U.S. addresses!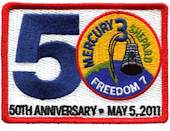 Celebrate the 50th anniversary of Alan Shephard's historic Mercury mission with this collectors' item, the official commemorative embroidered patch.

U.S. STORE
WORLDWIDE STORE
Fallen Heroes Patch Collection

The official patches from Apollo 1, the shuttle Challenger and Columbia crews are available in the store.

U.S. STORE
WORLDWIDE STORE