NewsAlert





Sign up for our NewsAlert service and have the latest space news e-mailed direct to your desktop.


Privacy note: your e-mail address will not be used for any other purpose.





Bigelow inflatable module bound for space station
BY WILLIAM HARWOOD
STORY WRITTEN FOR CBS NEWS "SPACE PLACE" & USED WITH PERMISSION
Posted: January 16, 2013

An innovative inflatable module developed by a Las Vegas hotel entrepreneur will be attached to the International Space Station in 2015 for a two-year test run to evaluate the technology's performance in the harsh environment of space, NASA and company officials announced Wednesday.
Bigelow Aerospace will receive $17.8 million from NASA to supply a Bigelow Expandable Activity Module, or BEAM, for the space station. The module will be launched, uninflated, aboard a commercial SpaceX Dragon cargo ship in 2015.
Once the Dragon is attached to the forward Harmony module, the station's robot arm will be used to pull the BEAM pallet from the cargo craft's unpressurized payload bay and attach it to the aft hatch of the port-side Tranquility module, 90 degrees up from the familiar multi-window Earth-facing cupola compartment. The space station crew then will activate the BEAM's pressurization system to inflate it.
Over the course of its two-year test run, instruments will measure its structural integrity and leak rate, along with temperature and radiation levels. The hatch leading into the module will remain mostly closed except for periodic visits by space station crew members for inspections and data collection. Following the test run, the module will be detached and jettisoned from the station.
"The International Space Station is a uniquely suited test bed to demonstrate innovative exploration technologies like the BEAM," William Gerstenmaier, NASA director of space operations said in a statement.
"As we venture deeper into space on the path to Mars, habitats that allow for long-duration stays in space will be a critical capability. Using the station's resources, we'll learn how humans can work effectively with this technology as we continue to advance our understanding in all aspects for long-duration spaceflight aboard the orbiting laboratory."
The BEAM test is being sponsored by NASA's Advanced Exploration Systems Program, which is focused on developing "prototype systems for future human exploration missions," according to the NASA statement. "The BEAM demonstration supports an AES objective to develop a deep space habitat for human missions beyond Earth orbit."
Bigelow Aerospace is owned by Robert Bigelow, an entrepreneur who made a fortune in real estate and the Budget Suites chain of hotels. Bigelow wants to build a commercial space station using larger BAE 330 inflatable modules, providing a relatively low-cost foothold in orbit for wealthy space tourists, university researchers and representatives from other nations who do not have ready access to space.
John Glenn Mission Patch
Free shipping to U.S. addresses!

The historic first orbital flight by an American is marked by this commemorative patch for John Glenn and Friendship 7.

U.S. STORE
WORLDWIDE STORE
Final Shuttle Mission Patch
Free shipping to U.S. addresses!

The crew emblem for the final space shuttle mission is available in our store. Get this piece of history!

U.S. STORE
WORLDWIDE STORE
Celebrate the shuttle program
Free shipping to U.S. addresses!

This special commemorative patch marks the retirement of NASA's Space Shuttle Program. Available in our store!

U.S. STORE
WORLDWIDE STORE
Anniversary Shuttle Patch
Free shipping to U.S. addresses!
This embroidered patch commemorates the 30th anniversary of the Space Shuttle Program. The design features the space shuttle Columbia's historic maiden flight of April 12, 1981.

U.S. STORE
WORLDWIDE STORE
Mercury anniversary
Free shipping to U.S. addresses!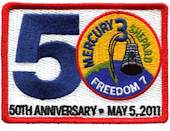 Celebrate the 50th anniversary of Alan Shephard's historic Mercury mission with this collectors' item, the official commemorative embroidered patch.

U.S. STORE
WORLDWIDE STORE
Fallen Heroes Patch Collection

The official patches from Apollo 1, the shuttle Challenger and Columbia crews are available in the store.

U.S. STORE
WORLDWIDE STORE