Long March boosts pair of Chinese navigation satellites
BY STEPHEN CLARK
SPACEFLIGHT NOW
Posted: September 18, 2012

Two satellites for China's Beidou navigation system lifted off on top of a Long March rocket Tuesday, adding new spacecraft to the growing network to provide more accurate positioning services to military and civil users.

Liftoff occurred at 3:10 a.m. Beijing time on Wednesday. Credit: Beidou program



The satellites launched on a Long March 3B rocket at 1910 GMT (3:10 p.m. EDT) from the Xichang space center, a facility in Sichuan province in southwest China, according to a release from the China Academy of Launch Vehicle Technology, the state-owned contractor for Chinese rockets.

Liftoff was at 3:10 a.m. Beijing time.

The 187-foot-tall rocket targeted an orbit with altitudes between 150 miles and 13,000 miles, and an inclination of 55 degrees to the equator.

Chinese government agencies declared the launch a success, marking China's 12th space launch of the year and the 50th mission worldwide to reach orbit in 2012.

Each spacecraft has on-board thrusters to raise its orbit and reach a circular altitude of about 21,500 kilometers, or 13,359 miles.

The satellites launched Tuesday are the 14th and 15th Beidou spacecraft in the program.

One more Beidou satellite is scheduled to launch into geosynchronous orbit before the end of 2012 to complete a regional network with navigation services to China and neighboring countries.

The Beidou constellation, also known as Compass, is China's counterpart to the U.S. Air Force's Global Positioning System, which provides navigation services to military vehicles, precision munitions, civil aviation, personal cars, boats, and search-and-rescue forces.

Now in operational testing for users across China, the Beidou system will provide global coverage with a constellation of 35 satellites by 2020, according to Chinese officials.

The system has been used in transportation, weather forecasting, marine fisheries, hydrological monitoring, and mapping, according to the state-run Xinhua news agency.

The best service will be available to Chinese military and civil government users. Positioning information with an accuracy of 10 meters, or about 33 feet, will be released to the public worldwide.
John Glenn Mission Patch
Free shipping to U.S. addresses!

The historic first orbital flight by an American is marked by this commemorative patch for John Glenn and Friendship 7.

U.S. STORE
WORLDWIDE STORE
Final Shuttle Mission Patch
Free shipping to U.S. addresses!

The crew emblem for the final space shuttle mission is available in our store. Get this piece of history!

U.S. STORE
WORLDWIDE STORE
Celebrate the shuttle program
Free shipping to U.S. addresses!

This special commemorative patch marks the retirement of NASA's Space Shuttle Program. Available in our store!

U.S. STORE
WORLDWIDE STORE
Anniversary Shuttle Patch
Free shipping to U.S. addresses!
This embroidered patch commemorates the 30th anniversary of the Space Shuttle Program. The design features the space shuttle Columbia's historic maiden flight of April 12, 1981.

U.S. STORE
WORLDWIDE STORE
Mercury anniversary
Free shipping to U.S. addresses!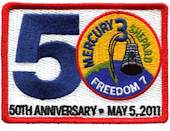 Celebrate the 50th anniversary of Alan Shephard's historic Mercury mission with this collectors' item, the official commemorative embroidered patch.

U.S. STORE
WORLDWIDE STORE
Fallen Heroes Patch Collection

The official patches from Apollo 1, the shuttle Challenger and Columbia crews are available in the store.

U.S. STORE
WORLDWIDE STORE