NewsAlert





Sign up for our NewsAlert service and have the latest space news e-mailed direct to your desktop.


Privacy note: your e-mail address will not be used for any other purpose.





Business dealings made by rocket engine, satellite firms
BY SPACEFLIGHT NOW
Posted: July 23, 2012

Monday was a day of acquisition and merger in the space industry as the U.S. rocket propulsion and commercial Earth-imaging sectors saw major consolidation efforts take shape.
GenCorp Inc. announced that it has signed a definitive agreement to purchase Pratt & Whitney Rocketdyne from its parent United Technologies Corp. for $550 million.

Three RS-68A main engines made by PWR power a Delta 4-Heavy rocket. Credit: ULA video



GenCorp, headquartered in Sacramento, California, also owns Aerojet. Buying PWR means the firm now owns the two primary suppliers of rocket power in America.

PWR produces the venerable RL10 cryogenic upper stage engines for the Atlas 5 and Delta 4 booster fleets, oversees the U.S. element of the RD-180 first stage program for Atlas, builds the RS-68 and RS-68A powerplants for Delta 4, made the RS-27A engines on the Delta 2 and produced the space shuttle main engines for decades. It is developing the J-2X for NASA's future heavy-lift vehicle.

Aerojet makes the monolithic solid rocket motors for Atlas 5, oversees the AJ-26 for Orbital Sciences' new Antares vehicle, and also produced the Delta 2 second stage engine and a host of maneuvering thrusters across the industry.

Retirement of the space shuttle was a hard hit to Rocketdyne. The company continues to produce the primary products for United Launch Alliance's Evolved Expendable Launch Vehicles and is working to develop the RL10-C, a common upper stage engine. The inventory of leftover shuttle main engines will be used on the Space Launch System mega-rocket in the future.

"We see great strategic value in this transaction for the country, our customers, partner supply base and our shareholders," GenCorp Chief Executive Officer Scott Seymour said. "The combined enterprise will be better positioned to compete in a dynamic, highly competitive marketplace, and provide more affordable products for our customers."

"In addition, this transaction almost doubles the size of our company and provides additional growth opportunities as we build upon the complementary capabilities of each legacy company that has enabled a generation of human space travel and national security launch services. We have the opportunity to build upon the proud heritage of our companies, the ability to create increased value for our customers and, best of all, to secure the future of both organizations," Seymour continued.

The purchase is expected to close in the first half of 2013.

Meanwhile, DigitalGlobe and GeoEye announced that the boards of directors of both companies have unanimously approved a definitive merger agreement under which the companies will combine in a stock and cash transaction valued at approximately $900 million. DigitalGlobe, in effect, buys GeoEye for $20.32 per share.

An artist's concept of DigitalGlobe's WorldView 2 satellite. Credit: Ball Aerospace



The combined company will be named DigitalGlobe, continue to trade on the NYSE under the symbol DGI and will be headquartered in Colorado.

"The combination of DigitalGlobe and GeoEye creates a global leader in Earth imagery and geospatial analysis," said Mr. Tarr. "Together we will create a more efficient, more diversified and more capable company, better positioned to thrive in a time of unprecedented pressure on our nation's defense budget. Once the merger is complete, we will emerge as an industry-leading, geospatial information business that does even more to help our customers better understand our changing planet. In so doing, we will further enable our customers to save time, save money and save lives."

Roles were reversed when GeoEye tried unsuccessfully to buy DigitalGlobe two months ago.

The two rivals will have a merged constellation of five Earth observation satellites and a broad suite of high-value geospatial production and analytic services. The combined company will also have two state-of-the-art satellites under construction, GeoEye 2 launching next spring and WorldView 3 following in 2014 aboard Atlas 5 rockets from Vandenberg Air Force Base, California.

"We are excited to be joining forces with DigitalGlobe as we believe this transaction represents the best path forward for our shareowners, our customers, and ultimately, the taxpayer," said Matt O'Connell, Chief Executive Officer and President of GeoEye. "With an impressive constellation of commercial Earth imaging satellites and complementary services, the combined company will be well positioned to achieve efficient growth, expand our international reach and create value for all stakeholders."

The transaction is expected to be completed in the fourth quarter of 2012 or the first quarter of 2013.
STS-134 Patch
Free shipping to U.S. addresses!

The final planned flight of space shuttle Endeavour is symbolized in the official embroidered crew patch for STS-134. Available in our store!

U.S. STORE
WORLDWIDE STORE
Final Shuttle Mission Patch
Free shipping to U.S. addresses!

The crew emblem for the final space shuttle mission is now available in our store. Get this piece of history!

U.S. STORE
WORLDWIDE STORE
Apollo Collage

This beautiful one piece set features the Apollo program emblem surrounded by the individual mission logos.

U.S. STORE
STS-133 Patch
Free shipping to U.S. addresses!

The final planned flight of space shuttle Discovery is symbolized in the official embroidered crew patch for STS-133. Available in our store!

U.S. STORE
WORLDWIDE STORE
Anniversary Shuttle Patch
Free shipping to U.S. addresses!

This embroidered patch commemorates the 30th anniversary of the Space Shuttle Program. The design features the space shuttle Columbia's historic maiden flight of April 12, 1981.

U.S. STORE
WORLDWIDE STORE
Mercury anniversary
Free shipping to U.S. addresses!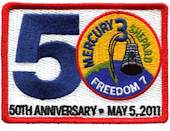 Celebrate the 50th anniversary of Alan Shephard's historic Mercury mission with this collectors' item, the official commemorative embroidered patch.

U.S. STORE
WORLDWIDE STORE