NewsAlert





Sign up for our NewsAlert service and have the latest space news e-mailed direct to your desktop.


Privacy note: your e-mail address will not be used for any other purpose.





Orion's parachute system tested in Arizona desert
BY SPACEFLIGHT NOW
Posted: July 18, 2012

Ejected from a C-17 plane 25,000 feet above the U.S. Army Yuma Proving Ground in southwestern Arizona today, engineers successfully tested the parachutes on a full-sized Orion spacecraft.
It was the second such test using a craft simulating the intended size and shape of the capsule that will ferry humans on deep space exploration missions.
"Today's parachute test in Yuma is an important reminder of the progress being made on Orion and its ultimate mission -- enabling NASA to meet the goal of sending humans to an asteroid and Mars," said William Gerstenmaier, associate administrator for the Human Exploration and Operations Mission Directorate at NASA Headquarters in Washington.
Orion's first adventure into space is planned for 2014 when a United Launch Alliance Delta 4-Heavy rocket hurls the vehicle on a two-orbit shakedown cruise before making a high-speed re-entry into Earth's atmosphere for a parachute-slowed splashdown.
In today's test, Orion's drogue chutes were deployed between 20,000 feet and 15,000 feet, followed by the pilot parachutes that extracted the main landing parachutes. The descended at about 17 miles per hours, well below its maximum designed touchdown speed, for touchdown on the desert floor.
"Across the country, NASA and industry are moving forward on the most advanced spacecraft ever designed, conducting drop and splashdown tests, preparing ground systems, designing software and computers and paving the way for the future of exploration," Gerstenmaier said.
The primary goal of today's was determining how the entire parachute system would respond if one of the reefing lines was cut prematurely, causing the three main parachutes to inflate too quickly. The reefing lines, which when cut by a pyrotechnic device, allow the parachute to open gradually, managing the initial amount of drag and force on the parachute.
John Glenn Mission Patch
Free shipping to U.S. addresses!

The historic first orbital flight by an American is marked by this commemorative patch for John Glenn and Friendship 7.

U.S. STORE
WORLDWIDE STORE
Final Shuttle Mission Patch
Free shipping to U.S. addresses!

The crew emblem for the final space shuttle mission is available in our store. Get this piece of history!

U.S. STORE
WORLDWIDE STORE
Celebrate the shuttle program
Free shipping to U.S. addresses!

This special commemorative patch marks the retirement of NASA's Space Shuttle Program. Available in our store!

U.S. STORE
WORLDWIDE STORE
Anniversary Shuttle Patch
Free shipping to U.S. addresses!
This embroidered patch commemorates the 30th anniversary of the Space Shuttle Program. The design features the space shuttle Columbia's historic maiden flight of April 12, 1981.

U.S. STORE
WORLDWIDE STORE
Mercury anniversary
Free shipping to U.S. addresses!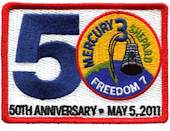 Celebrate the 50th anniversary of Alan Shephard's historic Mercury mission with this collectors' item, the official commemorative embroidered patch.

U.S. STORE
WORLDWIDE STORE
Fallen Heroes Patch Collection

The official patches from Apollo 1, the shuttle Challenger and Columbia crews are available in the store.

U.S. STORE
WORLDWIDE STORE