NewsAlert





Sign up for our NewsAlert service and have the latest space news e-mailed direct to your desktop.


Privacy note: your e-mail address will not be used for any other purpose.





Two more space shuttle-era astronauts leave NASA
BY SPACEFLIGHT NOW
Posted: July 11, 2012

NASA has announced the departure of two veteran space shuttle astronauts with seven combined missions to their credit as Mark Polansky and Steve Robinson have left the agency.

Mark Polansky aboard Endeavour on STS-127. Credit: NASA



Polansky flew three shuttle missions. He initially served as the pilot of STS-98 in 2001 and as commander for STS-116 in 2006 and STS-127 in 2009, logging more than 41 days in space.

"Mark is a remarkably talented individual," said Peggy Whitson, chief of the Astronaut Office. "His skills as an aviator coupled with his engineering expertise were a valuable contribution to our team. We wish him well in his future endeavors."

A former U.S. Air Force officer, Polansky joined NASA as a research pilot in 1992 and was selected for the astronaut corps in 1996. Before flying in space, Polansky served in multiple technical roles including space shuttle capsule communicator and chief instructor astronaut. His most recent NASA assignment included duties as director of operations at the Gagarin Cosmonaut Training Center in Star City, Russia.

Polansky earned a Bachelor of Science in aeronautical and astronautical engineering and a Master of Science in aeronautics and astronautics from Purdue University, West Lafayette, Ind.

Steve Robinson aboard the space station on STS-130. Credit: NASA



Robinson ended his 36-year NASA career as a veteran of three spacewalks with more than 48 days of spaceflight experience. NASA said he will become a professor at the University of California at Davis in the fall of 2012.

Robinson began work with NASA as a cooperative education student in 1975 at the agency's Ames Research Center at Moffett Field, Calif. He was selected for the astronaut corps in 1995. Robinson served as a mission specialist on four spaceflights, including space shuttle missions STS-85 in 1997, STS-95 in 1998, STS-114 in 2005 and STS-130 in 2010. On his second spaceflight, Robinson was one of Sen. John Glenn's crewmates during Glenn's historic return to space after 36 years.

His third flight was NASA's 2005 return to flight mission after the loss of shuttle Columbia in February 2003. During STS-114, Robinson performed the only in-flight spacewalk to repair of a shuttle's heat-shield. During his final spaceflight, Robinson orchestrated the spacewalks and the complex robotic installation of the Tranquility node and cupola onto the International Space Station.

"Steve will be sorely missed by the Astronaut Office," said Janet Kavandi, director of Flight Crew Operations. "He was a fellow classmate, and I will personally miss his ever-positive attitude and smiling face. We wish him the best in his future endeavors, and we are confident that he will be a positive influence and wonderful mentor to inquisitive minds at the University of California at Davis."

Robinson holds a bachelor of science in mechanical engineering and aeronautical engineering from the University of California at Davis and a master of science and doctorate in mechanical engineering from Stanford University.
John Glenn Mission Patch
Free shipping to U.S. addresses!

The historic first orbital flight by an American is marked by this commemorative patch for John Glenn and Friendship 7.

U.S. STORE
WORLDWIDE STORE
Final Shuttle Mission Patch
Free shipping to U.S. addresses!

The crew emblem for the final space shuttle mission is available in our store. Get this piece of history!

U.S. STORE
WORLDWIDE STORE
Celebrate the shuttle program
Free shipping to U.S. addresses!

This special commemorative patch marks the retirement of NASA's Space Shuttle Program. Available in our store!

U.S. STORE
WORLDWIDE STORE
Anniversary Shuttle Patch
Free shipping to U.S. addresses!
This embroidered patch commemorates the 30th anniversary of the Space Shuttle Program. The design features the space shuttle Columbia's historic maiden flight of April 12, 1981.

U.S. STORE
WORLDWIDE STORE
Mercury anniversary
Free shipping to U.S. addresses!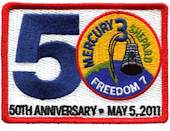 Celebrate the 50th anniversary of Alan Shephard's historic Mercury mission with this collectors' item, the official commemorative embroidered patch.

U.S. STORE
WORLDWIDE STORE
Fallen Heroes Patch Collection

The official patches from Apollo 1, the shuttle Challenger and Columbia crews are available in the store.

U.S. STORE
WORLDWIDE STORE