NewsAlert





Sign up for our NewsAlert service and have the latest news in astronomy and space e-mailed direct to your desktop.


Privacy note: your e-mail address will not be used for any other purpose.





Shannon to review options for deep space exploration
BY WILLIAM HARWOOD
STORY WRITTEN FOR CBS NEWS "SPACE PLACE" & USED WITH PERMISSION
Posted: August 29, 2011

NASA Administrator Charles Bolden has asked outgoing space shuttle Program Manager John Shannon to carry out an independent assessment of competing options for eventual manned missions beyond low-Earth orbit, officials say. The review will include extensive input from NASA's international partners to align "our efforts with the international space community," Bolden said in a letter to senior NASA managers.

Credit: NASA



The space shuttle program officially ends Wednesday, Aug. 31, a month and a half after the Atlantis returned to Earth to close out the 135th and final shuttle mission. Remaining work to disposition shuttle assets and to prepare the orbiters for museum display will continue under the Space Shuttle Transition and Retirement Office, led by Dorothy S. Rasco.

In his new role, Shannon will review so-called design reference missions, or DRMs, for eventual fights to not-yet-specified deep space targets.

"In order to successfully realize the vision of expanding human presence to challenging destinations beyond low-Earth orbit, we have been tasked and funded to develop space exploration technologies; build a new generation of exploration vehicles; and utilize the International Space Station for exploration technology demonstrations," Bolden said in an Aug. 24 letter to agency managers. "As these efforts are integrated across multiple NASA programs and, as important, coordinated with our international partners, we need to determine multi-laterally which specific DRMs and launch targets we will collectively work toward."

Bolden said NASA is not yet "choosing a mission plan that the agency is going to implement at this time. Rather, we are Identifying potential human exploration scenarios on the horizon, so that we can most productively guide our approved efforts in the near-term, while aligning our efforts with the international space community."

Bolden said Shannon will work with NASA's Human Architecture Team, the agency's chief technologist and the Human Exploration and Operations Mission Directorate to "comprehensively review all DRMs; understand which technologies each of the Center Engineering and Operations organizations believe should be further developed; understand the capabilities and evolution options for the multi-purpose crew vehicle and space launch system; and work with the ISECG (International Space Exploration Coordination Group) and international partners to achieve a shared understanding."

Bolden said Shannon will provide a recommendation by late fall on what aspects of various design reference missions "should guide our future collective efforts."

"These recommendations can then be employed to determine where future NASA technology development efforts should focus in order to best leverage our limited resources and enhance potential future cooperation with our international partners," Bolden wrote.

NASA currently is struggling in a difficult budget environment to kick-start near-term development of commercial spacecraft to ferry U.S. astronauts to and from the International Space Station while developing plans for a new heavy-lift rocket to boost NASA's government-developed Orion multi-purpose crew vehicle to deep space targets.

Despite criticism from lawmakers, NASA managers have not yet revealed detailed plans for the new heavy lift "space launch system" rocket, how much it might cost, when they believe manned flights to deep space targets might be possible or where such missions might go.

Long viewed as a rising star in NASA's manned spaceflight community, Shannon, a former shuttle fight director, took over the program in February 2008, earning widespread respect for his leadership skills and broad technical expertise. A spokesman said he was meeting with international colleagues in Japan this week and was not available for comment.
John Glenn Mission Patch
Free shipping to U.S. addresses!

The historic first orbital flight by an American is marked by this commemorative patch for John Glenn and Friendship 7.

U.S. STORE
WORLDWIDE STORE
Final Shuttle Mission Patch
Free shipping to U.S. addresses!

The crew emblem for the final space shuttle mission is available in our store. Get this piece of history!

U.S. STORE
WORLDWIDE STORE
Celebrate the shuttle program
Free shipping to U.S. addresses!

This special commemorative patch marks the retirement of NASA's Space Shuttle Program. Available in our store!

U.S. STORE
WORLDWIDE STORE
Anniversary Shuttle Patch
Free shipping to U.S. addresses!
This embroidered patch commemorates the 30th anniversary of the Space Shuttle Program. The design features the space shuttle Columbia's historic maiden flight of April 12, 1981.

U.S. STORE
WORLDWIDE STORE
Mercury anniversary
Free shipping to U.S. addresses!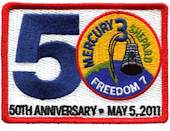 Celebrate the 50th anniversary of Alan Shephard's historic Mercury mission with this collectors' item, the official commemorative embroidered patch.

U.S. STORE
WORLDWIDE STORE
Fallen Heroes Patch Collection

The official patches from Apollo 1, the shuttle Challenger and Columbia crews are available in the store.

U.S. STORE
WORLDWIDE STORE