Hi-Def Video





Experience the space program like never before in stunning HD video!

Shuttle mission STS-125

Atlantis readied for final mission to service the Hubble Space Telescope.

FULL INDEX

Shuttle mission STS-127

Endeavour's dual preps for standby rescue craft and June construction flight to space station.

FULL INDEX

Shuttle mission STS-119

Take a loop around the International Space Station aboard the shuttle Discovery in stunning high definition.

FULL INDEX

LRO and LCROSS

NASA's new lunar orbiter and impactor experiment are being prepped for launch in May.

FULL INDEX

Become a subscriber
More video





SpaceX launch of Falcon 1 rocket postponed
BY JUSTIN RAY
SPACEFLIGHT NOW
Posted: April 19, 2009


The next launch by the SpaceX Falcon 1 rocket, originally scheduled for Monday evening, has been postponed while engineers examine the level of vibrations its Malaysian satellite payload will experience during ascent.

Liftoff of the small booster from Omelek Island in the Kwajalein Atoll of the mid-Pacific was supposed to occur at 2300 GMT (7 p.m. EDT). The mission would put the RazakSat spacecraft into orbit for an Earth-imaging mission.

News stories published Friday in Malaysia said the launch had been postponed because of "detected vibration at unsafe level on the launch vehicle." Those reports, which also said it would take six weeks to resolve, were attributed to Science, Technology and Innovation Ministry secretary-general Datuk Abdul Hanan Alang Endut.

Late Sunday night, SpaceX issued a press release announcing the delay.

"While both the Falcon 1 vehicle and satellite passed all preliminary checkouts and are cleared for launch, a concern has been identified regarding the potential impact of predicted vehicle environments on the satellite. Based on these concerns, the SpaceX team is evaluating options to minimize this impact and ensure mission success," the press release read.

"SpaceX is committed to the safety and success of our customer's payloads," Elon Musk, CEO and CTO of SpaceX, said in the written statement. "Our engineers are addressing this issue and we look forward to launching RazakSat once the issue is fully understood and resolved."

"Both teams are confident the issue will be resolved," said Ahmad Sabirin, CEO of RazakSat builder ATSB. "We are all looking forward to a successful launch."

This will be the fifth launch of the Falcon 1 rocket, a two-stage kerosene-fueled vehicle developed to deliver small satellites into space. After its initial three flights failed, the fourth launch last September successfully reached orbit for the start-up company founded by Musk.
John Glenn Mission Patch
Free shipping to U.S. addresses!

The historic first orbital flight by an American is marked by this commemorative patch for John Glenn and Friendship 7.

U.S. STORE
WORLDWIDE STORE
Final Shuttle Mission Patch
Free shipping to U.S. addresses!

The crew emblem for the final space shuttle mission is available in our store. Get this piece of history!

U.S. STORE
WORLDWIDE STORE
Celebrate the shuttle program
Free shipping to U.S. addresses!

This special commemorative patch marks the retirement of NASA's Space Shuttle Program. Available in our store!

U.S. STORE
WORLDWIDE STORE
Anniversary Shuttle Patch
Free shipping to U.S. addresses!
This embroidered patch commemorates the 30th anniversary of the Space Shuttle Program. The design features the space shuttle Columbia's historic maiden flight of April 12, 1981.

U.S. STORE
WORLDWIDE STORE
Mercury anniversary
Free shipping to U.S. addresses!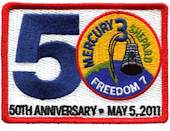 Celebrate the 50th anniversary of Alan Shephard's historic Mercury mission with this collectors' item, the official commemorative embroidered patch.

U.S. STORE
WORLDWIDE STORE
Fallen Heroes Patch Collection

The official patches from Apollo 1, the shuttle Challenger and Columbia crews are available in the store.

U.S. STORE
WORLDWIDE STORE