Spaceflight Now +





Subscribe to Spaceflight Now Plus for access to our extensive video collections!
How do I sign up?
Video archive

Weather satellite launch

The NOAA-N Prime weather observatory launches from California aboard a Delta 2 rocket on Feb. 6.

Play

Carbon observatory

Preview of the Orbiting Carbon Observatory, NASA's first spacecraft dedicated to mapping the global distribution of carbon dioxide.

Play

Expedition 19 crew

The Russian commander and two American astronauts to serve aboard the space station during the Expedition 19 mission hold this pre-flight news briefing.

Play

Delta 4-Heavy launch

The Delta 4-Heavy rocket launches a new intelligence-gathering satellite for the nation.

Full coverage

STS-119: Shuttle on pad

Shuttle Discovery rolls to pad 39A for its February launch to the space station.

Play

STS-119: The programs

In advance of shuttle Discovery's STS-119 mission to the station, managers from both programs discuss the flight.

Play

STS-119: The mission

A detailed preview of Discovery's mission to deliver and activate the space station's final power truss is provided in this briefing.

Play

STS-119: Spacewalks

Four spacewalks are planned during Discovery's STS-119 mission to the station.

Play

STS-119: The Crew

The Discovery astronauts, led by commander Lee Archambault, meet the press in the traditional pre-flight news conference.

Play

Station's new toilet

Space station commander Mike Fincke shows the new U.S. toilet installed aboard the complex. The astronauts are preparing the station for larger crews beginning in 2009.

Play

Become a subscriber
More video





FAA warns of possible falling satellite debris
BY WILLIAM HARWOOD
STORY WRITTEN FOR CBS NEWS "SPACE PLACE" & USED WITH PERMISSION
Posted: February 15, 2009


The Federal Aviation Administration issued a warning to pilots and aircrews Saturday advising them to be on the lookout for possible "re-entry of satellite debris," presumably from an unprecedented satellite collision in space last week. Today, there were reports in Texas of at least one fireball and sounds of an explosion - possibly a sonic boom - but an FAA spokesman said it was not yet known whether the sightings involved satellite debris and if so, whether it came from either destroyed spacecraft.

It's also possible the fireball was the result of a large meteor burning up in the atmosphere.

"Late this morning, people started reporting to law enforcement there was a quote-unquote fireball and some people reported an explosion, which we suspect was probably a sonic boom," said Roland Herwig, a spokesman for the FAA's Southwest Region. "We had put out, the FAA had put out a notice to airmen, called a NOTAM, yesterday morning for pilots, for air crews to be on the lookout for space debris re-entering and and if they see anything to let the FAA know the location, the direction of travel, anything else they could about that. The notice to airmen says we suspect, we don't know, that this debris is from the two satellites that collided last week."

The actual NOTAM, however, does not mention the space collision Tuesday between a commercial Iridium telephone satellite and a defunct Russian communications station known as Cosmos 2251.

In any case, Herwig told reporters today there was no immediate "evidence of damage, no evidence of injuries, no evidence of anyone yet finding a chunk of satellite."

"We told the sheriff's departments, police departments, that people should be cautious around any debris that they do find," he said in a 5:30 p.m. EST teleconference. "But we have not gotten feedback on any debris. Nor have any aircrews reported anything."

He said until someone recovers actual debris, it may be impossible to tell whether the sightings involved wreckage from the Iridium-Cosmos crash, some other satellite or debris from a meteor. He said the Limestone County sheriff's office reported contact from someone who claimed to have a picture of the fireball and a smoke trail and a Plano, Texas, police cruiser may have capture images from a dashboard camera.

The collision between the Iridium-33 satellite and Cosmos 2251 occurred over northern Siberia at an altitude of about 490 miles around noon Tuesday. It was the first such collision in space history. An analysis of the orbits by Analytical Graphics Inc. concluded the spacecraft crashed into each other at some 15,000 mph, creating two large clouds of debris that continued along each spacecraft's orbital track.

The Cosmos ground track did not appear to cross the United States earlier today, but the Iridium's orbit did, according to widely available satellite tracking software. Whether any debris from the relatively small, presumably shredded satellite could have re-entered from the initially high altitude and caused the sort of fireball reported in Texas was not known.

Here is the NOTAM that was posted Saturday by the FAA:

"FDC 9/5902 FDC .. SPECIAL NOTICE .. EFFECTIVE IMMEDIATELY UNTIL FURTHER NOTICE. AIRCRAFT ARE ADVISED THAT A POTENTIAL HAZARD MAY OCCUR DUE TO REENTRY OF SATELLITE DEBRIS INTO THE EARTHS ATMOSPHERE. FURTHER NOTAMS WILL BE ISSUED IF MORE INFORMATION BECOMES AVAILABLE. IN THE INTEREST OF FLIGHT SAFETY, IT IS CRITICAL THAT ALL PILOTS/FLIGHT CREW MEMBERS REPORT ANY OBSERVED FALLING SPACE DEBRIS TO THE APPROPRIATE ATC FACILITY TO INCLUDE POSITION, ALTITUDE, TIME, AND DIRECTION OF DEBRIS OBSERVED."

Herwig said he did not know what prompted the NOTAM or whether it originated with U.S. Strategic Command, which tracks satellites and space debris, or some other organization.

"It's usually something that's passed on to us by law enforcement or some other agency to create a notice," he said. "The notice is open ended, it says 'effective immediately until further notice, a potential hazard may occur due to re-entry of satellite debris.'"
STS-134 Patch
Free shipping to U.S. addresses!

The final planned flight of space shuttle Endeavour is symbolized in the official embroidered crew patch for STS-134. Available in our store!

U.S. STORE
WORLDWIDE STORE
Final Shuttle Mission Patch
Free shipping to U.S. addresses!

The crew emblem for the final space shuttle mission is now available in our store. Get this piece of history!

U.S. STORE
WORLDWIDE STORE
Apollo Collage

This beautiful one piece set features the Apollo program emblem surrounded by the individual mission logos.

U.S. STORE
STS-133 Patch
Free shipping to U.S. addresses!

The final planned flight of space shuttle Discovery is symbolized in the official embroidered crew patch for STS-133. Available in our store!

U.S. STORE
WORLDWIDE STORE
Anniversary Shuttle Patch
Free shipping to U.S. addresses!

This embroidered patch commemorates the 30th anniversary of the Space Shuttle Program. The design features the space shuttle Columbia's historic maiden flight of April 12, 1981.

U.S. STORE
WORLDWIDE STORE
Mercury anniversary
Free shipping to U.S. addresses!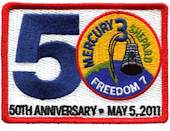 Celebrate the 50th anniversary of Alan Shephard's historic Mercury mission with this collectors' item, the official commemorative embroidered patch.

U.S. STORE
WORLDWIDE STORE