Spaceflight Now +





Subscribe to Spaceflight Now Plus for access to our extensive video collections!
How do I sign up?
Video archive

STS-126: In review

The STS-126 crew narrates highlights from its mission that remodeled the interior of the space station.

Play

Expedition 19 crew

The Russian commander and two American astronauts to serve aboard the space station during the Expedition 19 mission hold this pre-flight news briefing.

Play

Delta 4-Heavy launch

The Delta 4-Heavy rocket launches a new intelligence-gathering satellite for the nation.

Full coverage

STS-119: Shuttle on pad

Shuttle Discovery rolls to pad 39A for its February launch to the space station.

Play

STS-119: The programs

In advance of shuttle Discovery's STS-119 mission to the station, managers from both programs discuss the flight.

Play

STS-119: The mission

A detailed preview of Discovery's mission to deliver and activate the space station's final power truss is provided in this briefing.

Play

STS-119: Spacewalks

Four spacewalks are planned during Discovery's STS-119 mission to the station.

Play

STS-119: The Crew

The Discovery astronauts, led by commander Lee Archambault, meet the press in the traditional pre-flight news conference.

Play

Station's new toilet

Space station commander Mike Fincke shows the new U.S. toilet installed aboard the complex. The astronauts are preparing the station for larger crews beginning in 2009.

Play

Become a subscriber
More video




ERROR: Random File Unopenable
The random file, as specified in the $random_file perl variable was unopenable.

The file was not found on your file system. This means that it has either not been created or the path you have specified in $trrandom_file is incorrect.
NewsAlert





Sign up for our NewsAlert service and have the latest news in astronomy and space e-mailed direct to your desktop.


Privacy note: your e-mail address will not be used for any other purpose.





Lunar lander technology demonstrator engine tested
PRATT & WHITNEY ROCKETDYNE NEWS RELEASE
Posted: January 26, 2009


WEST PALM BEACH, Fla. -- Pratt & Whitney Rocketdyne's Common Extensible Cryogenic Engine (CECE) has successfully demonstrated critical capabilities required for NASA's Altair lunar lander. The engine performed with stable operation at the widest throttle range of any known high performance cryogenic engine in December during its third series of ground tests at the company's West Palm Beach, Fla., test facility. Pratt & Whitney Rocketdyne is a United Technologies Corp. company.

While accumulating nearly 3,000 seconds of operation during 11 hot fire tests, the CECE achieved a throttling range from 104 percent down to 8 percent of its maximum power of 13,800 pounds of thrust. The engine is fueled by a mixture of liquid oxygen and liquid hydrogen. It is validating propulsion technologies to support NASA's Constellation Program.

"The CECE is demonstrating an ability to operate at such wide variations of thrust that it will provide substantial design margin for NASA to meet the lander's mission to descend from orbit and slowly approach and land on the moon's surface," said Victor Giuliano, CECE program manager, Pratt & Whitney Rocketdyne.

"The CECE demonstrated significant risk mitigation for Altair," said Frank Peri, program manager, Exploration Technology Development Program, NASA Langley Research Center. "The CECE test demonstrated the full profile of a landing sequence with a throttleable liquid-oxygen, liquid-hydrogen engine, and shows that throttling is extensible not only to the moon but also to Mars and beyond."

The latest CECE configuration incorporates a new injector design and propellant feed system that carefully manages the pressure, temperature and flow of propellants throughout its range of throttled operation.

The CECE is a variant of Pratt & Whitney Rocketdyne's RL10 upper-stage engine that has helped place numerous military, government and commercial satellites into orbit and powered space probe missions to every planet in our solar system. The RL10 marks its 46th year of flight this year, and is currently in production for service on the latest versions of the Atlas and Delta EELV launch vehicles.

Pratt & Whitney Rocketdyne, Inc., a part of Pratt & Whitney, is a preferred provider of high-value propulsion, power, energy and innovative system solutions used in a wide variety of government and commercial applications, including the main engines for the space shuttle, Atlas and Delta launch vehicles, missile defense systems and advanced hypersonic engines.

Pratt & Whitney is a world leader in the design, manufacture and service of aircraft engines, space propulsion systems and industrial gas turbines. United Technologies, based in Hartford, Conn., is a diversified company providing high technology products and services to the global aerospace and building industries.
John Glenn Mission Patch
Free shipping to U.S. addresses!

The historic first orbital flight by an American is marked by this commemorative patch for John Glenn and Friendship 7.

U.S. STORE
WORLDWIDE STORE
Final Shuttle Mission Patch
Free shipping to U.S. addresses!

The crew emblem for the final space shuttle mission is available in our store. Get this piece of history!

U.S. STORE
WORLDWIDE STORE
Celebrate the shuttle program
Free shipping to U.S. addresses!

This special commemorative patch marks the retirement of NASA's Space Shuttle Program. Available in our store!

U.S. STORE
WORLDWIDE STORE
Anniversary Shuttle Patch
Free shipping to U.S. addresses!
This embroidered patch commemorates the 30th anniversary of the Space Shuttle Program. The design features the space shuttle Columbia's historic maiden flight of April 12, 1981.

U.S. STORE
WORLDWIDE STORE
Mercury anniversary
Free shipping to U.S. addresses!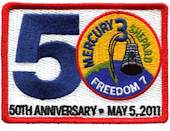 Celebrate the 50th anniversary of Alan Shephard's historic Mercury mission with this collectors' item, the official commemorative embroidered patch.

U.S. STORE
WORLDWIDE STORE
Fallen Heroes Patch Collection

The official patches from Apollo 1, the shuttle Challenger and Columbia crews are available in the store.

U.S. STORE
WORLDWIDE STORE