Spaceflight Now +





Subscribe to Spaceflight Now Plus for access to our extensive video collections!
How do I sign up?
Video archive

Jason 2 preview

The joint American and European satellite project called Jason 2 will monitor global seal levels.

Mission | Science

Phoenix landing preview

Less than two weeks before the Phoenix spacecraft arrives at Mars, this previews the landing and the planned science on the planet's surface.

Presentation | Q&A

STS-82: In review

The second servicing of the Hubble Space Telescope was accomplished in Feb. 1997 when the shuttle astronauts replaced a pair of instruments and other internal equipment on the observatory.

Play

STS-81: In review

The fifth shuttle docking mission to the space station Mir launched astronaut Jerry Linenger to begin his long-duration stay on the complex and brought John Blaha back to Earth.

Play

Discovery rolls out

Discovery travels from the Vehicle Assembly Building to pad 39A in preparation for the STS-124 mission.

Play

Become a subscriber
More video





Weather satellite launched to support the Olympics
STEPHEN CLARK
SPACEFLIGHT NOW
Posted: May 27, 2008


China launched a polar-orbiting weather satellite early Tuesday, giving forecasters another tool to make detailed weather predictions for the Beijing Olympics later this year, state media reported.

The Feng Yun 3A spacecraft, the first in a new series of weather observatories, flew into space aboard a Long March 4C rocket launched from the Taiyuan space center in northeastern China's Shanxi province. Liftoff was at 0302 GMT (11:02 p.m. EDT), or shortly after 11 a.m. China time, according to the Xinhua news agency.

Feng Yun 3A will circle Earth's poles during its mission, studying the planet's climate and weather patterns to improve the precision of forecasts. The satellite will provide sharper medium-range forecasts of up to two weeks, Xinhua reported.

The 5,060-pound craft is the second space observatory heralded by China as an Olympic forecasting satellite. A similar weather platform was placed in geostationary orbit in late 2006 to provide short-range forecasts.

Officials expect Feng Yun 3A to be operational by the Aug. 8 opening of the Beijing Games.

Feng Yun 3A carries a dozen instruments to gather imagery and analyze changes in the atmosphere, according to Xinhua.

Tuesday's mission was the 26th space launch to reach orbit this year from spaceports around the world. It marked the second launch for China's space program in 2008.

China's next launch will deliver the Chinasat 9 direct broadcasting satellite to orbit in early June, according to the craft's French builders.
John Glenn Mission Patch
Free shipping to U.S. addresses!

The historic first orbital flight by an American is marked by this commemorative patch for John Glenn and Friendship 7.

U.S. STORE
WORLDWIDE STORE
Final Shuttle Mission Patch
Free shipping to U.S. addresses!

The crew emblem for the final space shuttle mission is available in our store. Get this piece of history!

U.S. STORE
WORLDWIDE STORE
Celebrate the shuttle program
Free shipping to U.S. addresses!

This special commemorative patch marks the retirement of NASA's Space Shuttle Program. Available in our store!

U.S. STORE
WORLDWIDE STORE
Anniversary Shuttle Patch
Free shipping to U.S. addresses!
This embroidered patch commemorates the 30th anniversary of the Space Shuttle Program. The design features the space shuttle Columbia's historic maiden flight of April 12, 1981.

U.S. STORE
WORLDWIDE STORE
Mercury anniversary
Free shipping to U.S. addresses!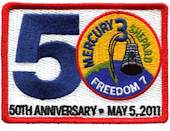 Celebrate the 50th anniversary of Alan Shephard's historic Mercury mission with this collectors' item, the official commemorative embroidered patch.

U.S. STORE
WORLDWIDE STORE
Fallen Heroes Patch Collection

The official patches from Apollo 1, the shuttle Challenger and Columbia crews are available in the store.

U.S. STORE
WORLDWIDE STORE