Spaceflight Now +





Subscribe to Spaceflight Now Plus for access to our extensive video collections!
How do I sign up?
Video archive

STS-123 landing

Shuttle Endeavour returned from space with a night landing March 26 at Kennedy Space Center.

Play

Day 16 highlights

Video highlights from Endeavour's final full day in space for STS-123.

Play

Day 15 highlights

Flight Day 15 was undocking day as Endeavour departed the station to begin the journey toward home.

Play

Day 14 highlights

Easter Sunday in space on Flight Day 14 included a few hours of rest and the joint crew news conference.

Play

Day 13 highlights

On Flight Day 13, the mission's final spacewalk attached the shuttle's heat shield inspection boom to the station.

Play

Day 12 highlights

Inspections of Endeavour's wings and nose for space debris hits were conducted on Flight Day 12.

Play

Day 11 highlights

Spacewalkers on Flight Day 11 tested a method for repairing damaged shuttle heat shield tiles in space.

Play

Become a subscriber
More video





German Earth-observing radar satellite launched
BY STEPHEN CLARK
SPACEFLIGHT NOW
Posted: March 27, 2008


Another German military radar reconnaissance satellite launched from Russia Thursday, joining an orbital constellation of craft designed to peer through the night to spy on locations around the world.

File image of a Kosmos 3M rocket launching a SAR-Lupe spacecraft.
Credit: OHB-System AG



The craft, called SAR-Lupe 4 by the German military, began a half-hour trip to space at 1715 GMT (1:15 p.m. EDT) from the Plesetsk Cosmodrome in far northern Russia, according to OHB-System, the prime contractor.

The 105-foot-tall Kosmos 3M rocket lofted the 1,700-pound satellite to an orbital perch about 300 miles high.

The launch was postponed two days due to unfavorable upper level winds, according to Russian media reports.

Engineers at a German control center successfully contacted SAR-Lupe 4 about 90 minutes after liftoff, confirming the satellite was in good health, OHB-System said in a written statement.

Officials expect to receive the first images from the satellite by the end of next month, the company said.

SAR-Lupe 4 joins a fleet of three identical spacecraft already in orbit to provide detailed imagery for the German armed forces. Each satellite is fitted with a radar system to beam radio light toward Earth and process the reflected pulses to produce high-resolution images.

The synthetic aperture radar, or SAR, can spot objects on the ground as small as three feet, according to OHB-System.

Radar beams can pierce darkness and clouds, providing an all-weather system able to generate useful imagery 24 hours a day. Optical systems are obscured during nighttime and bad weather conditions.

A final SAR-Lupe satellite is scheduled to launch later this year to complete the system, which will spread the five spacecraft among three orbital planes to provide regular global coverage.

The German military took control of the early members of the SAR-Lupe fleet in December to begin operational reconnaissance work, which is expected to last at least ten years.

The SAR-Lupe system is part of an agreement between Germany and France to share imagery between the nations' space-based reconnaissance networks. Germany will receive data from the French Helios optical and infrared satellites.
John Glenn Mission Patch
Free shipping to U.S. addresses!

The historic first orbital flight by an American is marked by this commemorative patch for John Glenn and Friendship 7.

U.S. STORE
WORLDWIDE STORE
Final Shuttle Mission Patch
Free shipping to U.S. addresses!

The crew emblem for the final space shuttle mission is available in our store. Get this piece of history!

U.S. STORE
WORLDWIDE STORE
Celebrate the shuttle program
Free shipping to U.S. addresses!

This special commemorative patch marks the retirement of NASA's Space Shuttle Program. Available in our store!

U.S. STORE
WORLDWIDE STORE
Anniversary Shuttle Patch
Free shipping to U.S. addresses!
This embroidered patch commemorates the 30th anniversary of the Space Shuttle Program. The design features the space shuttle Columbia's historic maiden flight of April 12, 1981.

U.S. STORE
WORLDWIDE STORE
Mercury anniversary
Free shipping to U.S. addresses!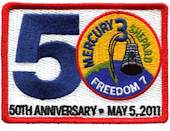 Celebrate the 50th anniversary of Alan Shephard's historic Mercury mission with this collectors' item, the official commemorative embroidered patch.

U.S. STORE
WORLDWIDE STORE
Fallen Heroes Patch Collection

The official patches from Apollo 1, the shuttle Challenger and Columbia crews are available in the store.

U.S. STORE
WORLDWIDE STORE