Spaceflight Now +





Premium video content for our Spaceflight Now Plus subscribers.

STS-31: Opening window to the Universe
The Hubble Space Telescope has become astronomy's crown jewel for knowledge and discovery. The great observatory was placed high above Earth following its launch aboard space shuttle Discovery on April 24, 1990. The astronauts of STS-31 recount their mission in this post-flight film presentation.

Small | Medium | Large

Atlantis on the pad
Space shuttle Atlantis is delivered to Kennedy Space Center's launch pad 39B on August 2 to begin final preparations for blastoff on the STS-115 mission to resume construction of the International Space Station.

PLAY

Atlantis rollout begins
Just after 1 a.m. local time August 2, the crawler-transporter began the slow move out of the Vehicle Assembly Building carrying space shuttle Atlantis toward the launch pad.

PLAY

ISS EVA preview
Astronauts Jeff Williams and Thomas Reiter will conduct a U.S.-based spacewalk outside the International Space Station on August 3. To preview the EVA and the tasks to be accomplished during the excursion, station managers held this press conference from Johnson Space Center in Houston.

Dial-up | Broadband

STS-34: Galileo launch
The long voyage of exploration to Jupiter and its many moons by the Galileo spacecraft began on October 18, 1989 with launch from Kennedy Space Center aboard the space shuttle Atlantis. The crew of mission STS-34 tell the story of their flight to dispatch the probe -- fitted with an Inertial Upper Stage rocket motor -- during this post-flight presentation film.

Small | Medium | Large

Atlantis on the move
Space shuttle Atlantis is transported to the cavernous Vehicle Assembly Building where the ship will be mated to the external fuel tank and twin solid rocket boosters for a late-August liftoff.

PLAY | TIME-LAPSE

Become a subscriber
More video





China launches recoverable science platform into space
BY STEPHEN CLARK
SPACEFLIGHT NOW
Posted: September 10, 2006


A satellite bearing the largest payload of plant and fungi seeds ever launched by China was flown into space on Sunday for a reported two-week stay in orbit before being sent on a guided return to Earth.

The launch of the Shijian-8 spacecraft occurred early Saturday from the Jiuquan space center in northwest China's Gansu province. The Long March 2C rocket delivered the satellite into an orbit stretching from a low point of 111 miles to a high point of 277 miles, with an inclination of 63 degrees.

Shijian-8 carries at least 2,000 types of seed samples from a variety of species including those grown in normal crops on Earth, as well as fungi. In all, about 474 pounds of seeds are stowed away aboard the satellite, according to the state-owned Xinhua news agency.

Heralded as China's first satellite primarily designed for space breeding, Shijian-8's seed payload will be returned to Earth after about two weeks of flight, the China Daily newspaper reported in July.

Shijian-8 is reportedly based on China's so-called FSW series of recoverable satellites.

After being recovered, the seeds will be used by researchers attempting to improve the quality and yield of terrestrial crops. Chinese officials contend that seeds exposed to space radiation and microgravity contain more vitamins and other crucial minerals.

Seeds have been carried inside Chinese satellites since 1987, and several Shenzhou capsules from the nation's human spaceflight program have also included similar payloads. However, inside Shijian-8 is the largest set of seeds flown in Chinese space history, Xinhua said.

The launch was the second of 2006 for China, and several more missions are planned before the end of the year. The Sinosat 2 broadcasting satellite is scheduled to lift off in October atop a Long March rocket. A weather satellite, ocean studies craft, and possibly more military spacecraft could also be launched this year.
ERROR: Random File Unopenable
The random file, as specified in the $random_file perl variable was unopenable.

The file was not found on your file system. This means that it has either not been created or the path you have specified in $trrandom_file is incorrect.

John Glenn Mission Patch


Free shipping to U.S. addresses!


The historic first orbital flight by an American is marked by this commemorative patch for John Glenn and Friendship 7.

U.S. STORE

WORLDWIDE STORE


Final Shuttle Mission Patch


Free shipping to U.S. addresses!


The crew emblem for the final space shuttle mission is available in our store. Get this piece of history!

U.S. STORE

WORLDWIDE STORE


Celebrate the shuttle program


Free shipping to U.S. addresses!


This special commemorative patch marks the retirement of NASA's Space Shuttle Program. Available in our store!

U.S. STORE

WORLDWIDE STORE


Anniversary Shuttle Patch


Free shipping to U.S. addresses!

This embroidered patch commemorates the 30th anniversary of the Space Shuttle Program. The design features the space shuttle Columbia's historic maiden flight of April 12, 1981.

U.S. STORE

WORLDWIDE STORE


Mercury anniversary


Free shipping to U.S. addresses!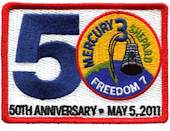 Celebrate the 50th anniversary of Alan Shephard's historic Mercury mission with this collectors' item, the official commemorative embroidered patch.

U.S. STORE

WORLDWIDE STORE


Fallen Heroes Patch Collection


The official patches from Apollo 1, the shuttle Challenger and Columbia crews are available in the store.

U.S. STORE

WORLDWIDE STORE