Spaceflight Now +





Premium video content for our Spaceflight Now Plus subscribers.

STS-31: Opening window to the Universe
The Hubble Space Telescope has become astronomy's crown jewel for knowledge and discovery. The great observatory was placed high above Earth following its launch aboard space shuttle Discovery on April 24, 1990. The astronauts of STS-31 recount their mission in this post-flight film presentation.

Small | Medium | Large

Atlantis on the pad
Space shuttle Atlantis is delivered to Kennedy Space Center's launch pad 39B on August 2 to begin final preparations for blastoff on the STS-115 mission to resume construction of the International Space Station.

PLAY

Atlantis rollout begins
Just after 1 a.m. local time August 2, the crawler-transporter began the slow move out of the Vehicle Assembly Building carrying space shuttle Atlantis toward the launch pad.

PLAY

ISS EVA preview
Astronauts Jeff Williams and Thomas Reiter will conduct a U.S.-based spacewalk outside the International Space Station on August 3. To preview the EVA and the tasks to be accomplished during the excursion, station managers held this press conference from Johnson Space Center in Houston.

Dial-up | Broadband

STS-34: Galileo launch
The long voyage of exploration to Jupiter and its many moons by the Galileo spacecraft began on October 18, 1989 with launch from Kennedy Space Center aboard the space shuttle Atlantis. The crew of mission STS-34 tell the story of their flight to dispatch the probe -- fitted with an Inertial Upper Stage rocket motor -- during this post-flight presentation film.

Small | Medium | Large

Atlantis on the move
Space shuttle Atlantis is transported to the cavernous Vehicle Assembly Building where the ship will be mated to the external fuel tank and twin solid rocket boosters for a late-August liftoff.

PLAY | TIME-LAPSE

Become a subscriber
More video





Crew Exploration Vehicle given the name Orion
NASA NEWS RELEASE
Posted: August 22, 2006


NASA announced Tuesday that its new Crew Exploration Vehicle will be named Orion.

Orion is the vehicle NASA's Constellation Program is developing to carry a new generation of explorers back to the moon and later to Mars. Orion will succeed the space shuttle as NASA's primary vehicle for human space exploration.

Orion's first flight with astronauts onboard is planned for no later than 2014 to the International Space Station. Its first flight to the moon is planned for no later than 2020.

Orion is named for one of the brightest, most familiar and easily identifiable constellations.

"Many of its stars have been used for navigation and guided explorers to new worlds for centuries," said Orion Project Manager Skip Hatfield. "Our team, and all of NASA - and, I believe, our country - grows more excited with every step forward this program takes. The future for space exploration is coming quickly."

In June, NASA announced the launch vehicles under development by the Constellation Program have been named Ares, a synonym for Mars. The booster that will launch Orion will be called Ares I, and a larger heavy-lift launch vehicle will be known as Ares V.

Orion will be capable of transporting cargo and up to six crew members to and from the International Space Station. It can carry four crewmembers for lunar missions. Later, it can support crew transfers for Mars missions.

Orion borrows its shape from space capsules of the past, but takes advantage of the latest technology in computers, electronics, life support, propulsion and heat protection systems. The capsule's conical shape is the safest and most reliable for re-entering the Earth's atmosphere, especially at the velocities required for a direct return form the moon.

Orion will be 16.5 feet in diameter and have a mass of about 25 tons. Inside, it will have more than 2.5 times the volume of an Apollo capsule. The spacecraft will return humans to the moon to stay for long periods as a testing ground for the longer journey to Mars.

NASA's Johnson Space Center, Houston, manages the Constellation Program and the agency's Marshall Space Flight Center, Huntsville, Ala., manages the Exploration Launch Projects' office for the Exploration Systems Mission Directorate, Washington.
ERROR: Random File Unopenable
The random file, as specified in the $random_file perl variable was unopenable.

The file was not found on your file system. This means that it has either not been created or the path you have specified in $trrandom_file is incorrect.

John Glenn Mission Patch


Free shipping to U.S. addresses!


The historic first orbital flight by an American is marked by this commemorative patch for John Glenn and Friendship 7.

U.S. STORE

WORLDWIDE STORE


Final Shuttle Mission Patch


Free shipping to U.S. addresses!


The crew emblem for the final space shuttle mission is available in our store. Get this piece of history!

U.S. STORE

WORLDWIDE STORE


Celebrate the shuttle program


Free shipping to U.S. addresses!


This special commemorative patch marks the retirement of NASA's Space Shuttle Program. Available in our store!

U.S. STORE

WORLDWIDE STORE


Anniversary Shuttle Patch


Free shipping to U.S. addresses!

This embroidered patch commemorates the 30th anniversary of the Space Shuttle Program. The design features the space shuttle Columbia's historic maiden flight of April 12, 1981.

U.S. STORE

WORLDWIDE STORE


Mercury anniversary


Free shipping to U.S. addresses!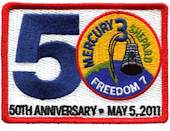 Celebrate the 50th anniversary of Alan Shephard's historic Mercury mission with this collectors' item, the official commemorative embroidered patch.

U.S. STORE

WORLDWIDE STORE


Fallen Heroes Patch Collection


The official patches from Apollo 1, the shuttle Challenger and Columbia crews are available in the store.

U.S. STORE

WORLDWIDE STORE

An insider's view of how Apollo flight controllers operated and just what they faced when events were crucial.

Choose your store:
U.S.