Spaceflight Now +





Premium video content for our Spaceflight Now Plus subscribers.

Discovery goes to pad
As night fell over Kennedy Space Center on May 19, space shuttle Discovery reached launch pad 39B to complete the slow journey from the Vehicle Assembly Building. Discovery will be traveling much faster in a few weeks when it blasts off to the International Space Station.

Full coverage

STS-61B: Building structures in orbit
The November 1985 flight of space shuttle Atlantis began with a rare nighttime blastoff. The seven-member crew, including a Mexican payload specialist, spent a week in orbit deploying three communications satellites for Australia, Mexico and the U.S. And a pair of high-visibility spacewalks were performed to demonstrate techniques for building large structures in space. The crew narrates the highlights of STS-61B in this post-flight crew film presentation.

Small | Medium | Large

STS-61A: German Spacelab
Eight astronauts, the largest crew in history, spent a week in space during the fall of 1985 aboard shuttle Challenger for mission STS-61A, the first flight dedicated to the German Spacelab. The crew worked in the Spacelab D-1 laboratory conducting a range of experiments, including a quick-moving sled that traveled along tracks in the module. A small satellite was ejected from a canister in the payload bay as well. The astronauts narrate the highlights of the mission in this post-flight film.

Small | Medium | Large

Discovery moves to VAB
Perched atop a trailer-like transporter, space shuttle Discovery was moved May 12 from its hangar to the 52-story Vehicle Assembly Building for mating to its external fuel tank and twin solid rocket boosters in preparation for the STS-121 mission.

Full coverage

Astronaut Hall of Fame 2006 induction
The U.S. Astronaut Hall of Fame inducted its 2006 class of shuttle commanders Henry Hartsfield, Brewster Shaw and Charles Bolden. The ceremony was held inside the Saturn 5 museum at Kennedy Space Center.

Full coverage

STEREO arrival
NASA's twin Solar Terrestrial Relations Observatory satellites (STEREO) arrive via truck at the Astrotech processing facility outside Kennedy Space Center for final pre-launch testing and preparations. They will be launched this summer aboard a Boeing Delta 2 rocket to provide the first 3-D "stereo" views of the sun and solar wind.

Arriving | Unpacking

STS-51F: Shuttle becomes observatory
Space shuttle Challenger was transformed into an orbiting observatory to study the sun, stars and space environment during the Spacelab 2 mission in the summer of 1985. But getting into space wasn't easy. The shuttle suffered an engine shutdown on the launch pad, then during ascent two weeks later lost one of its three main engines. It marked the first Abort To Orbit in shuttle history. In this post-flight film, the crew of STS-51F narrates highlights of the mission that includes tests using a small plasma-monitoring satellite was launched from Challenger's robot arm.

Small | Medium | Large

STS-51G: Space truck
A seven-person crew featuring payload specialists from France and Saudi Arabia flew aboard the June 1985 mission of space shuttle Discovery. They narrate the highlights of STS-51G in this post-flight film. Three communications satellites -- for Mexico, the Arab countries and the U.S. -- were launched from the payload bay. And the SPARTAN 1 astrophysics spacecraft was deployed from the shuttle's robot arm for a two-day freeflight to make its science observations before being retrieved and returned to Earth.

Small | Medium | Large

Become a subscriber
More video





Scientists predict how to detect a new dimension
DUKE AND RUTGERS UNIVERSITIES NEWS RELEASE
Posted: May 29, 2006


Scientists at Duke and Rutgers universities have developed a mathematical framework they say will enable astronomers to test a new five-dimensional theory of gravity that competes with Einstein's General Theory of Relativity.

Charles R. Keeton of Rutgers and Arlie O. Petters of Duke base their work on a recent theory called the type II Randall-Sundrum braneworld gravity model. The theory holds that the visible universe is a membrane (hence "braneworld") embedded within a larger universe, much like a strand of filmy seaweed floating in the ocean. The "braneworld universe" has five dimensions -- four spatial dimensions plus time -- compared with the four dimensions -- three spatial, plus time -- laid out in the General Theory of Relativity.

The framework Keeton and Petters developed predicts certain cosmological effects that, if observed, should help scientists validate the braneworld theory. The observations, they said, should be possible with satellites scheduled to launch in the next few years.

If the braneworld theory proves to be true, "this would upset the applecart," Petters said. "It would confirm that there is a fourth dimension to space, which would create a philosophical shift in our understanding of the natural world."

The scientists' findings appeared May 24, 2006, in the online edition of the journal Physical Review D. Keeton is an astronomy and physics professor at Rutgers, and Petters is a mathematics and physics professor at Duke. Their research is funded by the National Science Foundation.

The Randall-Sundrum braneworld model -- named for its originators, physicists Lisa Randall of Harvard University and Raman Sundrum of Johns Hopkins University -- provides a mathematical description of how gravity shapes the universe that differs from the description offered by the General Theory of Relativity.

Keeton and Petters focused on one particular gravitational consequence of the braneworld theory that distinguishes it from Einstein's theory.

The braneworld theory predicts that relatively small "black holes" created in the early universe have survived to the present. The black holes, with mass similar to a tiny asteroid, would be part of the "dark matter" in the universe. As the name suggests, dark matter does not emit or reflect light, but does exert a gravitational force.

The General Theory of Relativity, on the other hand, predicts that such primordial black holes no longer exist, as they would have evaporated by now.

"When we estimated how far braneworld black holes might be from Earth, we were surprised to find that the nearest ones would lie well inside Pluto's orbit," Keeton said.

Petters added, "If braneworld black holes form even 1 percent of the dark matter in our part of the galaxy -- a cautious assumption -- there should be several thousand braneworld black holes in our solar system."

But do braneworld black holes really exist -- and therefore stand as evidence for the 5-D braneworld theory?

The scientists showed that it should be possible to answer this question by observing the effects that braneworld black holes would exert on electromagnetic radiation traveling to Earth from other galaxies. Any such radiation passing near a black hole will be acted upon by the object's tremendous gravitational forces -- an effect called "gravitational lensing."

"A good place to look for gravitational lensing by braneworld black holes is in bursts of gamma rays coming to Earth," Keeton said. These gamma-ray bursts are thought to be produced by enormous explosions throughout the universe. Such bursts from outer space were discovered inadvertently by the U.S. Air Force in the 1960s.

Keeton and Petters calculated that braneworld black holes would impede the gamma rays in the same way a rock in a pond obstructs passing ripples. The rock produces an "interference pattern" in its wake in which some ripple peaks are higher, some troughs are deeper, and some peaks and troughs cancel each other out. The interference pattern bears the signature of the characteristics of both the rock and the water.

Similarly, a braneworld black hole would produce an interference pattern in a passing burst of gamma rays as they travel to Earth, said Keeton and Petters. The scientists predicted the resulting bright and dark "fringes" in the interference pattern, which they said provides a means of inferring characteristics of braneworld black holes and, in turn, of space and time.

"We discovered that the signature of a fourth dimension of space appears in the interference patterns," Petters said. "This extra spatial dimension creates a contraction between the fringes compared to what you'd get in General Relativity."

Petters and Keeton said it should be possible to measure the predicted gamma-ray fringe patterns using the Gamma-ray Large Area Space Telescope, which is scheduled to be launched on a spacecraft in August 2007. The telescope is a joint effort between NASA, the U.S. Department of Energy, and institutions in France, Germany, Japan, Italy and Sweden.

The scientists said their prediction would apply to all braneworld black holes, whether in our solar system or beyond.

"If the braneworld theory is correct," they said, "there should be many, many more braneworld black holes throughout the universe, each carrying the signature of a fourth dimension of space."
ERROR: Random File Unopenable
The random file, as specified in the $random_file perl variable was unopenable.

The file was not found on your file system. This means that it has either not been created or the path you have specified in $trrandom_file is incorrect.

John Glenn Mission Patch


Free shipping to U.S. addresses!


The historic first orbital flight by an American is marked by this commemorative patch for John Glenn and Friendship 7.

U.S. STORE

WORLDWIDE STORE


Final Shuttle Mission Patch


Free shipping to U.S. addresses!


The crew emblem for the final space shuttle mission is available in our store. Get this piece of history!

U.S. STORE

WORLDWIDE STORE


Celebrate the shuttle program


Free shipping to U.S. addresses!


This special commemorative patch marks the retirement of NASA's Space Shuttle Program. Available in our store!

U.S. STORE

WORLDWIDE STORE


Anniversary Shuttle Patch


Free shipping to U.S. addresses!

This embroidered patch commemorates the 30th anniversary of the Space Shuttle Program. The design features the space shuttle Columbia's historic maiden flight of April 12, 1981.

U.S. STORE

WORLDWIDE STORE


Mercury anniversary


Free shipping to U.S. addresses!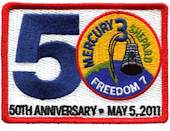 Celebrate the 50th anniversary of Alan Shephard's historic Mercury mission with this collectors' item, the official commemorative embroidered patch.

U.S. STORE

WORLDWIDE STORE


Fallen Heroes Patch Collection


The official patches from Apollo 1, the shuttle Challenger and Columbia crews are available in the store.

U.S. STORE

WORLDWIDE STORE


Ares 1-X Patch

The official embroidered patch for the Ares 1-X rocket test flight, is available for purchase.

U.S. STORE

WORLDWIDE STORE


Apollo Collage

This beautiful one piece set features the Apollo program emblem surrounded by the individual mission logos.

U.S. STORE


Expedition 21

The official embroidered patch for the International Space Station Expedition 21 crew is now available from our stores.

U.S. STORE

WORLDWIDE STORE


Hubble Patch

The official embroidered patch for mission STS-125, the space shuttle's last planned service call to the Hubble Space Telescope, is available for purchase.

U.S. STORE

WORLDWIDE STORE