Spaceflight Now +





Premium video content for our Spaceflight Now Plus subscribers.

STS-61A: German Spacelab
Eight astronauts, the largest crew in history, spent a week in space during the fall of 1985 aboard shuttle Challenger for mission STS-61A, the first flight dedicated to the German Spacelab. The crew worked in the Spacelab D-1 laboratory conducting a range of experiments, including a quick-moving sled that traveled along tracks in the module. A small satellite was ejected from a canister in the payload bay as well. The astronauts narrate the highlights of the mission in this post-flight film.

Small | Medium | Large

Discovery moves to VAB
Perched atop a trailer-like transporter, space shuttle Discovery was moved May 12 from its hangar to the 52-story Vehicle Assembly Building for mating to its external fuel tank and twin solid rocket boosters in preparation for the STS-121 mission.

Full coverage

Astronaut Hall of Fame 2006 induction
The U.S. Astronaut Hall of Fame inducted its 2006 class of shuttle commanders Henry Hartsfield, Brewster Shaw and Charles Bolden. The ceremony was held inside the Saturn 5 museum at Kennedy Space Center.

Full coverage

STEREO arrival
NASA's twin Solar Terrestrial Relations Observatory satellites (STEREO) arrive via truck at the Astrotech processing facility outside Kennedy Space Center for final pre-launch testing and preparations. They will be launched this summer aboard a Boeing Delta 2 rocket to provide the first 3-D "stereo" views of the sun and solar wind.

Arriving | Unpacking

Become a subscriber
More video





NASA finalizes crews for upcoming shuttle missions
NASA NEWS RELEASE
Posted: May 17, 2006


NASA has finalized crew assignments for two space shuttle missions targeted for launch in 2007 to continue assembly of the International Space Station.

Astronaut John D. Olivas will join the crew of shuttle mission STS-117. Astronaut Tracy Caldwell will join the crew of shuttle mission STS-118. Olivas and Caldwell will be making their first space flights.

Astronaut Richard A. Mastracchio, previously assigned to STS-117, has been reassigned to STS-118. Veteran shuttle flier and spacewalker Scott Parazynski, previously assigned to STS-118, has left that crew to prepare for assignment to another mission.

With the changes, the STS-117 crew is commanded by Marine Lt. Col. Frederick W. Sturckow. The mission's pilot is Air Force Col. Lee J. Archambault and the mission specialists are James F. Reilly II, retired Army Col. Patrick G. Forrester, Steven R. Swanson and Olivas. STS-117 will deliver the second starboard truss segment to the space station with the third set of U.S. solar arrays, batteries and associated equipment.

STS-118 will be commanded by Navy Cmdr. Scott J. Kelly. The pilot will be Marine Lt. Col. Charles O. Hobaugh. The mission specialists are Canadian Space Agency astronaut Dr. Dafydd R. Williams, educator astronaut Barbara R. Morgan, Mastracchio and Caldwell. STS-118 will deliver to the station the third starboard truss segment; an external stowage platform; and logistics and supplies in a SPACEHAB single cargo module.

Olivas was born in North Hollywood, Calif., and raised in El Paso, Texas. He received a bachelor's from the University of Texas-El Paso, a master's from the University of Houston and a doctorate in mechanical engineering from Rice University, Houston. Upon completing his doctorate, Olivas worked as a senior research engineer at NASA's Jet Propulsion Laboratory, Pasadena, Calif. He was selected as an astronaut in 1998.

Caldwell was born in Arcadia, Calif. She received a bachelor's from California State University in Fullerton and a doctorate in physical chemistry from the University of California at Davis. She was selected as an astronaut in 1998. Her assignments have included spacecraft communicator in mission control, shuttle flight software verification and support of shuttle launch and landing operations.
ERROR: Random File Unopenable
The random file, as specified in the $random_file perl variable was unopenable.

The file was not found on your file system. This means that it has either not been created or the path you have specified in $trrandom_file is incorrect.

John Glenn Mission Patch


Free shipping to U.S. addresses!


The historic first orbital flight by an American is marked by this commemorative patch for John Glenn and Friendship 7.

U.S. STORE

WORLDWIDE STORE


Final Shuttle Mission Patch


Free shipping to U.S. addresses!


The crew emblem for the final space shuttle mission is available in our store. Get this piece of history!

U.S. STORE

WORLDWIDE STORE


Celebrate the shuttle program


Free shipping to U.S. addresses!


This special commemorative patch marks the retirement of NASA's Space Shuttle Program. Available in our store!

U.S. STORE

WORLDWIDE STORE


Anniversary Shuttle Patch


Free shipping to U.S. addresses!

This embroidered patch commemorates the 30th anniversary of the Space Shuttle Program. The design features the space shuttle Columbia's historic maiden flight of April 12, 1981.

U.S. STORE

WORLDWIDE STORE


Mercury anniversary


Free shipping to U.S. addresses!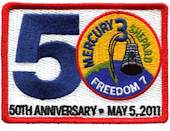 Celebrate the 50th anniversary of Alan Shephard's historic Mercury mission with this collectors' item, the official commemorative embroidered patch.

U.S. STORE

WORLDWIDE STORE


Fallen Heroes Patch Collection


The official patches from Apollo 1, the shuttle Challenger and Columbia crews are available in the store.

U.S. STORE

WORLDWIDE STORE

An insider's view of how Apollo flight controllers operated and just what they faced when events were crucial.

Choose your store:
U.S.