Spaceflight Now +





Premium video content for our Spaceflight Now Plus subscribers.

Dawn mission reborn
In early March, NASA cancelled its Dawn mission built to orbit two of the solar system's largest asteroids using ion engine propulsion. Technical problems and cost overruns were blamed. But in this news conference from March 27, agency officials announce NASA's decision to reverse the cancellation and restart the mission.

QuickTime | For iPod

CEV planning
Lockheed Martin holds this news conference in Houston on March 24 to announced that it is partnering with the State of Texas to locate the Crew Exploration Vehicle (CEV) program office in Houston, as well as systems engineering, software development and qualification testing, if the corporation wins the NASA contract to build the next generation spacecraft for NASA.

QuickTime | For iPod

Expedition 12 recap
As the Expedition 12 mission aboard the International Space Station winds down, officials managing the flight from Mission Control in Houston hold this retrospective briefing to talk about the highs and lows, the science, the spacewalks and everything in between.

Dial-up video:
Part 1 | Part 2

Broadband video:
Part 1 | Part 2

Expedition 13 preview
International Space Station officials preview the next Expedition mission to the orbiting outpost, which is scheduled for launch March 29. The preview was given during a briefing March 22 from Johnson Space Center.

Dial-up | Broadband

STS-41B: Human satellite
One of the iconic moments of the early space shuttle program was astronaut Bruce McCandless floating above the brilliantly blue Earth completely disconnected from his spacecraft. He was testing the Manned Maneuvering Unit, a jet-powered backpack that would enable spacewalkers to travel away from the space shuttle to service satellites. In this post-flight presentation, the crew of Challenger's STS-41B mission of February 1984 narrate the film highlights from their mission that also included the first shuttle landing at Kennedy Space Center.

Small | Medium | Large

Shuttle launch delay
Space Shuttle Program Manager Wayne Hale announces his decision to replace suspect fuel-level sensors inside the liquid hydrogen portion of Discovery's external tank. The three-week job means Discovery will miss its May launch window, delaying the second post-Columbia test flight to the next daylight period opening July 1. Hale made the announcement during a news conference from Johnson Space Center on March 14.

Dial-up video:
Part 1 | Part 2

Broadband video:
Part 1 | Part 2

Become a subscriber
More video





From Europa to lab: New oxygen recipe on icy moons
PACIFIC NORTHWEST NATIONAL LABORATORY NEWS RELEASE
Posted: March 27, 2006


Some may be surprised to learn that bleach-blondes and the enabler of life elsewhere in our solar system have something in common. It is, in fact, hydrogen peroxide.

But how that hydrogen peroxide emerges from ice to become life-sustaining oxygen has been unclear. Now, a new study at Pacific Northwest National Laboratory in Richland, Wash., offers the most detailed picture to date on how oxygen can be made in frigid reaches far from Earth.

Since its discovery on Jupiter's Europa and other icy moons orbiting large gaseous worlds, extraterrestrial ice as a source for oxygen has presented the tantalizing possibility of complex life around other planets. Yet planetary scientists have struggled to explain how, in the absence of sufficient heat, oxygen could be produced from the permafrost surfaces for use, in Europa's case, by whatever life forms that might inhabit oceans trapped beneath.

The standard explanation is that abundant high-energy particles from space-protons, ultraviolet photons, electrons-break the molecular bonds that chain oxygen to hydrogen. (The geophysics - how the oxygen gets into the ocean as ice is - is another story, one involving a conveyor-belt-like recycling of surface ice into the ocean.)

Those previous oxygen-production models, however, don't jibe with what staff scientist Greg Kimmel and his colleagues at the PNNL-based W.R. Wiley Environmental Molecular Sciences Laboratory have been seeing in experiments, Kimmel reported Monday at the annual meeting of the American Chemical Society.

"The previous model was a two-step process," Kimmel said. "First, an energetic particle produces a stable precursor"-say, two hydrogen atoms coupled with two oxygen atoms (hydrogen peroxide) or a hydrogen atom paired with two oxygen atoms. "In step two, another energetic particle produces O2, or molecular oxygen, from the stable precursor."

Kimmel and colleagues grew a microscopically thin ice film on a platinum surface, under a vacuum, and bombarded the film with high-energy electrons. The bursts lasted 30 to 60 seconds at 30 to 130 degrees Kelvin, approximating the minus-hundreds-of-degrees-Fahrenheit temperatures on the icy moons. Afterward, they measured the amount and location, determined by the oxygen isotopes used to construct layers of the ice film, and discovered that intermediate species of hydrogen-oxygen permeated the films.

"We found that a simpler two-step could not account for our results," Kimmel said. "Our model is a four-step process." First, the energetic particle produces what is known as a common "reactive oxygen species" called a hydroxyl radical, or OH. Next, two OH molecules react to produce hydrogen peroxide. Third, another OH reacts with the hydrogen peroxide to form HO2 (hydrogen coupled to two oxygen atoms), plus a water molecule. And, finally, an energetic particle splits an oxygen molecule from the HO2.

The experiment introduced another new twist. "One might have expected O2 to be produced throughout the region where the electrons penetrate in the film," Kimmel noted. "But this is not the case. It appears that the OH's can be made deeper in the film, but that they subsequently diffuse to and collect at the ice surface with the rest of the reactions (steps 2-4 above) preferentially occurring there."
ERROR: Random File Unopenable
The random file, as specified in the $random_file perl variable was unopenable.

The file was not found on your file system. This means that it has either not been created or the path you have specified in $trrandom_file is incorrect.

John Glenn Mission Patch


Free shipping to U.S. addresses!


The historic first orbital flight by an American is marked by this commemorative patch for John Glenn and Friendship 7.

U.S. STORE

WORLDWIDE STORE


Final Shuttle Mission Patch


Free shipping to U.S. addresses!


The crew emblem for the final space shuttle mission is available in our store. Get this piece of history!

U.S. STORE

WORLDWIDE STORE


Celebrate the shuttle program


Free shipping to U.S. addresses!


This special commemorative patch marks the retirement of NASA's Space Shuttle Program. Available in our store!

U.S. STORE

WORLDWIDE STORE


Anniversary Shuttle Patch


Free shipping to U.S. addresses!

This embroidered patch commemorates the 30th anniversary of the Space Shuttle Program. The design features the space shuttle Columbia's historic maiden flight of April 12, 1981.

U.S. STORE

WORLDWIDE STORE


Mercury anniversary


Free shipping to U.S. addresses!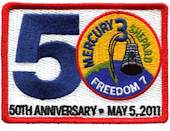 Celebrate the 50th anniversary of Alan Shephard's historic Mercury mission with this collectors' item, the official commemorative embroidered patch.

U.S. STORE

WORLDWIDE STORE


Fallen Heroes Patch Collection


The official patches from Apollo 1, the shuttle Challenger and Columbia crews are available in the store.

U.S. STORE

WORLDWIDE STORE


Ares 1-X Patch

The official embroidered patch for the Ares 1-X rocket test flight, is available for purchase.

U.S. STORE

WORLDWIDE STORE


Apollo Collage

This beautiful one piece set features the Apollo program emblem surrounded by the individual mission logos.

U.S. STORE


Expedition 21

The official embroidered patch for the International Space Station Expedition 21 crew is now available from our stores.

U.S. STORE

WORLDWIDE STORE


Hubble Patch

The official embroidered patch for mission STS-125, the space shuttle's last planned service call to the Hubble Space Telescope, is available for purchase.

U.S. STORE

WORLDWIDE STORE