Spaceflight Now +





Premium video content for our Spaceflight Now Plus subscribers.

Pegasus abort
During the final seconds prior to the planned launch of the Space Technology 5 mission on March 15, a retention pin that holds the starboard-side fin aerosurface on the Pegasus rocket first stage did not retract. That forced the launch team to call an abort. This movie shows the scrub as it happened.

Play video

Shuttle launch delay
Space Shuttle Program Manager Wayne Hale announces his decision to replace suspect fuel-level sensors inside the liquid hydrogen portion of Discovery's external tank. The three-week job means Discovery will miss its May launch window, delaying the second post-Columbia test flight to the next daylight period opening July 1. Hale made the announcement during a news conference from Johnson Space Center on March 14.

Dial-up video:
Part 1 | Part 2

Broadband video:
Part 1 | Part 2

Stardust science
NASA's Stardust spacecraft returned to Earth in January with the first samples ever retrieved from a comet. This briefing with mission scientists held March 13 from the Johnson Space Center offers an update on the initial research into the comet bits.

Dial-up video:
Part 1 | Part 2

Broadband video:
Part 1 | Part 2

Exploring Enceladus
The Cassini spacecraft orbiting the planet Saturn has found evidence indicating pockets of liquid water may exist near the surface on the icy moon Enceladus, raising the question of whether the small world could support life. This movie includes stunning images of Enceladus taken by Cassini and animation of geysers seen erupting from the moon.

Play video

MRO's orbit insertion explained
The make-or-break engine firing by the Mars Reconnaissance Orbiter to enter orbit around Mars and the subsequent aerobraking to reach the low-altitude perch for science observations are explained by project manager Jim Graf in this narrated animation package.

Play video

MRO overview briefing
Fuk Li, Mars program manager at JPL, Jim Graf, MRO project manager, Rich Zurek, MRO project scientist, and Dan McCleese, the principal investigator for the Mars Climate Sounder instrument, provide an overview on the Mars Reconnaissance Orbiter on March 8, about 48 hours before arrival at Mars.

Play video:
Dial-up | Broadband

STS-9: Spacelab opens
Spacelab was an orbiting laboratory tucked in the payload bay of the space shuttle for scientists to conduct a range of experiments. The joint European/NASA program flew multiple times aboard shuttle missions starting with STS-9 in November 1983. In this post-flight film presentation, the astronauts from that Columbia mission narrate the highlights from Spacelab-1.

Small | Medium | Large

Become a subscriber
More video





Galaxy on fire! NASA's Spitzer reveals stellar smoke
JET PROPULSION LABORATORY NEWS RELEASE
Posted: March 16, 2006


This image composite compares a visible-light view (left) of the "Cigar galaxy" to an infrared view from NASA's Spitzer Space Telescope of the same galaxy. While the visible image shows a serene galaxy looking cool as a cucumber, the infrared image reveals a smokin' hot "cigar." Credit: Visible: NOAO; Infrared: NASA/JPL-Caltech/C. Engelbracht (University of Arizona)
Download larger image version here



Where there's smoke, there's fire -- even in outer space. A new infrared image from NASA's Spitzer Space Telescope shows a burning hot galaxy whose fiery stars appear to be blowing out giant billows of smoky dust.

The galaxy, called Messier 82, or the "Cigar galaxy," was previously known to host a hotbed of young, massive stars. The new Spitzer image reveals, for the first time, the "smoke" surrounding those stellar fires.

"We've never seen anything like this," said Dr. Charles Engelbracht of the University of Arizona, Tucson. "This unusual galaxy has ejected an enormous amount of dust to cover itself with a cloud brighter than any we've seen around other galaxies."

The false-colored view shows Messier 82, an irregular-shaped galaxy positioned on its side, as a diffuse bar of blue light. Fanning out from its top and bottom like the wings of a butterfly are huge red clouds of dust believed to contain a compound similar to car exhaust.

The smelly material, called polycyclic aromatic hydrocarbon, can be found on Earth in tailpipes, barbecue pits and other places where combustion reactions have occurred. In galaxies, the stuff is created by stars, whose winds and radiation blow the material out into space.

"Usually you see smoke before a fire, but we knew about the fire in this galaxy before Spitzer's infrared eyes saw the smoke," said Dr. David Leisawitz, Spitzer program scientist at NASA Headquarters in Washington.

These hazy clouds are some of the biggest ever seen around a galaxy. They stretch out 20,000 light-years away from the galactic plane in both directions, far beyond where stars are found.

Previous observations of Messier 82 had revealed two cone-shaped clouds of very hot gas projecting outward below and above the center of galaxy. Spitzer's sensitive infrared vision allowed astronomers to see the galaxy's dust.

"Spitzer showed us a dust halo all around this galaxy," said Engelbracht. "We still don't understand why the dust is all over the place and not cone-shaped."

Cone-shaped clouds of dust around this galaxy would have indicated that its central, massive stars had sprayed the dust into space. Instead, Engelbracht and his team believe stars throughout the galaxy are sending off the "smoke signals."

Messier 82 is located about 12 million light-years away in the Ursa Major constellation. It is undergoing a renaissance of star birth in its middle age, with the most intense bursts of star formation taking place at its core. The galaxy's interaction with its neighbor, a larger galaxy called Messier 81, is the cause of all the stellar ruckus. Our own Milky Way galaxy is a less hectic place, with dust confined to the galactic plane.

The findings will appear in an upcoming issue of the Astrophysical Journal. Other authors who contributed significantly to this work are Praveen Kundurthy and Dr. Karl Gordon, both of the University of Arizona. The image was taken as a part of the Spitzer Infrared Nearby Galaxy Survey, which is led by Dr. Robert Kennicutt, also of the University of Arizona.

The Jet Propulsion Laboratory manages the Spitzer Space Telescope mission for NASA's Science Mission Directorate, Washington. Science operations are conducted at the Spitzer Science Center at Caltech. JPL is a division of Caltech.
ERROR: Random File Unopenable
The random file, as specified in the $random_file perl variable was unopenable.

The file was not found on your file system. This means that it has either not been created or the path you have specified in $trrandom_file is incorrect.

John Glenn Mission Patch


Free shipping to U.S. addresses!


The historic first orbital flight by an American is marked by this commemorative patch for John Glenn and Friendship 7.

U.S. STORE

WORLDWIDE STORE


Final Shuttle Mission Patch


Free shipping to U.S. addresses!


The crew emblem for the final space shuttle mission is available in our store. Get this piece of history!

U.S. STORE

WORLDWIDE STORE


Celebrate the shuttle program


Free shipping to U.S. addresses!


This special commemorative patch marks the retirement of NASA's Space Shuttle Program. Available in our store!

U.S. STORE

WORLDWIDE STORE


Anniversary Shuttle Patch


Free shipping to U.S. addresses!

This embroidered patch commemorates the 30th anniversary of the Space Shuttle Program. The design features the space shuttle Columbia's historic maiden flight of April 12, 1981.

U.S. STORE

WORLDWIDE STORE


Mercury anniversary


Free shipping to U.S. addresses!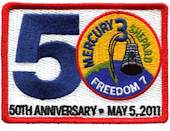 Celebrate the 50th anniversary of Alan Shephard's historic Mercury mission with this collectors' item, the official commemorative embroidered patch.

U.S. STORE

WORLDWIDE STORE


Fallen Heroes Patch Collection


The official patches from Apollo 1, the shuttle Challenger and Columbia crews are available in the store.

U.S. STORE

WORLDWIDE STORE


Ares 1-X Patch

The official embroidered patch for the Ares 1-X rocket test flight, is available for purchase.

U.S. STORE

WORLDWIDE STORE


Apollo Collage

This beautiful one piece set features the Apollo program emblem surrounded by the individual mission logos.

U.S. STORE


Expedition 21

The official embroidered patch for the International Space Station Expedition 21 crew is now available from our stores.

U.S. STORE

WORLDWIDE STORE


Hubble Patch

The official embroidered patch for mission STS-125, the space shuttle's last planned service call to the Hubble Space Telescope, is available for purchase.

U.S. STORE

WORLDWIDE STORE