Spaceflight Now +





Premium video content for our Spaceflight Now Plus subscribers.

Progress undocking
The Russian Progress M-54 cargo freighter undocks from the International Space Station's Zvezda service module aft port on March 3, as viewed by onboard and ISS cameras. Known in the station's assembly sequence as Progress 19P, the craft was launched last September with food, water, equipment and fuel. It was filled with trash before the undocking to burn up in the atmosphere.

Play

ISS technical briefing
Mike Suffredini, NASA's program manager for the International Space Station, updates reporters on the technical aspects of implimenting the revised assembly sequence and configuration for the orbiting outpost in this teleconference held March 3.

QuickTime audio | iPod

New ISS assembly plans
Leaders from the U.S., Russian, European, Japanese and Canadian space agencies hold this press conference at Kennedy Space Center on March 2 following meetings to approve a revised assembly sequence for the International Space Station using 16 space shuttle flights.

Play video:
Dial-up | Broadband

Download audio:
For iPod

Space shuttle update
A status report on the space shuttle program's efforts to fly the second post-Columbia test flight, including changes to the external fuel tank, is provided in this news conference from Kennedy Space Center on Feb. 28. The participants are Wayne Hale, shuttle program manager, Mike Leinbach, shuttle launch director, and Tim Wilson, external tank tiger team lead.

Dial-up video:
Part 1 | Part 2

Broadband video:
Part 1 | Part 2

Download audio:
For iPod

Lockheed's CEV plans
As part of Lockheed Martin's plans for the Crew Exploration Vehicle, the company has announced that final assembly and testing of the capsules will be performed at the Kennedy Space Center's Operations and Checkout Building. Lockheed Martin officials, Florida's lieutenant governor, the local congressman and a county economic development leader held this press conference Feb. 22 to unveil the plans.

Play video

Become a subscriber
More video





Hubble supports a common birth of Pluto's moons
APPLIED PHYSICS LABORATORY NEWS RELEASE
Posted: March 12, 2006


Using new Hubble Space Telescope observations, a research team led by Dr. Hal Weaver of the Johns Hopkins University Applied Physics Laboratory and Dr. Alan Stern of the Southwest Research Institute has found that Pluto's three moons are essentially the same color - boosting the theory that the Pluto system formed in a single, giant collision.

This pair of Hubble images shows the motion of Pluto's satellites between February 15th and March 2nd, 2006. Credit: NASA, ESA, H. Weaver (Johns Hopkins University/Applied Physics Lab), A. Stern (Southwest Research Institute), and the HST Pluto Companion Search Team



Publishing their findings in an International Astronomical Union Circular (No. 8686), the team determined that Pluto's two "new" satellites, discovered in May 2005 and provisionally called S/2005 P 1 and S/2005 P 2, have identical colors to one another and are essentially the same, neutral color as Charon, Pluto's large moon discovered in 1978.

All three satellites have surfaces that reflect sunlight with equal efficiency at all wavelengths, which means they have the same color as the Sun or Earth's moon. In contrast, Pluto has more of a reddish hue.

The new observations were obtained March 2 with the high-resolution channel of the Hubble's Advanced Camera for Surveys. The team determined the bodies' colors by comparing the brightness of Pluto and each moon in images taken through a blue filter with those taken through a green/red filter.

"The high quality of the new data leaves little doubt that the hemispheres of P1 and P2 that we observed have essentially identical, neutral colors," says Weaver.

The new results further strengthen the hypothesis that Pluto and its satellites formed after a collision between two Pluto-sized objects nearly 4.6 billion years ago. "Everything now makes even more sense," says Stern. "If all three satellites presumably formed from the same material lofted into orbit around Pluto from a giant impact, you might well expect the surfaces of all three satellites to have similar colors."

The researchers hope to make additional Hubble color observations, in several more filters, to see if the similarity among the satellites persists to longer (redder) wavelengths. They have proposed to obtain compositional information on the new satellites by observing them at near-infrared wavelengths, where various ice and mineral absorptions are located. The researchers also hope to better refine the orbits of P1 and P2 and measure the moons' shapes and rotational periods.

The Hubble observations were made in support of NASA's New Horizons mission to Pluto and the Kuiper Belt. New Horizons launched on Jan. 19, 2006, and will fly through the Pluto system in July 2015, providing the first close-up look at the ninth planet and its moons. Stern leads the mission and science team as principal investigator; Weaver serves as the mission's project scientist. The Johns Hopkins University Applied Physics Laboratory, Laurel, Md., manages the mission for NASA's Science Mission Directorate and operates the New Horizons spacecraft.

The other members of the Hubble Space Telescope-Pluto satellite observing team include Max Mutchler of the Space Telescope Science Institute, Baltimore; Drs. William Merline, John Spencer, Andrew Steffl, Elliot Young and Leslie Young of Southwest Research Institute, Boulder, Colo.; and Dr. Marc Buie of Lowell Observatory, Flagstaff, Ariz.

The Applied Physics Laboratory, a not for profit division of The Johns Hopkins University, conducts research and development primarily for national security and for nondefense projects of national and global significance.
John Glenn Mission Patch
Free shipping to U.S. addresses!

The historic first orbital flight by an American is marked by this commemorative patch for John Glenn and Friendship 7.

U.S. STORE
WORLDWIDE STORE
Final Shuttle Mission Patch
Free shipping to U.S. addresses!

The crew emblem for the final space shuttle mission is available in our store. Get this piece of history!

U.S. STORE
WORLDWIDE STORE
Celebrate the shuttle program
Free shipping to U.S. addresses!

This special commemorative patch marks the retirement of NASA's Space Shuttle Program. Available in our store!

U.S. STORE
WORLDWIDE STORE
Anniversary Shuttle Patch
Free shipping to U.S. addresses!
This embroidered patch commemorates the 30th anniversary of the Space Shuttle Program. The design features the space shuttle Columbia's historic maiden flight of April 12, 1981.

U.S. STORE
WORLDWIDE STORE
Mercury anniversary
Free shipping to U.S. addresses!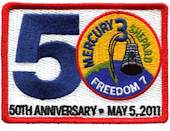 Celebrate the 50th anniversary of Alan Shephard's historic Mercury mission with this collectors' item, the official commemorative embroidered patch.

U.S. STORE
WORLDWIDE STORE
Fallen Heroes Patch Collection

The official patches from Apollo 1, the shuttle Challenger and Columbia crews are available in the store.

U.S. STORE
WORLDWIDE STORE
Ares 1-X Patch
The official embroidered patch for the Ares 1-X rocket test flight, is available for purchase.

U.S. STORE
WORLDWIDE STORE
Apollo Collage
This beautiful one piece set features the Apollo program emblem surrounded by the individual mission logos.

U.S. STORE
Expedition 21
The official embroidered patch for the International Space Station Expedition 21 crew is now available from our stores.

U.S. STORE
WORLDWIDE STORE
Hubble Patch
The official embroidered patch for mission STS-125, the space shuttle's last planned service call to the Hubble Space Telescope, is available for purchase.

U.S. STORE
WORLDWIDE STORE