Spaceflight Now +





Premium video content for our Spaceflight Now Plus subscribers.

Mars orbiter briefing
With two weeks until its arrival at the red planet, NASA and Lockheed Martin officials hold this Feb. 24 news conference on the Mars Reconnaissance Orbiter. The briefing explains how the MRO spacecraft will fire its engines to enter into orbit around Mars and the mission's scientific goals to examine the planet like never before.

Play video:
Dial-up | Broadband

Download audio:
For iPod

Lockheed's CEV plans
As part of Lockheed Martin's plans for the Crew Exploration Vehicle, the company has announced that final assembly and testing of the capsules will be performed at the Kennedy Space Center's Operations and Checkout Building. Lockheed Martin officials, Florida's lieutenant governor, the local congressman and a county economic development leader held this press conference Feb. 22 to unveil the plans.

Play video

STS-8: Night launch
The space shuttle program performed its first dazzling nighttime launch with Challenger's August 1983 mission. A cockpit camera mounted beside commander Dick Truly captured amazing footage of night turning to day inside the shuttle from the brilliant flame of ascent. STS-8 also featured the first African-American astronaut, Guion Bluford. Challenger's astronauts tell the story of their six-day mission, which deployed an Indian satellite, used the robot arm to look at the orbiter's belly and examined the glow around the shuttle, during this narrated post-flight film.

Small | Medium | Large

STS-7: America's first woman astronaut
The seventh flight of the space shuttle is remembered for breaking the gender barrier for U.S. spaceflight. Sally Ride flew into space and the history books with her historic June 1983 mission, becoming America's first woman astronaut. STS-7 also launched a pair of commercial communications spacecraft, then deployed a small platform fitted with experiments and camera package that captured iconic pictures of Challenger flying above the blue Earth and black void of space. The crew members narrate highlights from the mission in this post-flight film presentation.

Small | Medium | Large

STS-6: Challenger debut
The space shuttle program became a two-orbiter fleet on April 4, 1983 when Challenger launched on its maiden voyage from Kennedy Space Center. The STS-6 mission featured the first ever spacewalk from a space shuttle and the deployment of NASA's first Tracking and Data Relay Satellite. The four astronauts narrate a movie of highlights from their five-day mission in this post-flight presentation.

Small | Medium | Large

STS-121 crew press chat
Commander Steve Lindsey and his crew, the astronauts set to fly the second post-Columbia test flight, hold an informal news conference with reporters at Kennedy Space Center on Feb. 17. The crew is in Florida to examine hardware and equipment that will be carried on the STS-121 flight of shuttle Discovery.

Play video:
Dial-up | Broadband

Download audio:
For iPod

House hearing on NASA
NASA Administrator Mike Griffin and his No. 2, Shana Dale, appear before the House Science Committee on Feb. 16 to defend President Bush's proposed 2007 budget for the space agency. Congressmen grill Griffin and Dale about the budget's plans to cut funding for some science programs.

Play video

Become a subscriber
More video





Spacecraft detects new kind of cosmic explosion
NASA NEWS RELEASE
Posted: February 25, 2006


Scientists are studying a strange explosion that appeared on February 18, about 440 million light years away in the constellation Aries. The "before" image on the left is from the Sloan Digital Sky Survey. The "after" image on the right is from NASA Swift's Ultraviolet/Optical Telescope. The pinpoint of light from this star explosion outshines the entire host galaxy. Credit: SDSS (left), NASA/Swift/UVOT (right)



Scientists using NASA's Swift satellite have detected a new kind of cosmic explosion. The event appears to be a precursor to a supernova, which is expected to reach peak brightness in a week.

Scores of satellites and ground-based telescopes are now trained on the sight, watching and waiting. Amateur astronomers in the northern hemisphere with a good telescope in dark skies can also view it.

The explosion has the trappings of a gamma-ray burst, the most distant and powerful type of explosion known. Yet this explosion, detected on February 18, was about 25 times closer and 100 times longer than the typical gamma-ray burst. And it possesses characteristics never seen before.

"This is totally new and unexpected," said Neil Gehrels, Swift principal investigator at NASA's Goddard Space Flight Center in Greenbelt, Md. "This is the type of unscripted event in our nearby universe that we hoped Swift could catch."

The explosion, called GRB 060218 after the date it was discovered, originated in a star-forming galaxy about 440 million light-years away toward the constellation Aries. This is the second-closest gamma-ray burst ever detected, if indeed it is a true burst.

The burst of gamma rays lasted for nearly 2,000 seconds; most bursts last a few milliseconds to tens of seconds. The explosion was surprisingly dim, however, suggesting that scientists might be viewing the event slightly off-axis. Yet this is just one explanation on the table. The standard theory for gamma-ray bursts is that the high-energy light is beamed in our direction.

"There are still many unknowns," said John Nousek, the Swift mission director at Penn State University, State College, Penn. "This could be a new kind of burst, or we might be seeing a gamma-ray burst from an entirely different angle. This off-angle glance --- a profile view, perhaps --- has given us an entirely new approach to studying star explosions. Had this been farther away, we would have missed it."

A team at Italy's National Institute for Astrophysics (INAF) has found hints of a budding supernova. Using the European Southern Observatory's Very Large Telescope in Chile, the scientists have watched the afterglow of this burst grow brighter in optical light. This brightening, along with other telltale spectral characteristics in the light, strongly suggests that a supernova is unfolding.

"We expected to see the typical featureless spectrum of a gamma-ray burst afterglow, but instead we found a mixture between this and the more complex spectrum of a supernova similar to those generally observed weeks after the gamma-ray burst," said Nicola Masetti of INAF's Institute for Space Astrophysics and Cosmic Physics (IASF) in Bologna. "A supernova must be in the works."

Masetti said this could be a Type Ic supernova, characterized by its massive size and the abundance of certain chemical elements. This implies a scenario in which a very massive star has collapsed into a black hole and subsequently exploded; the debris from the explosion is trapping optical light inside and as the dust settles, more and more light will break free.

If they are correct, scientists will have an unprecedented view of a supernova from start to finish across many wavelengths, from radio through X-ray. Radio telescopes in fact have seen this burst from the day it was detected, another first.

Because the burst was so long, Swift was able to observe the bulk of the explosion with all three of its instruments: the Burst Alert Telescope, which detected the burst; and the X-ray Telescope and Ultraviolet/Optical Telescope, which provide high-resolution imagery and spectra across a broad range of wavelengths.

Scientists will attempt observations with the Hubble Space Telescope and Chandra X-ray Observatory. Amateur astronomers in dark skies might be able to see the explosion with a 16-inch telescope as it hits 16th magnitude brightness.

Goddard manges Swift. Swift is a NASA mission with the participation of the Italian Space Agency and the Particle Physics and Astronomy Research Council in the United Kingdom.
ERROR: Random File Unopenable
The random file, as specified in the $random_file perl variable was unopenable.

The file was not found on your file system. This means that it has either not been created or the path you have specified in $trrandom_file is incorrect.

John Glenn Mission Patch


Free shipping to U.S. addresses!


The historic first orbital flight by an American is marked by this commemorative patch for John Glenn and Friendship 7.

U.S. STORE

WORLDWIDE STORE


Final Shuttle Mission Patch


Free shipping to U.S. addresses!


The crew emblem for the final space shuttle mission is available in our store. Get this piece of history!

U.S. STORE

WORLDWIDE STORE


Celebrate the shuttle program


Free shipping to U.S. addresses!


This special commemorative patch marks the retirement of NASA's Space Shuttle Program. Available in our store!

U.S. STORE

WORLDWIDE STORE


Anniversary Shuttle Patch


Free shipping to U.S. addresses!

This embroidered patch commemorates the 30th anniversary of the Space Shuttle Program. The design features the space shuttle Columbia's historic maiden flight of April 12, 1981.

U.S. STORE

WORLDWIDE STORE


Mercury anniversary


Free shipping to U.S. addresses!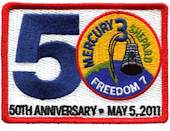 Celebrate the 50th anniversary of Alan Shephard's historic Mercury mission with this collectors' item, the official commemorative embroidered patch.

U.S. STORE

WORLDWIDE STORE


Fallen Heroes Patch Collection


The official patches from Apollo 1, the shuttle Challenger and Columbia crews are available in the store.

U.S. STORE

WORLDWIDE STORE


Ares 1-X Patch

The official embroidered patch for the Ares 1-X rocket test flight, is available for purchase.

U.S. STORE

WORLDWIDE STORE


Apollo Collage

This beautiful one piece set features the Apollo program emblem surrounded by the individual mission logos.

U.S. STORE


Expedition 21

The official embroidered patch for the International Space Station Expedition 21 crew is now available from our stores.

U.S. STORE

WORLDWIDE STORE


Hubble Patch

The official embroidered patch for mission STS-125, the space shuttle's last planned service call to the Hubble Space Telescope, is available for purchase.

U.S. STORE

WORLDWIDE STORE