Spaceflight Now +





Premium video content for our Spaceflight Now Plus subscribers.

Checking their ride
Expedition 10 commander Leroy Chiao, flight engineer Salizhan Sharipov and Russian taxi cosmonaut Yuri Shargin climb aboard their Soyuz capsule for a fit check in advance of launch to the International Space Station. (1min 45sec file)
Play video

Spirit panorama
This amazing panorama of the martian surface at Columbia Hills was taken by the Spirit rover. Expert narration is provided by camera scientist Jim Bell. (2min 12sec file)
Play video

Update on Mars rovers
Mars Exploration Rover project manager Jim Erickson and panoramic camera lead scientist Jim Bell offer comments on the status of the Spirit and Opportunity missions (1min 33sec file)
Play video

Delta rocket assembly
The first stage of Boeing's Delta 2 rocket that will launch NASA's Swift gamma-ray burst detection observatory in November is erected on pad 17A at Cape Canaveral, Florida. (4min 52sec file)
Play video

Solid boosters arrive
The three solid-fueled rocket boosters for the Boeing Delta 2 vehicle that will launch the Swift satellite are hoisted into the pad 17A mobile service tower. (4min 55sec file)
Play video

SRBs go for attachment
The mobile service tower carries the solid boosters into position for attachment to the Delta 2 rocket's first stage. (3min 08sec file)
Play video

Swift nose cone
The two halves of the 10-foot diameter rocket nose cone that will enclose NASA's Swift satellite during launch aboard a Boeing Delta 2 vehicle are lifted into the pad 17A tower. (4min 26sec file)
Play video

ISS talk with students
The International Space Station crew holds an educational event to answers questions live with students at the Maryland Science Center. (24min 01sec file)
Play video

Genesis to Houston
The solar wind samples retrieved by NASA's Genesis spacecraft finally arrive at Johnson Space Center facilities from the Utah landing site. (2min 51sec file)
Play video

SpaceShipOne team chats with ISS
SpaceShipOne pilots and Burt Rutan call the International Space Station for an informal chat with Expedition 9 commander Gennady Padalka and flight engineer Mike Fincke the day after winning the X Prize. (13min 07sec file)
Play video

Gordon Cooper tribute
The flight of Gordon Cooper and Mercury's Faith 7 mission is remembered in this NASA tribute film. (20min 42sec file)
Play video

X Prize launch
SpaceShipOne with pilot Brian Binnie rocket into space on the second of two flights needed to win the $10 million X Prize. (2min 32sec file)
Play video

Monday's flight
This longer length clip of SpaceShipOne's second X Prize launch following the ascent, feathering of the wings and the start of re-entry. (5min 56sec file)
Play video

Safe landing
Brian Binnie, the world's second private astronaut, brings SpaceShipOne to a safe landing at Mojave airport to capture the X Prize. (5min 55sec file)
Play video

Become a subscriber
More video




NewsAlert





Sign up for our NewsAlert service and have the latest news in astronomy and space e-mailed direct to your desktop.


Privacy note: your e-mail address will not be used for any other purpose.





Radio astronomers remove the blindfold
PARTICLE PHYSICS AND ASTRONOMY RESEARCH COUNCIL
Posted: October 9, 2004


UK radio astronomers at the Jodrell Bank Observatory, working with colleagues from Europe and the USA, have demonstrated a new technique that will revolutionise the way they observe.

To create the very best quality images of the sky, they routinely combine data from multiple telescopes from around the world - a technique called Very Long Baseline Interferometry (VLBI). They have now combined this with the power of dedicated internet resources to send data from all the telescopes to a special computer, to combine the observations in real-time (e-VLBI).

The Cambridge telescope.



In conventional interferometry, far from the traditional image of an astronomer peering through an eyepiece, radio astronomers have to wait weeks or even months to see the results of their work as data tapes are shipped around the world to be combined at a central processing facility.

Prof Phil Diamond, of Jodrell Bank Observatory explains "Previously, we've been working in the dark, collecting data that we can't see in its entirety until painfully long weeks later. Now using e-VLBI, we have removed that blindfold; we can process the observations taken at a number of locations around the world at once, in real time. In future, this technique will allow us to take much better images than previously possible, revealing in much greater detail the Universe around us."

e-VLBI uses new dedicated internet infrastructures (called research networks) in the participating countries, so that data from all the telescopes can be relayed rapidly to a centre in the Netherlands where the data are combined and sent back to the astronomers, who then produce the images. These new observations give an exciting glimpse of the future of radio astronomy. Using research networks, not only will radio astronomers be able to see deeper into the distant Universe, they'll be able to capture unpredictable, transient events as they happen, reliably and quickly.

The star chosen for this remarkable demonstration, called IRC+10420, is one of the most unusual in the sky. Surrounded by clouds of dusty gas and emitting strongly in radio waves, the object is poised at the end of its life, heading toward a cataclysmic explosion known as a 'supernova'.

Although the scientific goals of the experiment were modest, these e-VLBI observations of IRC+10420 open up the possibility of watching the structures of astrophysical objects as they change. IRC+10420 is a supergiant star in the constellation of Aquila. It has a mass about 10 times that of our own Sun and lies about 15,000 light years from Earth. One of the brightest infrared sources in the sky, it is surrounded by a thick shell of dust and gas thrown out from the surface of the star at a rate of about 200 times the mass of the Earth every year.

Radio astronomers are able to image the dust and gas surrounding IRC+10420 because one of the component molecules, hydroxyl (OH), reveals itself by means of strong 'maser' emission. Essentially, the astronomers see clumps of gas where radio emission is strongly amplified by special conditions.

With the zoom lens provided by e-VLBI, astronomers can make images with great detail and watch the clumps of gas move, watch masers being born and die on timescales of weeks to months, and study the changing magnetic fields that permeate the shell. The results show that the gas is moving at about 40 km/s and was ejected from the star about 900 years ago.

As Prof. Phil Diamond explained, "The material we're seeing in this image left the surface of the star at around the time of the Norman Conquest of England".

It is believed IRC+10420 is rapidly evolving toward the end of its life. At some point, maybe thousands of years from now, maybe tomorrow, the star is expected to blow itself apart in one of the most energetic phenomena known in the Universe - a 'supernova'. The resulting cloud of material will eventually form a new generation of stars and planetary systems. Radio astronomers are now poised, with the incredible power of e-VLBI, to catch the details as they happen and study the physical processes that are so important to the structure of our Galaxy and to life itself.
John Glenn Mission Patch
Free shipping to U.S. addresses!

The historic first orbital flight by an American is marked by this commemorative patch for John Glenn and Friendship 7.

U.S. STORE
WORLDWIDE STORE
Final Shuttle Mission Patch
Free shipping to U.S. addresses!

The crew emblem for the final space shuttle mission is available in our store. Get this piece of history!

U.S. STORE
WORLDWIDE STORE
Celebrate the shuttle program
Free shipping to U.S. addresses!

This special commemorative patch marks the retirement of NASA's Space Shuttle Program. Available in our store!

U.S. STORE
WORLDWIDE STORE
Anniversary Shuttle Patch
Free shipping to U.S. addresses!
This embroidered patch commemorates the 30th anniversary of the Space Shuttle Program. The design features the space shuttle Columbia's historic maiden flight of April 12, 1981.

U.S. STORE
WORLDWIDE STORE
Mercury anniversary
Free shipping to U.S. addresses!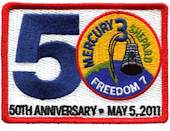 Celebrate the 50th anniversary of Alan Shephard's historic Mercury mission with this collectors' item, the official commemorative embroidered patch.

U.S. STORE
WORLDWIDE STORE
Fallen Heroes Patch Collection

The official patches from Apollo 1, the shuttle Challenger and Columbia crews are available in the store.

U.S. STORE
WORLDWIDE STORE
Columbia Report
A reproduction of the official accident investigation report into the loss of the space shuttle Columbia and its crew of seven.

Choose your store:
U.S. - U.K. - E.U. - Worldwide
Mars Panorama

DISCOUNTED! This 360 degree image was taken by the Mars Pathfinder, which landed on the Red Planet in July 1997. The Sojourner Rover is visible in the image.

Choose your store:
U.S.
Apollo 11 Mission Report
Apollo 11 - The NASA Mission Reports Vol. 3 is the first comprehensive study of man's first mission to another world is revealed in all of its startling complexity. Includes DVD!

Choose your store:
U.S. - U.K. - E.U. - Worldwide
Rocket DVD
If you've ever watched a launch from Kennedy Space Center, Cape Canaveral, Vandenberg Air Force Base or even Kodiak Island Alaska, there's no better way to describe what you witnessed than with this DVD.

Choose your store:
U.S. - U.K. - E.U. - Worldwide
Apollo 12 tribute DVD set

New! Featuring the jovial crew of Pete Conrad, Dick Gordon and Alan Bean, the Apollo 12 mission was struck by lightning shortly after liftoff but proceeded on the second successful exploration voyage to the lunar surface. This three-disc DVD brings the mission to life with extraordinary detail.

Choose your store:
U.S. - U.K. - E.U. - Worldwide
Fallen Heroes special patch
This special 12-inch embroidered patch commemorates the U.S. astronauts who made the ultimate sacrifice, honoring the crews of Apollo 1, Challenger and Columbia.

Choose your store:
U.S. - U.K. - E.U. - Worldwide
Women in Space
Women of Space: Cool Careers on the Final Frontier is for girls, young women, and anyone else interested in learning about exciting careers in space exploration. Includes CD-ROM.

Choose your store:
U.S. - U.K. - E.U. - Worldwide
Mars rover poster
This new poster features some of the best pictures from NASA's amazing Mars Exploration Rovers Spirit and Opportunity.

Choose your store:
U.S.
Columbia Report
The official accident investigation report into the loss of the space shuttle Columbia and its crew of seven. Includes CD-ROM.

Choose your store:
U.S.
Ferryflight Shuttle Patch
Free shipping to U.S. addresses!

"The Final Mission" - NASA emblem developed for the Shuttle Carrier Aircraft crew and their support teams to deliver the orbiters to their final destinations at museums.

U.S. STORE
WORLDWIDE STORE