Spaceflight Now +





Premium video content for our Spaceflight Now Plus subscribers.

ISS talk with students
The International Space Station crew holds an educational event to answers questions live with students at the Maryland Science Center. (24min 01sec file)
Play video

Genesis to Houston
The solar wind samples retrieved by NASA's Genesis spacecraft finally arrive at Johnson Space Center facilities from the Utah landing site. (2min 51sec file)
Play video

SpaceShipOne team chats with ISS
SpaceShipOne pilots and Burt Rutan call the International Space Station for an informal chat with Expedition 9 commander Gennady Padalka and flight engineer Mike Fincke the day after winning the X Prize. (13min 07sec file)
Play video

Gordon Cooper tribute
The flight of Gordon Cooper and Mercury's Faith 7 mission is remembered in this NASA tribute film. (20min 42sec file)
Play video

X Prize launch
SpaceShipOne with pilot Brian Binnie rocket into space on the second of two flights needed to win the $10 million X Prize. (2min 32sec file)
Play video

Monday's flight
This longer length clip of SpaceShipOne's second X Prize launch following the ascent, feathering of the wings and the start of re-entry. (5min 56sec file)
Play video

Safe landing
Brian Binnie, the world's second private astronaut, brings SpaceShipOne to a safe landing at Mojave airport to capture the X Prize. (5min 55sec file)
Play video

Launch of SpaceShipOne
Watch the hair-raising flight of SpaceShipOne during the first of two launches needed to win the $10 million X Prize. The craft experienced a major rolling motion and early engine shutdown. (3min 40sec file)
Play video

Galaxy clusters collide
Scientists describe a cosmic hurricane in this news conference from Sept. 23, explaining how two merging galaxy clusters churn high-pressure shock waves that leave thousands of galaxies strewn in the wake. (53min 24sec file)
Play audio

Become a subscriber
More video




NewsAlert





Sign up for our NewsAlert service and have the latest news in astronomy and space e-mailed direct to your desktop.


Privacy note: your e-mail address will not be used for any other purpose.





Satellite to seek nearest stars, brightest galaxies
NASA/JPL ANNOUNCEMENT
Posted: October 6, 2004


A new NASA mission will scan the entire sky in infrared light in search of nearby cool stars, planetary construction zones and the brightest galaxies in the universe.

An artist's concept of the Wide-field Infrared Survey Explorer. Credit: NASA



Called the Wide-field Infrared Survey Explorer, the mission has been approved to proceed into the preliminary design phase as the next in NASA's Medium-class Explorer program of lower cost, highly focused, rapid-development scientific spacecraft. It is scheduled to launch in 2008.

Like a powerful set of night vision goggles, the new space-based telescope will survey the cosmos with infrared detectors up to 500,000 times more sensitive than previous survey missions. It will reveal hundreds of cool, or failed, stars, called brown dwarfs, some of which may lie closer to us than any known stars.

"Approximately two-thirds of nearby stars are too cool to be detected with visible light," said Principal Investigator Dr. Edward Wright of the University of California, Los Angeles, who proposed the new mission to NASA. "The Wide-field Infrared Survey Explorer will see most of them."

The telescope will also provide a complete inventory of dusty planet-forming discs around nearby stars, and find colliding galaxies that emit more light ­ specifically infrared light ­ than any other galaxies in the universe. In the end, the survey will consist of more than one million images, from which hundreds of millions of space objects will be catalogued.

"The mission will complete the basic reconnaissance of the universe in mid-infrared wavelengths, providing a vast storehouse of knowledge that will endure for decades," said Dr. Peter Eisenhardt, project scientist for the mission at NASA's Jet Propulsion Laboratory, Pasadena, Calif. "This catalogue of data will also provide NASA's future James Webb Space Telescope with a comprehensive list of targets."

JPL will manage the Wide-field Infrared Survey Explorer at a total cost to NASA of approximately $208 million. William Irace of JPL is the project manager. The cryogenic instrument will be built by the Space Dynamics Laboratory, Logan, Utah, and the spacecraft will be built by Ball Aerospace and Technologies Corporation, Boulder, Colorado. Science operations and data processing will take place at the JPL/Caltech Infrared Processing and Analysis Center, Pasadena. Calif. JPL is a division of Caltech.

More than 70 U.S. and cooperative international scientific space missions have been part of NASA's Explorer program. The missions are characterized by relatively moderate cost, and by small- to medium-sized missions that are capable of being built, tested and launched in a short time interval compared to the large observatories. NASA Goddard Space Flight Center, Greenbelt, Md., manages the Explorer program for the Science Mission Directorate, NASA Headquarters, Washington.
Columbia Report
The official accident investigation report into the loss of the space shuttle Columbia and its crew of seven. Includes CD-ROM.

Choose your store:
U.S.
Final Shuttle Mission Patch
Free shipping to U.S. addresses!

The crew emblem for the final space shuttle mission is now available in our store. Get this piece of history!

U.S. STORE
WORLDWIDE STORE
STS-134 Patch
Free shipping to U.S. addresses!

The final planned flight of space shuttle Endeavour is symbolized in the official embroidered crew patch for STS-134. Available in our store!

U.S. STORE
WORLDWIDE STORE
Ares 1-X Patch

The official embroidered patch for the Ares 1-X rocket test flight, is available for purchase.

U.S. STORE
WORLDWIDE STORE
Apollo Collage

This beautiful one piece set features the Apollo program emblem surrounded by the individual mission logos.

U.S. STORE
WORLDWIDE STORE
Project Orion

The Orion crew exploration vehicle is NASA's first new human spacecraft developed since the space shuttle a quarter-century earlier. The capsule is one of the key elements of returning astronauts to the Moon.

U.S. STORE
Fallen Heroes Patch Collection

The official patches from Apollo 1, the shuttle Challenger and Columbia crews are available in the store.

U.S. STORE
WORLDWIDE STORE
New Station
Crew Patch
Free shipping to U.S. addresses!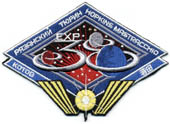 The Expedition 38 embroidered crew patch for the International Space Station is now available in our store!

U.S. STORE
WORLDWIDE STORE