Spaceflight Now +





Premium video content for our Spaceflight Now Plus subscribers.

Titan up close
Scientists reveal stunning pictures of Saturn's moon Titan and other results during this news conference from July 3. (38min 17sec file)
Play video

Saturn ring pictures
Cassini's stunning close-up images of the rings around Saturn, taken just after the craft entered orbit Thursday morning, are presented with expert narration by Carolyn Porco, the mission imaging team leader. (8min 39sec file)
Play video

Burn ignition!
Mission control erupts in applause as communications from Cassini confirm the orbit insertion burn has begun. (60sec file)
Play video

Burn completed
Signals from Cassini announce the conclusion of the Saturn orbit insertion burn, confirming the spacecraft has arrived at the ringed planet. (2min 15sec file)
Play video

Post-arrival briefing
Mission officials hold a post-orbit insertion burn news conference at 1 a.m. EDT July 1 to discuss Cassini's successful arrival at Saturn. (25min 27sec file)
Play video

International cooperation
Officials from the U.S., European and Italian space agencies discuss the international cooperation in the Cassini mission and future exploration projects during this news conference from 2 p.m. EDT June 30. (19min 35sec file)
Play video

'Ring-side' chat
This informal "ring-side chat" from 5 p.m. EDT June 30 discusses the Cassini mission to Saturn and the future of space exploration. (49min 20sec file)
Play video

Become a subscriber
More video




NewsAlert





Sign up for our NewsAlert service and have the latest news in astronomy and space e-mailed direct to your desktop.


Privacy note: your e-mail address will not be used for any other purpose.





Telstar 18 satellite recovers from launch vehicle anomaly
LORAL NEWS RELEASE
Posted: July 14, 2004


Loral Space & Communications has announced that Telstar 18, launched June 28, 2004 aboard a Sea Launch Zenit-3SL rocket, has successfully reached its in-orbit testing position at 142 degrees East longitude.

During the satellite's launch, the Zenit rocket's upper stage shut down 54 seconds early and released the satellite into a low orbit. After the launch, engineers at Space Systems/Loral (SS/L) raised the spacecraft to its correct orbit using a series of carefully planned satellite maneuvers and thruster burns.

All systems on the satellite are performing nominally and in-orbit testing has begun. The satellite, which was able to use its significant stationkeeping fuel margin for the unplanned orbit raising activities, has enough on-board fuel remaining that will allow it to exceed its specified 13-year life.

"Telstar 18's ability to reach orbit, even with a launch vehicle anomaly, showcases the robustness of SS/L's 1300 platform. Using its reserve margin, the satellite was able to correct for the launch shortfall and ensure the mission's success. SS/L's 1300 platform has a demonstrated record of exceeding our customers' requirements even in anomalous conditions," said Patrick DeWitt, President, Space Systems/Loral.

Telstar 18, which will be operated by Loral Skynet, ultimately will be located at 138 degrees East longitude where it will offer a wide variety of video and telecommunications services across Asia. The satellite carries a total of 54 active transponders, 16 high-power Ku-band transponders and 38 C-band transponders. In-orbit testing of the spacecraft will continue until its service start in August.

In addition to transmitting innovative new applications, cable programming and direct-to-home broadcasting services, Telstar 18 is scheduled to begin hosting Skynet's SkyReach(SM) in 2005. SkyReach is Skynet's two-way IP-based networking solution. SkyReach, which is already available and in use by several customers throughout the Americas, allows organizations to create an instant infrastructure using a VSAT network, connecting offices within a city or around the globe.

In consideration for funding a portion of the satellite project's cost, APT Satellite Company Limited, Hong Kong, will initially acquire use of 68.5 percent of Telstar 18's capacity for Apstar-V services. The number of transponders used by APT will be reduced over time, ultimately to 54 percent of the satellite's capacity.

Telstar 18 is a version of SS/L's space-proven 1300 satellite platform, which has an excellent record of reliable operation. The geostationary Telstar 18 satellite has a specified service life of 13 years and maintains stationkeeping and orbital stability by using bipropellant propulsion and momentum-bias systems. In all, SS/L satellites have amassed more than 1,100 years of on-orbit service.

A pioneer in the satellite industry, Loral Skynet continues to deliver the superior service quality and range of satellite solutions that have made it an industry leader for more than 40 years. Through the broad coverage of the Telstar satellite fleet, in combination with its hybrid VSAT/fiber global network infrastructure, Skynet is a source for all broadcast, data network, Internet access, IP and systems integration needs. Headquartered in Bedminster, New Jersey, Loral Skynet is dedicated to providing secure, high-quality connectivity and communications.

Space Systems/Loral is a premier designer, manufacturer, and integrator of powerful satellites and satellite systems. SS/L also provides a range of related services that include mission control operations and procurement of launch services. Based in Palo Alto, California, the company has an international base of commercial and government customers whose applications include broadband digital communications, direct-to-home broadcast, defense communications, environmental monitoring, and air traffic control. SS/L is ISO 9001:2000 certified.
Ares 1-X Patch
The official embroidered patch for the Ares 1-X rocket test flight, is available for purchase.

U.S. STORE
WORLDWIDE STORE
Apollo Collage
This beautiful one piece set features the Apollo program emblem surrounded by the individual mission logos.

U.S. STORE
Expedition 21
The official embroidered patch for the International Space Station Expedition 21 crew is now available from our stores.

U.S. STORE
WORLDWIDE STORE
Hubble Patch
The official embroidered patch for mission STS-125, the space shuttle's last planned service call to the Hubble Space Telescope, is available for purchase.

U.S. STORE
WORLDWIDE STORE
John Glenn Mission Patch
Free shipping to U.S. addresses!

The historic first orbital flight by an American is marked by this commemorative patch for John Glenn and Friendship 7.

U.S. STORE
WORLDWIDE STORE
Final Shuttle Mission Patch
Free shipping to U.S. addresses!

The crew emblem for the final space shuttle mission is available in our store. Get this piece of history!

U.S. STORE
WORLDWIDE STORE
Celebrate the shuttle program
Free shipping to U.S. addresses!

This special commemorative patch marks the retirement of NASA's Space Shuttle Program. Available in our store!

U.S. STORE
WORLDWIDE STORE
Anniversary Shuttle Patch
Free shipping to U.S. addresses!
This embroidered patch commemorates the 30th anniversary of the Space Shuttle Program. The design features the space shuttle Columbia's historic maiden flight of April 12, 1981.

U.S. STORE
WORLDWIDE STORE
Mercury anniversary
Free shipping to U.S. addresses!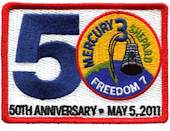 Celebrate the 50th anniversary of Alan Shephard's historic Mercury mission with this collectors' item, the official commemorative embroidered patch.

U.S. STORE
WORLDWIDE STORE
Fallen Heroes Patch Collection

The official patches from Apollo 1, the shuttle Challenger and Columbia crews are available in the store.

U.S. STORE
WORLDWIDE STORE