Spaceflight Now +





Premium video content for our Spaceflight Now Plus subscribers.

Stardust briefing
Scientist present new findings from the Stardust spacecraft's encounter with Comet Wild 2 in this news conference from NASA Headquarters on June 17. (26min 12sec file)
Play video

New pictures explained
New pictures of Comet Wild 2 from NASA's Stardust spacecraft are shown here with narration by lead mission scientist Donald Brownlee. (3min 06sec file)
Play video

Stardust's comet flyby
Animation depicting Stardust's flyby of Comet Wild 2 and the powerful jets of dust streaming from the comet's surface is presented with narration by scientist Benton Clark. (1min 59sec file)
Play video

Moon-Mars commission
After releasing its report, the President's Commission on Moon, Mars and Beyond holds a news conference in Washington. (60min 18sec file)
Play video

NASA workers respond
NASA Administrator Sean O'Keefe and commission chairman Pete Aldridge address the NASA workforce and answer questions after the Moon, Mars and Beyond report is released. (75min 24sec file)
Play video

Become a subscriber
More video




NewsAlert





Sign up for our NewsAlert service and have the latest news in astronomy and space e-mailed direct to your desktop.


Privacy note: your e-mail address will not be used for any other purpose.





Scientists ask if comets once flooded Earth's oceans
EUROPEAN SPACE AGENCY NEWS RELEASE
Posted: June 19, 2004


Did the Earth form with water locked into its rocks, which then gradually leaked out over millions of years? Or did the occasional impacting comet provide Earthıs oceans? The Ptolemy experiment on Europe's Rosetta comet probe may just find out.

The Earth needed a supply of water for its oceans, and the comets are large celestial icebergs - frozen reservoirs of water orbiting the Sun.

Did the impact of a number of comets, thousands of millions of years ago, provide the Earth with its supply of water? Finding hard scientific evidence is surprisingly difficult.

Ptolemy may just provide the information to understand the source of water on Earth. It is a miniature laboratory designed to analyse the precise types of atoms that make up familiar molecules like water.

Atoms can come in slightly different types, known as isotopes. Each isotope behaves almost identically in a chemical sense but has a slightly different weight because of extra neutrons in its nucleii.

Ian Wright is the principal investigator for Ptolemy, an instrument on Rosettaıs Philae lander. By analysing with Ptolemy the mix of isotopes found in Comet 67P/Churyumov-Gerasimenko, he hopes to say whether comet water is similar to that found in Earthıs oceans. Recent results from the ground-based observation of another comet, called LINEAR, suggested that they probably are the same.

If this is true, then scientists have solved another puzzle. However, if the comets are not responsible for Earthıs oceans, then planetary scientists and geophysicists will have to look elsewhere.

For example, the answer could be closer to home, through processes related to vulcanism. Also, meteorites (chunks of asteroids or comets that fall to Earth) have been found to contain water but it is bound to the minerals and in nothing like the quantity found in comets.

However, since the Earth formed from rocks similar to the asteroids, it is feasible that enough water could have been supplied that way.

If comets did not supply Earthıs oceans then it implies something amazing about the comets themselves. If Ptolemy finds that they are made of extremely different isotopes, it means that they may not have formed in our Solar System at all. Instead, they could be interstellar rovers captured by the Sunıs gravity.

Rosetta, Philae and Ptolemy will either solve one scientific mystery, or open another whole set of new ones.
John Glenn Mission Patch
Free shipping to U.S. addresses!

The historic first orbital flight by an American is marked by this commemorative patch for John Glenn and Friendship 7.

U.S. STORE
WORLDWIDE STORE
Final Shuttle Mission Patch
Free shipping to U.S. addresses!

The crew emblem for the final space shuttle mission is available in our store. Get this piece of history!

U.S. STORE
WORLDWIDE STORE
Celebrate the shuttle program
Free shipping to U.S. addresses!

This special commemorative patch marks the retirement of NASA's Space Shuttle Program. Available in our store!

U.S. STORE
WORLDWIDE STORE
Anniversary Shuttle Patch
Free shipping to U.S. addresses!
This embroidered patch commemorates the 30th anniversary of the Space Shuttle Program. The design features the space shuttle Columbia's historic maiden flight of April 12, 1981.

U.S. STORE
WORLDWIDE STORE
Mercury anniversary
Free shipping to U.S. addresses!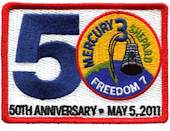 Celebrate the 50th anniversary of Alan Shephard's historic Mercury mission with this collectors' item, the official commemorative embroidered patch.

U.S. STORE
WORLDWIDE STORE
Fallen Heroes Patch Collection

The official patches from Apollo 1, the shuttle Challenger and Columbia crews are available in the store.

U.S. STORE
WORLDWIDE STORE
Ares 1-X Patch
The official embroidered patch for the Ares 1-X rocket test flight, is available for purchase.

U.S. STORE
WORLDWIDE STORE
Apollo Collage
This beautiful one piece set features the Apollo program emblem surrounded by the individual mission logos.

U.S. STORE
Expedition 21
The official embroidered patch for the International Space Station Expedition 21 crew is now available from our stores.

U.S. STORE
WORLDWIDE STORE
Hubble Patch
The official embroidered patch for mission STS-125, the space shuttle's last planned service call to the Hubble Space Telescope, is available for purchase.

U.S. STORE
WORLDWIDE STORE