Spaceflight Now +





Premium video content for our Spaceflight Now Plus subscribers.

Stardust briefing
Scientist present new findings from the Stardust spacecraft's encounter with Comet Wild 2 in this news conference from NASA Headquarters on June 17. (26min 12sec file)
Play video

New pictures explained
New pictures of Comet Wild 2 from NASA's Stardust spacecraft are shown here with narration by lead mission scientist Donald Brownlee. (3min 06sec file)
Play video

Stardust's comet flyby
Animation depicting Stardust's flyby of Comet Wild 2 and the powerful jets of dust streaming from the comet's surface is presented with narration by scientist Benton Clark. (1min 59sec file)
Play video

Moon-Mars commission
After releasing its report, the President's Commission on Moon, Mars and Beyond holds a news conference in Washington. (60min 18sec file)
Play video

NASA workers respond
NASA Administrator Sean O'Keefe and commission chairman Pete Aldridge address the NASA workforce and answer questions after the Moon, Mars and Beyond report is released. (75min 24sec file)
Play video

Tuesday's Mars briefing
Mars rover Spirit's arrival at the Columbia Hills, trouble with one of its wheels and Opportunity's descent into Endurance Crater and all of the latest pictures are presented at this briefing from June 15. (30min 27sec file)
Play video

Ride with Opportunity
Cameras on Opportunity provides this "ride-along" view of the rover's risky drive into Endurance Crater. Expert narration by science team member Scott McLennan. (30sec file)
Play video

Opportunity panorama
Another stunning color panorama from the Mars rover Opportunity looking into Endurance Crater and the surrounding plains is presented with expert narration by science team member Scott McLennan. (1min 30sec file)
Play video

Spirit panorama
Spirit has generated this panorama from the base of the Columbia Hills. Expert narration is provided by science team member Larry Soderblom. (1min 15sec file)
Play video

New Spirit pictures
New pictures from Mars rover Spirit showing the "Pot of Gold" rock area and other features are revealed with expert narration by science team member Larry Soderblom. (4min 47sec file)
Play video

Become a subscriber
More video





Comet's dust clouds hit NASA probe 'like thunderbolt'
UNIVERSITY OF CHICAGO NEWS RELEASE
Posted: June 17, 2004


Two swarms of microscopic cometary dust blasted NASA's Stardust spacecraft in short but intense bursts as it approached within 150 miles of Comet Wild 2 last January, data from a University of Chicago instrument flying aboard the spacecraft has revealed.

"These things were like a thunderbolt," said Anthony Tuzzolino, a Senior Scientist at the University of Chicago's Enrico Fermi Institute. "I didn't anticipate running into this kind of show." Tuzzolino and Thanasis Economou, also a Senior Scientist at the Fermi Institute, will report their findings in the June 17 issue of the journal Science.

The materials streaming from a comet range in size from particles that could fit on the head of a pin to boulders the size of a truck. Stardust mission planners correctly estimated that their spacecraft could safely avoid the hazardous larger objects by passing the comet at a distance of approximately 150 miles and using very effective dust particle shields.

Based on the data collected by the Dust Flux Monitor Instrument, Tuzzolino and Economou estimate that NASA achieved its goal of collecting at least 1,000 samples measuring at least one-third the width of a human hair or larger during the flyby.

The Stardust spacecraft is scheduled to return the samples to Earth in January 2006. Scientists will study the samples, the first ever returned to Earth from a comet, for insights into the early history of the solar system.

The Dust Flux Monitor Instrument collected data for 30 minutes when the spacecraft passed closest to the comet last Jan. 2. Stardust encountered the first swarm of dust particles when the spacecraft passed within 146.5 miles of the comet's nucleus. The monitor detected a second intense swarm after passing the comet when the spacecraft was approximately 2,350 miles from the nucleus.

"We believe that we see fragmentation of large dust lumps into swarms of small particles after they are coming out from the nucleus," Economou said.

In between the particle swarms, the impact of which lasted just a few seconds each, the dust monitor went for periods of several minutes before it detected another particle.

This isn't Tuzzolino's first encounter with a comet, though it is by far the closest. He helped design, build and test the Dust Counter and Mass Analyzer instrument that passed Comet Halley at a distance of 5,000 miles or more in 1986 aboard two Soviet Vega spacecraft. Halley had emitted a spray of dust "much smoother" than that of Wild 2, Tuzzolino recalled.

"In general, one thinks of a comet as emitting gas and dust in a nice, uniform steady state, sort of like a hose," he said. Halley did show fluctuations, "but not to this extent."

The dust monitor detected its first impact when Stardust was 1,010 miles from the cometary nucleus. The last impact was recorded at a distance of 3,500 miles as the spacecraft sped away. During one intense event, the dust monitor detected more than 1,100 impacts in one second. The largest particle measured during the cometary flyby measured an estimated 500ths of an inch in diameter.

A similar instrument to the University of Chicago Dust Flux Monitor Instrument is a component on NASA's Cassini mission to Saturn. Cassini's High-Rate Detector, which Tuzzolino also built, is part of a larger instrument, Germany's Cosmic Dust Analyzer, which will study the ice and dust particles that form the major components of Saturn's ring system. Cassini is scheduled to become the first spacecraft ever to orbit Saturn on June 30.

Additional coverage for subscribers:

VIDEO: NEW FINDINGS FROM STARDUST MISSION ANNNOUNCED QT

VIDEO: STARDUST'S PICTURES OF COMET WITH NARRATION QT

VIDEO: NARRATED ANIMATION SHOWS COMET ENCOUNTER QT

SUBSCRIBE NOW

John Glenn Mission Patch
Free shipping to U.S. addresses!

The historic first orbital flight by an American is marked by this commemorative patch for John Glenn and Friendship 7.

U.S. STORE
WORLDWIDE STORE
Final Shuttle Mission Patch
Free shipping to U.S. addresses!

The crew emblem for the final space shuttle mission is available in our store. Get this piece of history!

U.S. STORE
WORLDWIDE STORE
Celebrate the shuttle program
Free shipping to U.S. addresses!

This special commemorative patch marks the retirement of NASA's Space Shuttle Program. Available in our store!

U.S. STORE
WORLDWIDE STORE
Anniversary Shuttle Patch
Free shipping to U.S. addresses!
This embroidered patch commemorates the 30th anniversary of the Space Shuttle Program. The design features the space shuttle Columbia's historic maiden flight of April 12, 1981.

U.S. STORE
WORLDWIDE STORE
Mercury anniversary
Free shipping to U.S. addresses!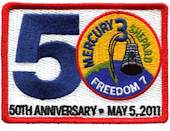 Celebrate the 50th anniversary of Alan Shephard's historic Mercury mission with this collectors' item, the official commemorative embroidered patch.

U.S. STORE
WORLDWIDE STORE
Fallen Heroes Patch Collection

The official patches from Apollo 1, the shuttle Challenger and Columbia crews are available in the store.

U.S. STORE
WORLDWIDE STORE
Ares 1-X Patch
The official embroidered patch for the Ares 1-X rocket test flight, is available for purchase.

U.S. STORE
WORLDWIDE STORE
Apollo Collage
This beautiful one piece set features the Apollo program emblem surrounded by the individual mission logos.

U.S. STORE
Expedition 21
The official embroidered patch for the International Space Station Expedition 21 crew is now available from our stores.

U.S. STORE
WORLDWIDE STORE
Hubble Patch
The official embroidered patch for mission STS-125, the space shuttle's last planned service call to the Hubble Space Telescope, is available for purchase.

U.S. STORE
WORLDWIDE STORE