Spaceflight Now +





Premium video content for our Spaceflight Now Plus subscribers.

Rover enters crater
Ride along with Oppportunity as the rover drives into and back out of Endurance Crater on June 8.
Play video

Tuesday's Mars briefing
Plans to drive the Mars rover Opportunity into Endurance Crater and new results from Spirit's search for past water at Gusev Crater are announced at this briefing from June 8. (38min 18sec file)
Play video

Drive path
Opportunity's path into Endurance Crater and plans for the drive are explained by mission manager Jim Erickson. (1min 28sec file)
Play video

Crater science
The rover lead scientist, Steve Squyres, explains what Opportunity will study inside Endurance Crater and what the results would say about Mars. (3min 09sec file)
Play video

Columbia Hills
Steve Squyres, rover principal investigator, narrates a new panorama from Spirit showing the Columbia Hills. (2min 01sec file)
Play video

Tribute to Reagan
This retrospective remembers President Ronald Reagan's influence on spaceflight, including support for the space shuttle program, proposing the space station and his speech at the Challenger memorial. (6min 34sec file)
Play video

Become a subscriber
More video




NewsAlert





Sign up for our NewsAlert service and have the latest news in astronomy and space e-mailed direct to your desktop.


Privacy note: your e-mail address will not be used for any other purpose.





Youngest stellar corpse revealed by radio telescopes
NATIONAL RADIO ASTRONOMY OBSERVATORY NEWS RELEASE
Posted: June 10, 2004


Astronomers using a global combination of radio telescopes to study a stellar explosion some 30 million light-years from Earth have likely discovered either the youngest black hole or the youngest neutron star known in the Universe. Their discovery also marks the first time that a black hole or neutron star has been found associated with a supernova that has been seen to explode since the invention of the telescope nearly 400 years ago.

An artist's impression of Supernova 1986J. The newly discovered nebula around the black hole or neutron star in the center is shown in blue, and is in the center of the expanding, fragmented shell of material thrown off in the supernova explosion, which is shown in red. Image: Norbert Bartel and Michael F. Bietenholz, York University; Artist: G. Arguner



A supernova is the explosion of a massive star after it exhausts its supply of nuclear fuel and collapses violently, rebounding in a cataclysmic blast that spews most of its material into interstellar space. What remains is either a neutron star, with its material compressed to the density of an atomic nucleus, or a black hole, with its matter compressed so tightly that its gravitational pull is so strong that not even light can escape it.

A team of scientists studied a supernova called SN 1986J in a galaxy known as NGC 891. The supernova was discovered in 1986, but astronomers believe the explosion actually occurred about three years before. Using the National Science Foundation's Very Long Baseline Array (VLBA), Robert C. Byrd Green Bank Telescope (GBT), and Very Large Array (VLA), along with radio telescopes from the European VLBI Network, they made images that showed fine details of how the explosion evolves over time.

"SN 1986J has shown a brightly-emitting object at its center that only became visible recently. This is the first time such a thing has been seen in any supernova," said Michael Bietenholz, of York University in Toronto, Ontario. Bietenholz worked with Norbert Bartel, also of York University, and Michael Rupen of the National Radio Astronomy Observatory (NRAO) in Socorro, New Mexico, on the project. The scientists reported their findings in the June 10 edition of Science Express.

"A supernova is likely the most energetic single event in the Universe after the big bang. It is just fascinating to see how the smoke from the explosion is blown away and how now after all these years the fiery center is unveiled. It is a textbook story, now witnessed for the first time," Bartel said.

Analysis of the bright central object shows that its characteristics are different from the outer shell of explosion debris in the supernova.

"We can't yet tell if this bright object at the center is caused by material being sucked into a black hole or if it results from the action of a young pulsar, or neutron star," said Rupen.

"It's very exciting because it's either the youngest black hole or the youngest neutron star anybody has ever seen," Rupen said. The youngest pulsar found to date is 822 years old.

Finding the young object is only the beginning of the scientific excitement, the astronomers say.

"We'll be watching it over the coming years. First, we hope to find out whether it's a black hole or a neutron star. Next, whichever it is, it's going to give us a whole new view of how these things start and develop over time," Rupen said.

For example, Rupen explained, if the object is a young pulsar, learning the rate at which it is spinning and the strength of its magnetic field would be extremely important for understanding the physics of pulsars.

The scientists point out that it will be important to observe SN 1986J at many wavelengths, not just radio, but also in visible light, infrared and others.

In addition, the astronomers also now want to look for simiilar objects elsewhere in the Universe.

The National Radio Astronomy Observatory is a facility of the National Science Foundation, operated under cooperative agreement by Associated Universities, Inc.
New Station
Crew Patch
Free shipping to U.S. addresses!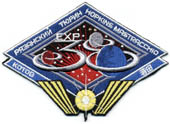 The Expedition 38 embroidered crew patch for the International Space Station is now available in our store!

U.S. STORE
WORLDWIDE STORE
Apollo 11 special patch
Special collectors' patch marking the 35th anniversary of the historic Apollo 11 moon landing is now available.

Choose your store:
U.S. - U.K. - E.U. - Worldwide
Inside Apollo mission control
An insider's view of how Apollo flight controllers operated and just what they faced when events were crucial.

Choose your store:
U.S.
The ultimate Apollo 11 DVD
This exceptional chronicle of the historic Apollo 11 lunar landing mission features new digital transfers of film and television coverage unmatched by any other.

Choose your store:
U.S. - U.K. - E.U. - Worldwide
Next ISS crew
Own a little piece of history with this official patch for the International Space Station's Expedition 11 crew. We'll ship yours today!

Choose your store:
U.S.
Soviet Space
For the first time ever available in the West. Rocket & Space Corporation Energia: a complete pictorial history of the Soviet/Russian Space Program from 1946 to the present day all in full color. Available from our store.

Choose your store:
U.S. - U.K. - E.U. - Worldwide
Viking patch
This embroidered mission patch celebrates NASA's Viking Project which reached the Red Planet in 1976.

Choose your store:
U.S. - U.K. - E.U. - Worldwide
Apollo 7 DVD
For 11 days the crew of Apollo 7 fought colds while they put the Apollo spacecraft through a workout, establishing confidence in the machine what would lead directly to the bold decision to send Apollo 8 to the moon just 2 months later.

Choose your store:
U.S. - U.K. - E.U. - Worldwide
Gemini 12
Gemini 12: The NASA Mission Reports covers the voyage of James Lovell and Buzz Aldrin that capped the Gemini program's efforts to prove the technologies and techniques that would be needed for the Apollo Moon landings. Includes CD-ROM.

Choose your store:
U.S. - U.K. - E.U. - Worldwide
Apollo patches
The Apollo Patch Collection: Includes all 12 Apollo mission patches plus the Apollo Program Patch. Save over 20% off the Individual price.

Choose your store:
U.S. - U.K. - E.U. - Worldwide
John Glenn Mission Patch
Free shipping to U.S. addresses!

The historic first orbital flight by an American is marked by this commemorative patch for John Glenn and Friendship 7.

U.S. STORE
WORLDWIDE STORE
Final Shuttle Mission Patch
Free shipping to U.S. addresses!

The crew emblem for the final space shuttle mission is available in our store. Get this piece of history!

U.S. STORE
WORLDWIDE STORE
Celebrate the shuttle program
Free shipping to U.S. addresses!

This special commemorative patch marks the retirement of NASA's Space Shuttle Program. Available in our store!

U.S. STORE
WORLDWIDE STORE
Anniversary Shuttle Patch
Free shipping to U.S. addresses!
This embroidered patch commemorates the 30th anniversary of the Space Shuttle Program. The design features the space shuttle Columbia's historic maiden flight of April 12, 1981.

U.S. STORE
WORLDWIDE STORE
Mercury anniversary
Free shipping to U.S. addresses!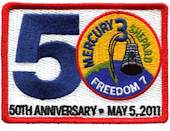 Celebrate the 50th anniversary of Alan Shephard's historic Mercury mission with this collectors' item, the official commemorative embroidered patch.

U.S. STORE
WORLDWIDE STORE
Fallen Heroes Patch Collection

The official patches from Apollo 1, the shuttle Challenger and Columbia crews are available in the store.

U.S. STORE
WORLDWIDE STORE