Spaceflight Now +





Premium video content for our Spaceflight Now Plus subscribers.

Historic spacewalk
This history flashback remembers the first spacewalk by an American astronaut as Ed White leaves the Gemini 4 spacecraft for an EVA on June 3, 1965. (5min 51sec file)
Play video

Cassini preview
The Cassini spacecraft's arrival at Saturn is previewed in this detailed news conference from NASA Headquarters on June 3. (50min 01sec file)
Play video

Saturn arrival explained
Cassini's make-or-break engine firing to enter orbit around Saturn is explained with graphics and animation. Expert narration is provided by Cassini program manager Robert Mitchell. (3min 33sec file)
Play video

Cassini mission science
The scientific objectives of the Cassini mission to study the planet Saturn, its rings and moons are explained by Charles Elachi, director of the Jet Propulsion Laboratory. (4min 54sec file)
Play video

Huygens mission science
After entering orbit around Saturn, the Cassini spacecraft will launch the European Huygens probe to make a parachute landing on the surface of the moon Titan. The scientific objectives of Huygens are explained by probe project manager Jean-Pierre Lebreton. (3min 14sec file)
Play video

Saturn's moon Titan
Learn more about Saturn's moon Titan, which is believed to harbor a vast ocean, in this narrated movie. (4min 01sec file)
Play video

Relive Cassini's launch
An Air Force Titan 4B rocket launches NASA's Cassini spacecraft at 4:43 a.m. October 15, 1997 from Cape Canaveral, Florida. (5min 15sec file)
Play video

Exploring the hills
"A brand new mission" is beginning for the Mars Exploration Rover Spirit as it nears the Columbia Hills as described in this presentation by science team member James Rice. (5min 57sec file)
Play video

Exploring Endurance
New pictures from the Mars rover Opportunity as it drives around the rim of Endurance Crater are presented with narration by science team member Wendy Calvin. (5min 25sec file)
Play video

Mars rover update
Mission officials and scientists discuss the condition and progress of Mars rovers Spirit and Opportunity plus the latest science news in this briefing from June 2. (40min 55sec file)
Play video

Options to save Hubble
NASA Administrator Sean O'Keefe announces plans to examine a robotic servicing mission to the Hubble Space Telescope. (33min 51sec file)
Play video

Become a subscriber
More video




NewsAlert





Sign up for our NewsAlert service and have the latest news in astronomy and space e-mailed direct to your desktop.


Privacy note: your e-mail address will not be used for any other purpose.





FUSE pierces the Veil
JOHNS HOPKINS UNIVERSITY NEWS RELEASE
Posted: June 7, 2004


The Veil Nebula, a delicate network of glowing gaseous filaments in the northern constellation of Cygnus the Swan, has long been a favorite of both amateur and professional astronomers. Part of a much larger nebula known as the Cygnus Loop, the Veil is comprised of the leftovers of a star that exploded between 5,000 and 8,000 years ago.

For at least half a century, scientists have probed the Cygnus Loop with various techniques, trying to understand its physical characteristics as a model for comprehending a whole class of similar objects that cannot be observed in such detail. Even with intensive study, however, many of the Loop's basic parameters, such as its distance and the density of its gaseous filaments, have been poorly understood.

But a creative new observation of a star situated behind the Veil Nebula may alter the way scientists think about this supernova remnant. At an American Astronomical Society meeting in Denver this week, astronomers from The Johns Hopkins University will provide confirmation that the Cygnus Loop is closer to Earth than many have thought. These new findings, obtained largely using the Far Ultraviolet Spectroscopic Explorer (FUSE) satellite, have a major impact on the derived properties of this important, prototypical object.

"The key to this result was in finding a background star with sufficient far-ultraviolet output to be observed with FUSE," says William P. Blair, a research professor at The Johns Hopkins University and the principal author of the study.

To identify the candidate star, Blair and his colleagues used an image of the Veil Nebula taken with the Ultraviolet Imaging Telescope on a 1995 space shuttle flight. In the far-ultraviolet, most stars visible at optical wavelengths simply fade away.

"It was a real stroke of luck to find an ultraviolet-bright star located behind the Veil," Blair said.

Late last year, Blair and his colleagues trained FUSE -- a NASA satellite designed at and operated by a team at Johns Hopkins -- on the star, known only as KPD2055+311. The resulting spectrum of the star in ultraviolet light shows many absorption lines, or dips, in light intensity. Some of these dips arise in the star's atmosphere or from cold molecular gas in the interstellar space along the way to the star. But some absorptions, attributable to very hot gas, must arise from the absorption within the Veil Nebula itself.

"Indeed, this confirmed for us that the star is behind the Cygnus Loop," Blair said.

Part two of the story involves the star itself. Blair's group used the observed properties of the star and a model of the star's emission to calculate a distance of 1,860 light years to KPD2055+311. (A light year is the distance light travels in one year, about 6 trillion miles.) Until a few years ago, astronomers placed the Cygnus Loop more than 2,500 light years distant.

In 1999, astronomers using the Hubble Space Telescope revised that estimate to 40 percent closer, or 1,470 light years. Nevertheless, uncertainties and assumptions used in making that estimate left some researchers unpersuaded. Because the star's distance is well determined and it is located behind the Cygnus Loop, it places an upper boundary on the distance and provides an independent confirmation of the shorter distance scale.

According to Blair, the shorter distance makes "a tremendous difference" in the calculated size, age, energy and average expansion velocity of the supernova remnant compared with previous estimates.

"Since we want to use the Cygnus Loop to scale to similar objects, it is important to have an accurate starting point," Blair said. "This observation goes a long way toward improving our understanding of this important object."
Ferryflight Shuttle Patch
Free shipping to U.S. addresses!

"The Final Mission" - NASA emblem developed for the Shuttle Carrier Aircraft crew and their support teams to deliver the orbiters to their final destinations at museums.

U.S. STORE
WORLDWIDE STORE
Soviet Space
For the first time ever available in the West. Rocket & Space Corporation Energia: a complete pictorial history of the Soviet/Russian Space Program from 1946 to the present day all in full color. Available from our store.

Choose your store:
U.S. - U.K. - E.U. - Worldwide
Viking patch
This embroidered mission patch celebrates NASA's Viking Project which reached the Red Planet in 1976.

Choose your store:
U.S. - U.K. - E.U. - Worldwide
Apollo 7 DVD
For 11 days the crew of Apollo 7 fought colds while they put the Apollo spacecraft through a workout, establishing confidence in the machine what would lead directly to the bold decision to send Apollo 8 to the moon just 2 months later.

Choose your store:
U.S. - U.K. - E.U. - Worldwide
Gemini 12
Gemini 12: The NASA Mission Reports covers the voyage of James Lovell and Buzz Aldrin that capped the Gemini program's efforts to prove the technologies and techniques that would be needed for the Apollo Moon landings. Includes CD-ROM.

Choose your store:
U.S. - U.K. - E.U. - Worldwide
Apollo 12 tribute DVD set

New! Featuring the jovial crew of Pete Conrad, Dick Gordon and Alan Bean, the Apollo 12 mission was struck by lightning shortly after liftoff but proceeded on the second successful exploration voyage to the lunar surface. This three-disc DVD brings the mission to life with extraordinary detail.

Choose your store:
U.S. - U.K. - E.U. - Worldwide
Fallen Heroes special patch
This special 12-inch embroidered patch commemorates the U.S. astronauts who made the ultimate sacrifice, honoring the crews of Apollo 1, Challenger and Columbia.

Choose your store:
U.S. - U.K. - E.U. - Worldwide
Women in Space
Women of Space: Cool Careers on the Final Frontier is for girls, young women, and anyone else interested in learning about exciting careers in space exploration. Includes CD-ROM.

Choose your store:
U.S. - U.K. - E.U. - Worldwide
Mars rover poster
This new poster features some of the best pictures from NASA's amazing Mars Exploration Rovers Spirit and Opportunity.

Choose your store:
U.S.
Apollo 11 special patch

Special collectors' patch marking the 35th anniversary of the historic Apollo 11 moon landing is now available.

Choose your store:
U.S. - U.K.
John Glenn Mission Patch
Free shipping to U.S. addresses!

The historic first orbital flight by an American is marked by this commemorative patch for John Glenn and Friendship 7.

U.S. STORE
WORLDWIDE STORE
Final Shuttle Mission Patch
Free shipping to U.S. addresses!

The crew emblem for the final space shuttle mission is available in our store. Get this piece of history!

U.S. STORE
WORLDWIDE STORE
Celebrate the shuttle program
Free shipping to U.S. addresses!

This special commemorative patch marks the retirement of NASA's Space Shuttle Program. Available in our store!

U.S. STORE
WORLDWIDE STORE
Anniversary Shuttle Patch
Free shipping to U.S. addresses!
This embroidered patch commemorates the 30th anniversary of the Space Shuttle Program. The design features the space shuttle Columbia's historic maiden flight of April 12, 1981.

U.S. STORE
WORLDWIDE STORE
Mercury anniversary
Free shipping to U.S. addresses!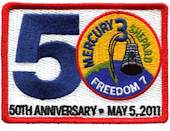 Celebrate the 50th anniversary of Alan Shephard's historic Mercury mission with this collectors' item, the official commemorative embroidered patch.

U.S. STORE
WORLDWIDE STORE
Fallen Heroes Patch Collection

The official patches from Apollo 1, the shuttle Challenger and Columbia crews are available in the store.

U.S. STORE
WORLDWIDE STORE