Spaceflight Now +





Premium video content for our Spaceflight Now Plus subscribers.

Cassini preview
The Cassini spacecraft's arrival at Saturn is previewed in this detailed news conference from NASA Headquarters on June 3. (50min 01sec file)
Play video

Relive Cassini's launch
An Air Force Titan 4B rocket launches NASA's Cassini spacecraft at 4:43 a.m. October 15, 1997 from Cape Canaveral, Florida. (5min 15sec file)
Play video

Exploring the hills
"A brand new mission" is beginning for the Mars Exploration Rover Spirit as it nears the Columbia Hills as described in this presentation by science team member James Rice. (5min 57sec file)
Play video

Exploring Endurance
New pictures from the Mars rover Opportunity as it drives around the rim of Endurance Crater are presented with narration by science team member Wendy Calvin. (5min 25sec file)
Play video

Mars rover update
Mission officials and scientists discuss the condition and progress of Mars rovers Spirit and Opportunity plus the latest science news in this briefing from June 2. (40min 55sec file)
Play video

Options to save Hubble
NASA Administrator Sean O'Keefe announces plans to examine a robotic servicing mission to the Hubble Space Telescope. (33min 51sec file)
Play video

Station supply ship
Ride along with the Progress 14P resupply ship as it makes the final approach and docking to the International Space Station on May 27 as seen by a camera mounted on the craft's nose. (9min 02sec file)
Play video

Results from Spitzer
Scientists present new discoveries from the Spitzer Space Telescope, including their findings of raw ingredients for life detected around young stars. (53min 03sec file)
Play video

Spacewalk previewed
The Expedition 9 crew describes their upcoming spacewalk in Russian spacesuits, life aboard the space station and the view of Earth in this interview with Bill Harwood of CBS News. (20min 19sec file)
Play video

Progress undocking
The Progress 13P cargo ship departs the International Space Station on May 24 carrying trash and unneeded items to burn up in the atmosphere. (2min 56sec file)
Play video

AP interviews the crew
The Associated Press interviews the two-man Expedition 9 crew living aboard the International Space Station on May 24. (9min 36sec file)
Play video
More clips

Become a subscriber
More video




NewsAlert





Sign up for our NewsAlert service and have the latest news in astronomy and space e-mailed direct to your desktop.


Privacy note: your e-mail address will not be used for any other purpose.





Origin of enigmatic galactic-center filaments revealed
NORTHWESTERN UNIVERSITY NEWS RELEASE
Posted: June 7, 2004


Twenty years ago, astronomers discovered a number of enigmatic radio-emitting filaments concentrated near the center of the Milky Way Galaxy. These features initially defied explanation, but a new study of radio images of the Galactic center may point to their possible source.

Combined radio image from the Very Large Array and Green Bank Telescope. The linear filaments near the top are some of the nonthermal radio filaments (NRFs) studied by the researchers. Other features, such as supernova remnants (SNRs) and the area surrounding our Galaxy's supermassive black hole (Sgr A) are shown. Credit: NRAO/AUI/NSF Yusef-Zadeh, et.al



By combining data from the National Science Foundation's Very Large Array (VLA) and Robert C. Byrd Green Bank Telescope (GBT), astronomer Farhad Yusef-Zadeh of Northwestern University has found evidence that at least some of the filaments spring from the concentrated star-formation regions that populate the Galactic center.

Yusef-Zadeh presented his findings at the Denver, Colo., meeting of the American Astronomical Society. William Cotton of the National Radio Astronomy Observatory (NRAO) in Charlottesville, Va., and William Hewitt of Northwestern University also contributed to this research.

"Astronomers have long puzzled over the cause of these striking features," said Yusef-Zadeh, professor of physics and astronomy, "and the turbulent nature of the Galactic center has made detailed analysis difficult. With new multi-wavelength radio images of the Galactic center, however, we can finally see a link between areas of starburst activity and these long-linear filaments."

The filaments, which range from 10 to 100 light-years in length and are perhaps little more than 1 to 3 light-years across, occur only in a very narrow area, within approximately two degrees of the Galactic center (which translates to approximately 900 light-years across.)

Early theories about the origin of these filaments suggested that they were somehow related to the Milky Way's own magnetic field. This was due to the fact that the first filaments detected were oriented perpendicular to the plane of the Galaxy, which would have aligned them with the Galaxy's own magnetic field.

"The problem with this hypothesis is that more recent images have revealed a population of weaker filaments oriented randomly in relation to the plane of the Galaxy," said Yusef-Zadeh. "This makes it difficult to explain the origin of the filaments by an organized Galactic magnetic field."

In March and June of 2004, a team of astronomers using the GBT made images of the Galactic center at various wavelengths. The purpose of these surveys was to help identify radio features produced by hot gas (thermal emission) and those produced in magnetic fields (non-thermal emission). In general, thermal features radiate more strongly at shorter wavelengths and non-thermal at longer wavelengths.

By comparing the GBT images with earlier VLA data taken of the same region, Yusef-Zadeh determined that a number of the non-thermal filaments seemed to connect to concentrated areas of thermal emission, which identify pockets of star formation.

"What this showed us is that two seemingly disparate processes, thermal and non-thermal radio emission, can be created by the very same phenomenon," said Yusef-Zadeh. "In this case, that phenomenon is pockets of starburst activity."

Yusef-Zadeh notes that the exact mechanism for how the areas of starburst generate the magnetic fields is still being investigated. "There are many ideas about the mechanism that generates these filaments," added Yusef-Zadeh, "but one possibility is that they are produced by the collision of winds blown off from individual stars."

The star-forming regions associated with the filaments may contain about 100 massive stars each.

The center of the Milky Way Galaxy is shrouded from optical telescopes by dense clouds of dust and gas. Radio telescopes, however, are able to pierce through the optical veil and see the features within. Concealed at the very heart of our Galaxy is a supermassive black hole. Known as Sagittarius A* (pronounced A-star), this area is a very powerful source of radio waves and was first detected by Karl Jansky in 1932.

While the VLA can image fine-scale structures with great precision, it can not always detect extended radio emission. The GBT, however, can help fill in the gaps. Together, they create a more complete image than either instrument could produce separately.

"The ability to combine the data from the two telescopes," said Cotton, "gives us a very powerful tool for understanding how the smallest features relate to the overall structure. This is particularly important when you want to study an area like the center of our Galaxy."
Ferryflight Shuttle Patch
Free shipping to U.S. addresses!

"The Final Mission" - NASA emblem developed for the Shuttle Carrier Aircraft crew and their support teams to deliver the orbiters to their final destinations at museums.

U.S. STORE
WORLDWIDE STORE
Columbia Report
A reproduction of the official accident investigation report into the loss of the space shuttle Columbia and its crew of seven.

Choose your store:
U.S. - U.K. - E.U. - Worldwide
Mars Panorama

DISCOUNTED! This 360 degree image was taken by the Mars Pathfinder, which landed on the Red Planet in July 1997. The Sojourner Rover is visible in the image.

Choose your store:
U.S.
Apollo 11 Mission Report
Apollo 11 - The NASA Mission Reports Vol. 3 is the first comprehensive study of man's first mission to another world is revealed in all of its startling complexity. Includes DVD!

Choose your store:
U.S. - U.K. - E.U. - Worldwide
Rocket DVD
If you've ever watched a launch from Kennedy Space Center, Cape Canaveral, Vandenberg Air Force Base or even Kodiak Island Alaska, there's no better way to describe what you witnessed than with this DVD.

Choose your store:
U.S. - U.K. - E.U. - Worldwide
Soviet Space
For the first time ever available in the West. Rocket & Space Corporation Energia: a complete pictorial history of the Soviet/Russian Space Program from 1946 to the present day all in full color. Available from our store.

Choose your store:
U.S. - U.K. - E.U. - Worldwide
Viking patch
This embroidered mission patch celebrates NASA's Viking Project which reached the Red Planet in 1976.

Choose your store:
U.S. - U.K. - E.U. - Worldwide
Apollo 7 DVD
For 11 days the crew of Apollo 7 fought colds while they put the Apollo spacecraft through a workout, establishing confidence in the machine what would lead directly to the bold decision to send Apollo 8 to the moon just 2 months later.

Choose your store:
U.S. - U.K. - E.U. - Worldwide
Gemini 12
Gemini 12: The NASA Mission Reports covers the voyage of James Lovell and Buzz Aldrin that capped the Gemini program's efforts to prove the technologies and techniques that would be needed for the Apollo Moon landings. Includes CD-ROM.

Choose your store:
U.S. - U.K. - E.U. - Worldwide
An insider's view of how Apollo flight controllers operated and just what they faced when events were crucial.

Choose your store:
U.S.
John Glenn Mission Patch
Free shipping to U.S. addresses!

The historic first orbital flight by an American is marked by this commemorative patch for John Glenn and Friendship 7.

U.S. STORE
WORLDWIDE STORE
Final Shuttle Mission Patch
Free shipping to U.S. addresses!

The crew emblem for the final space shuttle mission is available in our store. Get this piece of history!

U.S. STORE
WORLDWIDE STORE
Celebrate the shuttle program
Free shipping to U.S. addresses!

This special commemorative patch marks the retirement of NASA's Space Shuttle Program. Available in our store!

U.S. STORE
WORLDWIDE STORE
Anniversary Shuttle Patch
Free shipping to U.S. addresses!
This embroidered patch commemorates the 30th anniversary of the Space Shuttle Program. The design features the space shuttle Columbia's historic maiden flight of April 12, 1981.

U.S. STORE
WORLDWIDE STORE
Mercury anniversary
Free shipping to U.S. addresses!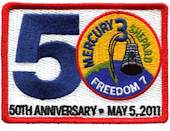 Celebrate the 50th anniversary of Alan Shephard's historic Mercury mission with this collectors' item, the official commemorative embroidered patch.

U.S. STORE
WORLDWIDE STORE
Fallen Heroes Patch Collection

The official patches from Apollo 1, the shuttle Challenger and Columbia crews are available in the store.

U.S. STORE
WORLDWIDE STORE