Spaceflight Now +





Premium video content for our Spaceflight Now Plus subscribers.

Historic spacewalk
This history flashback remembers the first spacewalk by an American astronaut as Ed White leaves the Gemini 4 spacecraft for an EVA on June 3, 1965. (5min 51sec file)
Play video

Cassini preview
The Cassini spacecraft's arrival at Saturn is previewed in this detailed news conference from NASA Headquarters on June 3. (50min 01sec file)
Play video

Saturn arrival explained
Cassini's make-or-break engine firing to enter orbit around Saturn is explained with graphics and animation. Expert narration is provided by Cassini program manager Robert Mitchell. (3min 33sec file)
Play video

Cassini mission science
The scientific objectives of the Cassini mission to study the planet Saturn, its rings and moons are explained by Charles Elachi, director of the Jet Propulsion Laboratory. (4min 54sec file)
Play video

Huygens mission science
After entering orbit around Saturn, the Cassini spacecraft will launch the European Huygens probe to make a parachute landing on the surface of the moon Titan. The scientific objectives of Huygens are explained by probe project manager Jean-Pierre Lebreton. (3min 14sec file)
Play video

Saturn's moon Titan
Learn more about Saturn's moon Titan, which is believed to harbor a vast ocean, in this narrated movie. (4min 01sec file)
Play video

Relive Cassini's launch
An Air Force Titan 4B rocket launches NASA's Cassini spacecraft at 4:43 a.m. October 15, 1997 from Cape Canaveral, Florida. (5min 15sec file)
Play video

Exploring the hills
"A brand new mission" is beginning for the Mars Exploration Rover Spirit as it nears the Columbia Hills as described in this presentation by science team member James Rice. (5min 57sec file)
Play video

Exploring Endurance
New pictures from the Mars rover Opportunity as it drives around the rim of Endurance Crater are presented with narration by science team member Wendy Calvin. (5min 25sec file)
Play video

Mars rover update
Mission officials and scientists discuss the condition and progress of Mars rovers Spirit and Opportunity plus the latest science news in this briefing from June 2. (40min 55sec file)
Play video

Options to save Hubble
NASA Administrator Sean O'Keefe announces plans to examine a robotic servicing mission to the Hubble Space Telescope. (33min 51sec file)
Play video

Become a subscriber
More video




NewsAlert





Sign up for our NewsAlert service and have the latest news in astronomy and space e-mailed direct to your desktop.


Privacy note: your e-mail address will not be used for any other purpose.





Hubble refines distance to Pleiades star cluster
SPACE TELESCOPE SCIENCE INSTITUTE NEWS RELEASE
Posted: June 6, 2004


Astronomers using NASA's Hubble Space Telescope have helped settle a mystery that has puzzled scientists concerning the exact distance to the famous nearby star cluster known as the Pleiades, or the Seven Sisters.

Credit: NASA, ESA and AURA/Caltech
Download larger image version here



The Pleiades cluster, named by the ancient Greeks, is easily seen as a small grouping of stars lying near the shoulder of Taurus, the Bull, in the winter sky. Although it might be expected that the distance to this well-studied cluster would be well established, there has been an ongoing controversy among astronomers about its distance for the past seven years.

The mystery began in 1997, when the European Space Agency's satellite Hipparcos measured the distance to the Pleiades and found it is 10 percent closer to Earth than traditional estimates, which were based on comparing the Pleiades to nearby stars. If the Hipparcos measurements were correct, then the stars in the Pleiades are peculiar because they are fainter than Sun-like stars would be at that distance. This finding, if substantiated, would challenge our basic understanding of the structure of stars.

But measurements made by the Hubble telescope's Fine Guidance Sensors show that the distance to the Pleiades is about 440 light-years from Earth, essentially the same as past distance estimates and differing from the Hipparcos results by more than 40 light-years. The Hubble results will be presented June 1 at the American Astronomical Society meeting in Denver, Colo.

The new results agree with recent measurements made by astronomers at the California Institute of Technology and NASA's Jet Propulsion Laboratory, both in Pasadena, Calif. Those astronomers used interferometer measurements from Mt. Wilson and Palomar observatories in California, reporting that the star cluster is between 434 and 446 light-years from Earth.

The discrepancy in the distance to the Pleiades is more than an arcane argument over details. Astronomers have only one direct means for gauging distances to stars, called the parallax method. With current telescopes, this method gives accurate results only for distances up to about 500 light-years. Distances beyond that limit must be determined by indirect methods, based on comparing the brightness of distant stars with those of nearer ones of the same type, and making the assumption that both objects have the same intrinsic, or true, brightness. Astronomers can thus build up a distance ladder, based on ever more-distant objects, ultimately leading to the use of supernovae as "standard candles" for the most distant reaches of the universe.

"Reliance on the accuracy of the measurements of nearby objects is crucial to getting the distance ladder of the universe correct," said David Soderblom of the Space Telescope Science Institute in Baltimore, Md., and lead astronomer on the Hubble study. "The new Hubble result shows that the measurements made by Hipparcos contain a small, but significant, source of error that requires further exploration. New space missions are now being planned to carry out even more precise distance measurements out to greater distances."

Soderblom and his team used Hubble's Fine Guidance Sensors to measure slight changes in the apparent positions of three stars within the cluster when viewed from different sides of Earth's orbit. Due to the motion of the Earth around the Sun, the position of a star in the Pleiades, will appear to shift relative to stars farther away. This effect, called parallax, can be used to calculate the distance to the star with simple geometry; a similar method of triangulation is used by surveyors to measure distances on Earth. Soderblom's team took its measurements six months apart over a 2 1/2-year period.

Making these kinds of measurements of a star's movement is very difficult. The Fine Guidance Sensors are so precise that if the human eye had the same ability to measure small angles, it would be able to see a quarter 16,000 miles away.

Hipparcos was the first space observatory to make precise measurements of the positions and motions of celestial objects. Before Hipparcos, astronomers determined the distances to stars like the Pleiades by measuring parallax with ground-based telescopes. Those observations were less precise because Earth's atmosphere distorts light from stars, limiting the telescopes' resolution.

The Space Telescope Science Institute (STScI) is operated by the Association of Universities for Research in Astronomy, Inc. (AURA), for NASA, under contract with the Goddard Space Flight Center, Greenbelt, Md. The Hubble Space Telescope is a project of international cooperation between NASA and the European Space Agency (ESA).
Ferryflight Shuttle Patch
Free shipping to U.S. addresses!

"The Final Mission" - NASA emblem developed for the Shuttle Carrier Aircraft crew and their support teams to deliver the orbiters to their final destinations at museums.

U.S. STORE
WORLDWIDE STORE
Apollo 11 special patch
Special collectors' patch marking the 35th anniversary of the historic Apollo 11 moon landing is now available.

Choose your store:
U.S. - U.K. - E.U. - Worldwide
Inside Apollo mission control
An insider's view of how Apollo flight controllers operated and just what they faced when events were crucial.

Choose your store:
U.S.
The ultimate Apollo 11 DVD
This exceptional chronicle of the historic Apollo 11 lunar landing mission features new digital transfers of film and television coverage unmatched by any other.

Choose your store:
U.S. - U.K. - E.U. - Worldwide
Next ISS crew
Own a little piece of history with this official patch for the International Space Station's Expedition 11 crew. We'll ship yours today!

Choose your store:
U.S.
Apollo 12 tribute DVD set

New! Featuring the jovial crew of Pete Conrad, Dick Gordon and Alan Bean, the Apollo 12 mission was struck by lightning shortly after liftoff but proceeded on the second successful exploration voyage to the lunar surface. This three-disc DVD brings the mission to life with extraordinary detail.

Choose your store:
U.S. - U.K. - E.U. - Worldwide
Fallen Heroes special patch
This special 12-inch embroidered patch commemorates the U.S. astronauts who made the ultimate sacrifice, honoring the crews of Apollo 1, Challenger and Columbia.

Choose your store:
U.S. - U.K. - E.U. - Worldwide
Women in Space
Women of Space: Cool Careers on the Final Frontier is for girls, young women, and anyone else interested in learning about exciting careers in space exploration. Includes CD-ROM.

Choose your store:
U.S. - U.K. - E.U. - Worldwide
Mars rover poster
This new poster features some of the best pictures from NASA's amazing Mars Exploration Rovers Spirit and Opportunity.

Choose your store:
U.S.
Apollo patches
The Apollo Patch Collection: Includes all 12 Apollo mission patches plus the Apollo Program Patch. Save over 20% off the Individual price.

Choose your store:
U.S. - U.K. - E.U. - Worldwide
John Glenn Mission Patch
Free shipping to U.S. addresses!

The historic first orbital flight by an American is marked by this commemorative patch for John Glenn and Friendship 7.

U.S. STORE
WORLDWIDE STORE
Final Shuttle Mission Patch
Free shipping to U.S. addresses!

The crew emblem for the final space shuttle mission is available in our store. Get this piece of history!

U.S. STORE
WORLDWIDE STORE
Celebrate the shuttle program
Free shipping to U.S. addresses!

This special commemorative patch marks the retirement of NASA's Space Shuttle Program. Available in our store!

U.S. STORE
WORLDWIDE STORE
Anniversary Shuttle Patch
Free shipping to U.S. addresses!
This embroidered patch commemorates the 30th anniversary of the Space Shuttle Program. The design features the space shuttle Columbia's historic maiden flight of April 12, 1981.

U.S. STORE
WORLDWIDE STORE
Mercury anniversary
Free shipping to U.S. addresses!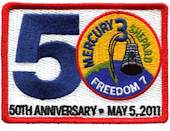 Celebrate the 50th anniversary of Alan Shephard's historic Mercury mission with this collectors' item, the official commemorative embroidered patch.

U.S. STORE
WORLDWIDE STORE
Fallen Heroes Patch Collection

The official patches from Apollo 1, the shuttle Challenger and Columbia crews are available in the store.

U.S. STORE
WORLDWIDE STORE