Spaceflight Now +





Premium video content for our Spaceflight Now Plus subscribers.

Cassini preview
The Cassini spacecraft's arrival at Saturn is previewed in this detailed news conference from NASA Headquarters on June 3. (50min 01sec file)
Play video

Relive Cassini's launch
An Air Force Titan 4B rocket launches NASA's Cassini spacecraft at 4:43 a.m. October 15, 1997 from Cape Canaveral, Florida. (5min 15sec file)
Play video

Exploring the hills
"A brand new mission" is beginning for the Mars Exploration Rover Spirit as it nears the Columbia Hills as described in this presentation by science team member James Rice. (5min 57sec file)
Play video

Exploring Endurance
New pictures from the Mars rover Opportunity as it drives around the rim of Endurance Crater are presented with narration by science team member Wendy Calvin. (5min 25sec file)
Play video

Mars rover update
Mission officials and scientists discuss the condition and progress of Mars rovers Spirit and Opportunity plus the latest science news in this briefing from June 2. (40min 55sec file)
Play video

Options to save Hubble
NASA Administrator Sean O'Keefe announces plans to examine a robotic servicing mission to the Hubble Space Telescope. (33min 51sec file)
Play video

Station supply ship
Ride along with the Progress 14P resupply ship as it makes the final approach and docking to the International Space Station on May 27 as seen by a camera mounted on the craft's nose. (9min 02sec file)
Play video

Results from Spitzer
Scientists present new discoveries from the Spitzer Space Telescope, including their findings of raw ingredients for life detected around young stars. (53min 03sec file)
Play video

Spacewalk previewed
The Expedition 9 crew describes their upcoming spacewalk in Russian spacesuits, life aboard the space station and the view of Earth in this interview with Bill Harwood of CBS News. (20min 19sec file)
Play video

Progress undocking
The Progress 13P cargo ship departs the International Space Station on May 24 carrying trash and unneeded items to burn up in the atmosphere. (2min 56sec file)
Play video

AP interviews the crew
The Associated Press interviews the two-man Expedition 9 crew living aboard the International Space Station on May 24. (9min 36sec file)
Play video
More clips

Become a subscriber
More video




NewsAlert





Sign up for our NewsAlert service and have the latest news in astronomy and space e-mailed direct to your desktop.


Privacy note: your e-mail address will not be used for any other purpose.





Caught in the act
HARVARD-SMITHSONIAN CENTER FOR ASTROPHYSICS NEWS RELEASE
Posted: June 3, 2004


How old is too old? Pro football players tend to peak in their late 20s, and few continue their careers beyond the age of 35. For young stars, the peak age for planet formation is around 1 to 3 million years. By 10 million years old, their resources are exhausted and they retire to a life on the stellar "main sequence."

Like pro football players, young stars also peak early. Most planets form when stars are 1 to 3 million years old. By 10 million years, the dusty disk is gone and planet formation ends. Credit: David A. Aguilar, Harvard-Smithsonian Center for Astrophysics



Using telescopes on the ground and in space, a team of astronomers led by Lee W. Hartmann and Aurora Sicilia-Aguilar (Harvard-Smithsonian Center for Astrophysics) is studying Sun-like stars in their waning formative years, within clusters older than previously explored. They seek to refine our understanding of planet formation by studying dusty protoplanetary disks around such stars. Their results, presented this week at the 204th meeting of the American Astronomical Society in Denver, Colorado, better define the time span during which planets might form.

"While the planets that may be forming cannot be detected directly," said Sicilia-Aguilar, "we can see changes in the circumstellar dusty accretion disks caused as the planets sweep up and accumulate mass."

"The data also has shown dramatic differences between stars of 3 and 10 million years of age: the younger stars frequently have dusty disks capable of forming planets, while such disks are essentially absent in the older population," she continued.

The team used data from the Smithsonian Institution's Whipple Observatory telescopes, the WIYN telescope at Kitt Peak National Observatory, and from the Spitzer Space Telescope (the latter made available as part of the Guaranteed Time Program of Infrared Array Camera PI Giovanni Fazio), to make these findings.

"We are trying to understand the evolution of protoplanetary disks around stars not too different from the Sun," said team leader Lee W. Hartmann. "Many stars about 1 million years old have disks, but by 10 million years, almost none have disks. We are trying to find stars at an in-between age and 'catch them in the act' of forming planets."

Circumstellar dust disks enshroud young stars, and astronomers understand this to be a common feature of stellar evolution and of possible planetary system formation. The initial protoplanetary disks contain the gas and dust that provide the raw materials for the formation of later planetary systems.

"After stars form planets in their disks and clear out most of the material-either by accretion onto the star, accretion onto planets, or ejection-small amounts of dust can remain in so-called 'debris disks.' Most or all of this debris dust is thought to be continuously generated by the collision of small bodies, much like the zodiacal light in our solar system," said Hartmann.

The team is presenting the first identification of low mass stars in the young clusters Trumpler 37 and NGC 7160. (These clusters are loose associations of stars that have formed together in the comparatively recent past.) "The cluster members confirm the age estimates of 1 to 5 million years for Tr37 and 10 million years for NGC 7160," said Sicilia-Aguilar.

"We do find active accretion in some of the stars in Tr37. The average accretion rate is equivalent to swallowing up 10 Jupiter masses in a million years," said Sicilia-Aguilar. "This is consistent with models of viscous disk evolution."

"In comparison, we have detected no signs of active accretion so far in the older cluster NGC 7160, suggesting that disk accretion ends within 10 million years. This probably coincides with the major phase of giant planet formation."

Trumpler 37 is of more immediate interest, said Hartmann, because we hope to find stars with Jupiter-size planets that are still accumulating material from the disks, so the disks are not completely cleared out yet. However, there may be a few objects in the 10 million-year-old cluster NGC 7160 that are also still forming their giant planets. Not all disks evolve at the same rate.

"Thus we expect eventually to find out more about the frequency of debris disks, and the rate at which the dust in such disks is removed, by studying the 10-million-year-old cluster NGC 7160 and comparing it to Trumpler 37," said Hartmann.

In addition to Sicilia-Aguilar and Hartmann, team members include Cesar Briceno (Centro de Investigaciones de Astronomia), James Muzerolle (University of Arizona), and Nuria Calvet (Smithsonian Astrophysical Observatory). This work was supported by NASA grant NAG5-9670.

Headquartered in Cambridge, Mass., the Harvard-Smithsonian Center for Astrophysics (CfA) is a joint collaboration between the Smithsonian Astrophysical Observatory and the Harvard College Observatory. CfA scientists, organized into six research divisions, study the origin, evolution and ultimate fate of the universe.
Ferryflight Shuttle Patch
Free shipping to U.S. addresses!

"The Final Mission" - NASA emblem developed for the Shuttle Carrier Aircraft crew and their support teams to deliver the orbiters to their final destinations at museums.

U.S. STORE
WORLDWIDE STORE
Soviet Space
For the first time ever available in the West. Rocket & Space Corporation Energia: a complete pictorial history of the Soviet/Russian Space Program from 1946 to the present day all in full color. Available from our store.

Choose your store:
U.S. - U.K. - E.U. - Worldwide
Viking patch
This embroidered mission patch celebrates NASA's Viking Project which reached the Red Planet in 1976.

Choose your store:
U.S. - U.K. - E.U. - Worldwide
Apollo 7 DVD
For 11 days the crew of Apollo 7 fought colds while they put the Apollo spacecraft through a workout, establishing confidence in the machine what would lead directly to the bold decision to send Apollo 8 to the moon just 2 months later.

Choose your store:
U.S. - U.K. - E.U. - Worldwide
Gemini 12
Gemini 12: The NASA Mission Reports covers the voyage of James Lovell and Buzz Aldrin that capped the Gemini program's efforts to prove the technologies and techniques that would be needed for the Apollo Moon landings. Includes CD-ROM.

Choose your store:
U.S. - U.K. - E.U. - Worldwide
Apollo 12 tribute DVD set

New! Featuring the jovial crew of Pete Conrad, Dick Gordon and Alan Bean, the Apollo 12 mission was struck by lightning shortly after liftoff but proceeded on the second successful exploration voyage to the lunar surface. This three-disc DVD brings the mission to life with extraordinary detail.

Choose your store:
U.S. - U.K. - E.U. - Worldwide
Fallen Heroes special patch
This special 12-inch embroidered patch commemorates the U.S. astronauts who made the ultimate sacrifice, honoring the crews of Apollo 1, Challenger and Columbia.

Choose your store:
U.S. - U.K. - E.U. - Worldwide
Women in Space
Women of Space: Cool Careers on the Final Frontier is for girls, young women, and anyone else interested in learning about exciting careers in space exploration. Includes CD-ROM.

Choose your store:
U.S. - U.K. - E.U. - Worldwide
Mars rover poster
This new poster features some of the best pictures from NASA's amazing Mars Exploration Rovers Spirit and Opportunity.

Choose your store:
U.S.
Apollo 11 special patch

Special collectors' patch marking the 35th anniversary of the historic Apollo 11 moon landing is now available.

Choose your store:
U.S. - U.K.
John Glenn Mission Patch
Free shipping to U.S. addresses!

The historic first orbital flight by an American is marked by this commemorative patch for John Glenn and Friendship 7.

U.S. STORE
WORLDWIDE STORE
Final Shuttle Mission Patch
Free shipping to U.S. addresses!

The crew emblem for the final space shuttle mission is available in our store. Get this piece of history!

U.S. STORE
WORLDWIDE STORE
Celebrate the shuttle program
Free shipping to U.S. addresses!

This special commemorative patch marks the retirement of NASA's Space Shuttle Program. Available in our store!

U.S. STORE
WORLDWIDE STORE
Anniversary Shuttle Patch
Free shipping to U.S. addresses!
This embroidered patch commemorates the 30th anniversary of the Space Shuttle Program. The design features the space shuttle Columbia's historic maiden flight of April 12, 1981.

U.S. STORE
WORLDWIDE STORE
Mercury anniversary
Free shipping to U.S. addresses!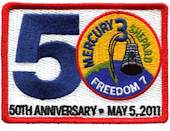 Celebrate the 50th anniversary of Alan Shephard's historic Mercury mission with this collectors' item, the official commemorative embroidered patch.

U.S. STORE
WORLDWIDE STORE
Fallen Heroes Patch Collection

The official patches from Apollo 1, the shuttle Challenger and Columbia crews are available in the store.

U.S. STORE
WORLDWIDE STORE