Spaceflight Now +





Premium video content for our Spaceflight Now Plus subscribers.

Results from Spitzer
Scientists present new discoveries from the Spitzer Space Telescope, including their findings of raw ingredients for life detected around young stars. (53min 03sec file)
Play video

Spacewalk previewed
The Expedition 9 crew describes their upcoming spacewalk in Russian spacesuits, life aboard the space station and the view of Earth in this interview with Bill Harwood of CBS News. (20min 19sec file)
Play video

Progress undocking
The Progress 13P cargo ship departs the International Space Station on May 24 carrying trash and unneeded items to burn up in the atmosphere. (2min 56sec file)
Play video

AP interviews the crew
The Associated Press interviews the two-man Expedition 9 crew living aboard the International Space Station on May 24. (9min 36sec file)
Play video
More clips

Atlas launches AMC-11
The Lockheed Martin Atlas 2AS rocket launches from Cape Canaveral carryin the AMC-11 communications satellite. (4min 30sec file)
Play video
More clips!

Become a subscriber
More video




NewsAlert





Sign up for our NewsAlert service and have the latest news in astronomy and space e-mailed direct to your desktop.


Privacy note: your e-mail address will not be used for any other purpose.





Raw ingredients for life detected around young stars
NASA NEWS RELEASE
Posted: May 27, 2004


NASA has announced new findings from the Spitzer Space Telescope, including the discovery of significant amounts of icy organic materials sprinkled throughout several "planetary construction zones," or dusty planet-forming discs, which circle infant stars.

Out of the dust, a planet is born as depicted in this artist's illustration. Credit: NASA/JPL-Caltech/R. Hurt (SSC-Caltech)
Download larger image version here



These materials, icy dust particles coated with water, methanol and carbon dioxide, may help explain the origin of icy planetoids like comets. Scientists believe these comets may have endowed Earth with some of its water and many of its biogenic, life-enabling materials.

Drs. Dan Watson and William Forrest of the University of Rochester, N.Y, identified the ices. They surveyed five very young stars in the constellation Taurus, 420 light-years from Earth. Previous studies identified similar organic materials in space, but this is the first time they were seen unambiguously in the dust making up planet-forming discs.

In another finding, Spitzer surveyed a group of young stars and found intriguing evidence that one of them may have the youngest planet detected. The observatory found a clearing in the disc around the star CoKu Tau 4. This might indicate an orbiting planet swept away the disc material, like a vacuum leaving a cleared trail on a dirty carpet. The new findings reveal the structure of the gap more clearly than ever before. Because CoKu Tau 4 is only about one million years old, the possible planet would be even younger. As a comparison, Earth is approximately 4.5-billion years old.

"These early results show Spitzer will dramatically expand our understanding of how stars and planets form, which ultimately helps us understand our origins," said Dr. Michael Werner, Spitzer project scientist at NASA's Jet Propulsion Laboratory (JPL), Pasadena, Calif., which manages the mission.

Locations of RCW 49 and Taurus star-forming regions. Credit: ESO (top), 2MASS (middle), IRAS/DIRBE (bottom)
Download larger image version here



Spitzer also discovered two of the farthest and faintest planet-forming discs ever observed. These discs surround two of more than 300 newborn stars uncovered for the first time in a stunning new image of the dusty stellar nursery called RCW 49. It is approximately 13,700 light-years from Earth in the constellation Centaurus.

"Preliminary data suggest all 300 or more stars harbor discs, but so far we've only looked closely at two. Both were found to have discs," said Dr. Ed Churchwell of the University of Wisconsin, Madison, Wis., principal investigator of the RCW 49 research, with Dr. Barbara Whitney of Space Science Institute, Boulder, Colo.

Planet forming, "protoplanetary," discs are a natural phase in a star's life. A star is born inside a dense envelope of gas and dust. Within this envelope, and circling the star, is a flat, dusty disc, where planets are born.

"By seeing what's behind the dust, Spitzer has shown us star and planet formation is a very active process in our galaxy," Churchwell said.

Spitzer's exquisitely sensitive infrared eyes can see planet forming discs in great detail. "Previously, scientists could study only a small sample of discs, but Spitzer is already on its way toward analyzing thousands of discs," Werner said.

Spitzer's infrared spectrograph instrument, which breaks apart infrared light to see the signatures of various chemicals, was used to observe the organic ices and the clearing within CoKu Tau 4's disc. Spitzer's infrared array camera found the new stars in RCW 49. Papers on the research will appear in the September 1, 2004, issue of the journal Astrophysical Journal Supplements.

Additional coverage for subscribers:

VIDEO: WATCH THURSDAY'S SPITZER TELESCOPE NEWS BRIEFING QT

SUBSCRIBE NOW

Mars rover collectible patch
Free shipping to U.S. addresses!

This commemorative patch celebrates NASA's Curiosity rover mission of the Mars Science Laboratory in search of clues whether the Red Planet was once hospitable to life.

U.S. STORE
WORLDWIDE STORE
Soviet Space
For the first time ever available in the West. Rocket & Space Corporation Energia: a complete pictorial history of the Soviet/Russian Space Program from 1946 to the present day all in full color. Available from our store.

Choose your store:
U.S. - U.K. - E.U. - Worldwide
Viking patch
This embroidered mission patch celebrates NASA's Viking Project which reached the Red Planet in 1976.

Choose your store:
U.S. - U.K. - E.U. - Worldwide
Apollo 7 DVD
For 11 days the crew of Apollo 7 fought colds while they put the Apollo spacecraft through a workout, establishing confidence in the machine what would lead directly to the bold decision to send Apollo 8 to the moon just 2 months later.

Choose your store:
U.S. - U.K. - E.U. - Worldwide
Gemini 12
Gemini 12: The NASA Mission Reports covers the voyage of James Lovell and Buzz Aldrin that capped the Gemini program's efforts to prove the technologies and techniques that would be needed for the Apollo Moon landings. Includes CD-ROM.

Choose your store:
U.S. - U.K. - E.U. - Worldwide
Apollo 11 special patch
Special collectors' patch marking the 35th anniversary of the historic Apollo 11 moon landing is now available.

Choose your store:
U.S. - U.K. - E.U. - Worldwide
Inside Apollo mission control
An insider's view of how Apollo flight controllers operated and just what they faced when events were crucial.

Choose your store:
U.S.
The ultimate Apollo 11 DVD
This exceptional chronicle of the historic Apollo 11 lunar landing mission features new digital transfers of film and television coverage unmatched by any other.

Choose your store:
U.S. - U.K. - E.U. - Worldwide
Next ISS crew
Own a little piece of history with this official patch for the International Space Station's Expedition 11 crew. We'll ship yours today!

Choose your store:
U.S.
Apollo patches
The Apollo Patch Collection: Includes all 12 Apollo mission patches plus the Apollo Program Patch. Save over 20% off the Individual price.

Choose your store:
U.S. - U.K. - E.U. - Worldwide
John Glenn Mission Patch
Free shipping to U.S. addresses!

The historic first orbital flight by an American is marked by this commemorative patch for John Glenn and Friendship 7.

U.S. STORE
WORLDWIDE STORE
Final Shuttle Mission Patch
Free shipping to U.S. addresses!

The crew emblem for the final space shuttle mission is available in our store. Get this piece of history!

U.S. STORE
WORLDWIDE STORE
Celebrate the shuttle program
Free shipping to U.S. addresses!

This special commemorative patch marks the retirement of NASA's Space Shuttle Program. Available in our store!

U.S. STORE
WORLDWIDE STORE
Anniversary Shuttle Patch
Free shipping to U.S. addresses!
This embroidered patch commemorates the 30th anniversary of the Space Shuttle Program. The design features the space shuttle Columbia's historic maiden flight of April 12, 1981.

U.S. STORE
WORLDWIDE STORE
Mercury anniversary
Free shipping to U.S. addresses!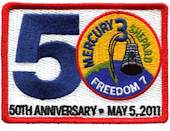 Celebrate the 50th anniversary of Alan Shephard's historic Mercury mission with this collectors' item, the official commemorative embroidered patch.

U.S. STORE
WORLDWIDE STORE
Fallen Heroes Patch Collection

The official patches from Apollo 1, the shuttle Challenger and Columbia crews are available in the store.

U.S. STORE
WORLDWIDE STORE