Spitzer Space Telescope sends cosmic Valentine rose
HARVARD-SMITHSONIAN CENTER FOR ASTROPHYSICS RELEASE
Posted: February 12, 2004


A cluster of newborn stars herald their birth in this interstellar Valentine's Day commemorative picture obtained with NASA's Spitzer Space Telescope. These bright young stars are found in a rosebud-shaped (and rose-colored) nebulosity known as NGC 7129. The star cluster and its associated nebula are located at a distance of 3300 light-years in the constellation Cepheus.

Credit: NASA/JPL/Caltech/Harvard-Smithsonian CfA



A recent census of the cluster reveals the presence of 130 young stars. The stars formed from a massive cloud of gas and dust that contains enough raw materials to create a thousand Sun-like stars. In a process that astronomers still poorly understand, fragments of this molecular cloud became so cold and dense that they collapsed into stars. Most stars in our Milky Way galaxy are thought to form in such clusters.

"The diameter of the cluster is equal to the distance between the Sun and the nearest star, Proxima Centauri. Within that distance, we find 130 stars. By combining data from the Smithsonian's MMT Telescope in Arizona with Spitzer data, we find that roughly half of these stars are surrounded by disks of gas and dust. Each of these disks is a forming solar system," said researcher Tom Megeath (Harvard-Smithsonian Center for Astrophysics).

As in any nursery, mayhem reigns. Within the astronomically brief period of a million years, the stars have managed to blow a large, irregular bubble in the molecular cloud that once enveloped them like a cocoon. The rosy pink hue is produced by glowing dust grains on the surface of the bubble being heated by the intense light from the embedded young stars. Upon absorbing ultraviolet and visible-light photons produced by the stars, the surrounding dust grains are heated and re-emit the energy at the longer infrared wavelengths observed by Spitzer. The reddish colors trace the distribution of molecular material thought to be rich in hydrocarbons.

The cold molecular cloud outside the bubble is mostly invisible in these images. However, three very young stars near the center of the image are sending jets of supersonic gas into the cloud. The impact of these jets heats molecules of carbon monoxide in the cloud, producing the intricate green nebulosity that forms the stem of the rosebud.

"The formation of our own solar system may have begun in a similar setting. Our Sun's siblings would have drifted away and disappeared into the night sky long ago," said Megeath.

Not all stars are formed in clusters. Away from the main nebula and its young cluster are two smaller nebulae, to the left and bottom of the central 'rosebud,' each containing a stellar nursery with only a few young stars.

The Spitzer Space Telescope image was obtained with an infrared array camera that is sensitive to invisible infrared light at wavelengths that are about ten times longer than visible light. In this four-color composite, emission at 3.6 microns is depicted in blue, 4.5 microns in green, 5.8 microns in orange, and 8.0 microns in red. The image covers a region that is about one quarter the size of the full moon.

The NASA Jet Propulsion Laboratory (JPL) manages the Spitzer Space Telescope mission for NASA's Office of Space Science, Washington. Science operations are conducted at the Spitzer Science Center at the California Institute of Technology in Pasadena. JPL is a division of Caltech.

Headquartered in Cambridge, Mass., the Harvard-Smithsonian Center for Astrophysics is a joint collaboration between the Smithsonian Astrophysical Observatory and the Harvard College Observatory. CfA scientists, organized into six research divisions, study the origin, evolution and ultimate fate of the universe.
Columbia Report
A reproduction of the official accident investigation report into the loss of the space shuttle Columbia and its crew of seven.

Choose your store:
U.S. - U.K. - E.U. - Worldwide
Mars Panorama

DISCOUNTED! This 360 degree image was taken by the Mars Pathfinder, which landed on the Red Planet in July 1997. The Sojourner Rover is visible in the image.

Choose your store:
U.S.
Apollo 11 Mission Report
Apollo 11 - The NASA Mission Reports Vol. 3 is the first comprehensive study of man's first mission to another world is revealed in all of its startling complexity. Includes DVD!

Choose your store:
U.S. - U.K. - E.U. - Worldwide
Rocket DVD
If you've ever watched a launch from Kennedy Space Center, Cape Canaveral, Vandenberg Air Force Base or even Kodiak Island Alaska, there's no better way to describe what you witnessed than with this DVD.

Choose your store:
U.S. - U.K. - E.U. - Worldwide
John Glenn Mission Patch
Free shipping to U.S. addresses!

The historic first orbital flight by an American is marked by this commemorative patch for John Glenn and Friendship 7.

U.S. STORE
WORLDWIDE STORE
Final Shuttle Mission Patch
Free shipping to U.S. addresses!

The crew emblem for the final space shuttle mission is available in our store. Get this piece of history!

U.S. STORE
WORLDWIDE STORE
Celebrate the shuttle program
Free shipping to U.S. addresses!

This special commemorative patch marks the retirement of NASA's Space Shuttle Program. Available in our store!

U.S. STORE
WORLDWIDE STORE
Anniversary Shuttle Patch
Free shipping to U.S. addresses!
This embroidered patch commemorates the 30th anniversary of the Space Shuttle Program. The design features the space shuttle Columbia's historic maiden flight of April 12, 1981.

U.S. STORE
WORLDWIDE STORE
Mercury anniversary
Free shipping to U.S. addresses!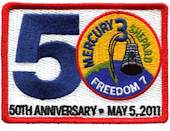 Celebrate the 50th anniversary of Alan Shephard's historic Mercury mission with this collectors' item, the official commemorative embroidered patch.

U.S. STORE
WORLDWIDE STORE
Fallen Heroes Patch Collection

The official patches from Apollo 1, the shuttle Challenger and Columbia crews are available in the store.

U.S. STORE
WORLDWIDE STORE
Soviet Space
For the first time ever available in the West. Rocket & Space Corporation Energia: a complete pictorial history of the Soviet/Russian Space Program from 1946 to the present day all in full color. Available from our store.

Choose your store:
U.S. - U.K. - E.U. - Worldwide
Viking patch
This embroidered mission patch celebrates NASA's Viking Project which reached the Red Planet in 1976.

Choose your store:
U.S. - U.K. - E.U. - Worldwide
Apollo 7 DVD
For 11 days the crew of Apollo 7 fought colds while they put the Apollo spacecraft through a workout, establishing confidence in the machine what would lead directly to the bold decision to send Apollo 8 to the moon just 2 months later.

Choose your store:
U.S. - U.K. - E.U. - Worldwide
Gemini 12
Gemini 12: The NASA Mission Reports covers the voyage of James Lovell and Buzz Aldrin that capped the Gemini program's efforts to prove the technologies and techniques that would be needed for the Apollo Moon landings. Includes CD-ROM.

Choose your store:
U.S. - U.K. - E.U. - Worldwide
Mars rover collectible patch
Free shipping to U.S. addresses!

This commemorative patch celebrates NASA's Curiosity rover mission of the Mars Science Laboratory in search of clues whether the Red Planet was once hospitable to life.

U.S. STORE
WORLDWIDE STORE

Get e-mail updates
Sign up for our NewsAlert service and have the latest news in astronomy and space e-mailed direct to your desktop (privacy note: your e-mail address will not be used for any other purpose).