Search for ancient Martian life continues
NASA NEWS RELEASE
Posted: August 4, 2002


In the latest study of a 4.5 billion-year-old Martian meteorite, researchers have presented new evidence confirming that 25 percent of the magnetic material in the meteorite was produced by ancient bacteria on Mars. These latest results were published in the journal Applied and Environmental Microbiology.

The researchers used six physical properties they refer to as the Magnetite Assay for Biogenicity (MAB) to compare all the magnetic material found in the ancient meteorite -- using the MAB as a biosignature. A biosignature is a physical and/or chemical marker of life that does not occur through random processes or human intervention.

"No non-biologic magnetite population, whether produced by nature or in the laboratory, has ever met the MAB criteria," said Kathie Thomas-Keprta, an astrobiologist at NASA's Johnson Space Center (JSC) in Houston and the lead researcher on the study. "This means that one-quarter of the magnetite crystals embedded in the carbonates in Martian meteorite ALH84001 require the intervention of biology to explain their presence."

Magnetotactic bacteria, which occur in aquatic habitats on Earth, arrange magnetite crystals in chains within their cells to make compasses, which help the bacteria locate sources of food and energy. Magnetite (Fe3O4) is produced inorganically on Earth, but the magnetite crystals produced by magnetotactic bacteria are very different -- they are chemically pure and defect-free, with distinct sizes and shapes.

Four of the MAB biosignature properties relate to the external physical structure of the magnetite crystals, while another refers to their internal structure and another to their chemical composition.

In their earlier studies, the researchers found that approximately one-quarter of the nanometer-sized magnetite crystals in ALH84001 had remarkable physical and chemical similarities to magnetite particles produced by a bacteria strain on Earth called MV-1. This is the first time, however, that any researcher has used the full MAB range of biosignature properties to compare the proposed bacteria- produced crystals in Mars meteorite ALH84001with the bacteria-produced crystals from Earth and with the other magnetites in the meteorite.

The comparison between the proposed bacteria-produced crystals in the meteorite and crystals known to be produced by Earth-bacteria MV-1 is striking and provides strong evidence that these crystals were made by bacteria on Mars.

The fact that Mars Global Surveyor data suggest that early Mars had a magnetic field is consistent with a reason why Mars would have magnetotactic bacteria. "Our best working hypothesis is that early Mars supported the evolution of bacteria that share several traits with magnetotactic bacteria on Earth, most notably the MV-1 group," said Simon Clemett, a coauthor of the paper at Johnson.

Mars has long been understood to provide the sources of light and chemical energy sufficient to support life, but in 2001 the Mars Global Surveyor spacecraft observed magnetized stripes in the crust of Mars, which showed that a strong magnetic field existed in the planet's early history, about the same time as the carbonate containing the unique magnetites in ALH84001 was formed.

In June, researchers using the Mars Odyssey spacecraft announced that they had found water ice under the surface of Mars. These attributes, coupled with a carbon dioxide-rich atmosphere, would have provided the necessary environment for the evolution of microbes similar to the fossils found in ALH84001.

"We believe this latest study proves that the magnetites in ALH84001 can be best explained as the products of multiple biogenic and inorganic processes that operated on early Mars," Thomas-Keprta said.

An international team of nine researchers collaborated on the three-year study. The team, led by Thomas-Keprta of Lockheed Martin at Johnson Space Center, was funded by the NASA Astrobiology Institute. Co-authors of the study are Clemett and Susan Wentworth of Lockheed Martin at JSC; Dennis Bazylinski of Iowa State University (funded by the National Science Foundation); Joseph Kirschvink of the California Institute of Technology in Pasadena; David McKay and Everett Gibson of JSC; Hojatollah Vali of McGill University in Canada; and Christopher Romanek of the Savannah River Ecology Laboratory.
Hubble
Astronomy Now presents Hubble: the space telescope's view of the cosmos. A collection of the best images from the world's premier space observatory.

U.S. STORE
U.K. & WORLDWIDE STORE
Apollo 15 DVD - offer ends soon
For a limited time only, preorder your Apollo 15 DVDs at a special discount price. Two- and six-disc editions of this unique DVD are coming soon.

U.S. STORE
U.K. & WORLDWIDE STORE
ERROR: Random File Unopenable
The random file, as specified in the $random_file perl variable was unopenable.

The file was not found on your file system. This means that it has either not been created or the path you have specified in $trrandom_file is incorrect.

John Glenn Mission Patch


Free shipping to U.S. addresses!


The historic first orbital flight by an American is marked by this commemorative patch for John Glenn and Friendship 7.

U.S. STORE

WORLDWIDE STORE


Final Shuttle Mission Patch


Free shipping to U.S. addresses!


The crew emblem for the final space shuttle mission is available in our store. Get this piece of history!

U.S. STORE

WORLDWIDE STORE


Celebrate the shuttle program


Free shipping to U.S. addresses!


This special commemorative patch marks the retirement of NASA's Space Shuttle Program. Available in our store!

U.S. STORE

WORLDWIDE STORE


Anniversary Shuttle Patch


Free shipping to U.S. addresses!

This embroidered patch commemorates the 30th anniversary of the Space Shuttle Program. The design features the space shuttle Columbia's historic maiden flight of April 12, 1981.

U.S. STORE

WORLDWIDE STORE


Mercury anniversary


Free shipping to U.S. addresses!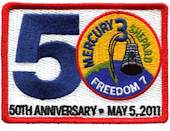 Celebrate the 50th anniversary of Alan Shephard's historic Mercury mission with this collectors' item, the official commemorative embroidered patch.

U.S. STORE

WORLDWIDE STORE


Fallen Heroes Patch Collection


The official patches from Apollo 1, the shuttle Challenger and Columbia crews are available in the store.

U.S. STORE

WORLDWIDE STORE


Apollo patches

The Apollo Patch Collection: Includes all 12 Apollo mission patches plus the Apollo Program Patch. Save over 20% off the Individual price.

Choose your store:
U.S. - U.K. - E.U. - Worldwide

Apollo 12 tribute DVD set


New! Featuring the jovial crew of Pete Conrad, Dick Gordon and Alan Bean, the Apollo 12 mission was struck by lightning shortly after liftoff but proceeded on the second successful exploration voyage to the lunar surface. This three-disc DVD brings the mission to life with extraordinary detail.

Choose your store:
U.S. - U.K. - E.U. - Worldwide

Fallen Heroes special patch

This special 12-inch embroidered patch commemorates the U.S. astronauts who made the ultimate sacrifice, honoring the crews of Apollo 1, Challenger and Columbia.

Choose your store:
U.S. - U.K. - E.U. - Worldwide

Women in Space

Women of Space: Cool Careers on the Final Frontier is for girls, young women, and anyone else interested in learning about exciting careers in space exploration. Includes CD-ROM.

Choose your store:
U.S. - U.K. - E.U. - Worldwide

Mars rover poster

This new poster features some of the best pictures from NASA's amazing Mars Exploration Rovers Spirit and Opportunity.

Choose your store:
U.S.

Station Calendar

NEW! This beautiful 12" by 12" wall calendar features stunning images of the International Space Station and of the people, equipment, and space craft associated with it, as it takes shape day by day in orbit high above the Earth.

U.S. STORE

U.K. & WORLDWIDE STORE


Get e-mail updates
Sign up for our NewsAlert service and have the latest news in astronomy and space e-mailed direct to your desktop (privacy note: your e-mail address will not be used for any other purpose).