Next-generation ion engine development begins
NASA NEWS RELEASE
Posted: June 30, 2002


NASA's Office of Space Science in Washington has announced the selection of a team for the development of an advanced ion propulsion system - an alternative to conventional chemical propulsion that could revolutionize the way we send science missions into the solar system. A second team was selected to develop advanced ion optics, which are critical components of ion engines.

The agency's Glenn Research Center in Cleveland was selected to lead development of the NASA Evolutionary Xenon Thruster (NEXT) system, which will use xenon gas and electrical power to drive future spacecraft. Additionally, a team led by Boeing Electron Dynamic Devices, Inc. of Torrance, Calif., was selected to pursue development, fabrication and testing of carbon-based ion optics, critical components of high-power ion thrusters that have traditionally limited thruster lifetime.

"The NEXT ion engine is an exciting next step in ion propulsion and will enhance a whole host of ambitious new space science missions," said Carol Carroll, In-Space Propulsion (ISP) Program Executive in the Office of Space Science at NASA Headquarters, Washington.

The NEXT Project is a proposed two-part endeavor. The first phase is a one-year effort to design, build and test initial versions of ion thrusters, propellant feed systems and power processing units, which convert solar array power into forms useful for the ion engine. At the end of Phase 1, NASA may exercise a Phase 2 option to complete hardware development and integrate components into a full-scale system.

The total potential value of the Glenn award over the next three and one-half years is approximately $21 million. The total value of the Boeing team award is approximately $4 million. Total NASA funding for NEXT system development activities is approximately $27 million.

Ion propulsion systems convert electrical power and xenon propellant into high-speed ion flows that accelerate spacecraft with fuel efficiencies about ten times higher than conventional chemical propulsion.

"Technologies such as ion propulsion are key to enabling shorter mission times and could reduce costs for future space missions, which permits a greater focus on space science," said Les Johnson, In-Space Propulsion manager for NASA's Advanced Space Transportation Program at Marshall Space Flight Center in Huntsville, Ala. The Marshall Center will administer both new awards.

An ion thruster converts electrical power and xenon gas into a high-velocity flow of positively charged ions. Metal grids that exert an electrostatic force accelerate these ions, much the same way bits of lint are pulled to a statically charged comb, but with a dramatically different effect. The accelerated ions leave the thruster at speeds of up to 89,000 mph, propelling the spacecraft forward. The result: fuel efficiency that exceeds conventional chemical engines by as much as a factor of 10.

The new ion thruster development program builds on the success of the Deep Space 1 mission, a NASA probe launched in 1998 to validate advanced flight technologies. Deep Space 1 was powered by an ion thruster just 12 inches in diameter, which accelerated the spacecraft to a velocity of 7,900 mph over a 20-month period.

Deep Space 1 made history during its close fly-by of Comet Borrelly in September 2001, when it returned the clearest images and best scientific data ever gathered about a comet. The success of Deep Space 1 was a first step in the exploitation of high-power ion propulsion for a broad class of future space missions, including possible planetary visits. The NEXT ion engine will be capable of carrying significantly more payload and have a longer lifetime than the Deep Space 1 ion engine.

The In-Space Propulsion Program seeks to develop advanced propulsion technologies that can enable or greatly enhance near and mid-term NASA science missions by significantly reducing cost, mass, and/or travel times.

The In-Space Propulsion Program is managed by the Office of Space Science at NASA Headquarters and is implemented by Marshall. The program is supported by NASA's Ames Research Center in Moffett Field, Calif.; Glenn Research Center, NASA's Jet Propulsion Laboratory in Pasadena, Calif., NASA's Johnson Space Center in Houston and NASA's Langley Research Center in Hampton, Va.

NASA partners with cutting-edge industry leaders, the nation's academic institutions and other government agencies to realize its ambitious in-space propulsion goals.
The ultimate Apollo 11 DVD
This exceptional chronicle of the historic Apollo 11 lunar landing mission features new digital transfers of film and television coverage unmatched by any other.

U.S. STORE
U.K. WORLDWIDE STORE
More DVDs
The first in a series of space DVDs is now available from the Astronomy Now Store. Relive shuttle Columbia's March flight to refurbish the Hubble Space Telescope in spectacular DVD quality.

U.S. STORE
U.K. & WORLDWIDE STORE
The Apollo 14 Complete Downlink DVD set (5 discs) contains all the available television downlink footage from the Apollo 14 mission. A two-disc edited version is also available.

U.S. STORE
U.K. & WORLDWIDE STORE
Apollo 12 tribute DVD set

New! Featuring the jovial crew of Pete Conrad, Dick Gordon and Alan Bean, the Apollo 12 mission was struck by lightning shortly after liftoff but proceeded on the second successful exploration voyage to the lunar surface. This three-disc DVD brings the mission to life with extraordinary detail.

Choose your store:
U.S. - U.K. - E.U. - Worldwide
Fallen Heroes special patch
This special 12-inch embroidered patch commemorates the U.S. astronauts who made the ultimate sacrifice, honoring the crews of Apollo 1, Challenger and Columbia.

Choose your store:
U.S. - U.K. - E.U. - Worldwide
Women in Space
Women of Space: Cool Careers on the Final Frontier is for girls, young women, and anyone else interested in learning about exciting careers in space exploration. Includes CD-ROM.

Choose your store:
U.S. - U.K. - E.U. - Worldwide
Mars rover poster
This new poster features some of the best pictures from NASA's amazing Mars Exploration Rovers Spirit and Opportunity.

Choose your store:
U.S.
ERROR: Random File Unopenable
The random file, as specified in the $random_file perl variable was unopenable.

The file was not found on your file system. This means that it has either not been created or the path you have specified in $trrandom_file is incorrect.

Apollo patches

The Apollo Patch Collection: Includes all 12 Apollo mission patches plus the Apollo Program Patch. Save over 20% off the Individual price.

Choose your store:
U.S. - U.K. - E.U. - Worldwide

John Glenn Mission Patch


Free shipping to U.S. addresses!


The historic first orbital flight by an American is marked by this commemorative patch for John Glenn and Friendship 7.

U.S. STORE

WORLDWIDE STORE


Final Shuttle Mission Patch


Free shipping to U.S. addresses!


The crew emblem for the final space shuttle mission is available in our store. Get this piece of history!

U.S. STORE

WORLDWIDE STORE


Celebrate the shuttle program


Free shipping to U.S. addresses!


This special commemorative patch marks the retirement of NASA's Space Shuttle Program. Available in our store!

U.S. STORE

WORLDWIDE STORE


Anniversary Shuttle Patch


Free shipping to U.S. addresses!

This embroidered patch commemorates the 30th anniversary of the Space Shuttle Program. The design features the space shuttle Columbia's historic maiden flight of April 12, 1981.

U.S. STORE

WORLDWIDE STORE


Mercury anniversary


Free shipping to U.S. addresses!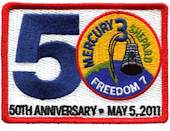 Celebrate the 50th anniversary of Alan Shephard's historic Mercury mission with this collectors' item, the official commemorative embroidered patch.

U.S. STORE

WORLDWIDE STORE


Fallen Heroes Patch Collection


The official patches from Apollo 1, the shuttle Challenger and Columbia crews are available in the store.

U.S. STORE

WORLDWIDE STORE


Get e-mail updates
Sign up for our NewsAlert service and have the latest news in astronomy and space e-mailed direct to your desktop (privacy note: your e-mail address will not be used for any other purpose).