Shuttle gets new lift to orbit
NASA-MSFC NEWS RELEASE
Posted: March 31, 2002


More than 100 companies across the country will mark a significant milestone April 4, with the launch of Space Shuttle Atlantis: The Shuttle is getting a new lift -- three improved Main Engines that will make the world's only reusable launch vehicle safer and more reliable than ever before.

Companies in 17 states provide parts and materials for the Shuttle's "new" Main Engines.

A shuttle main engine turbopump is carefully assembled. Photo: Pratt & Whitney



One of the most sophisticated rocket engines ever designed, the Space Shuttle Main Engines were developed by NASA's Marshall Space Flight Center in Huntsville, Ala., together with Boeing Rocketdyne of Canoga Park, Calif., and Pratt and Whitney of West Palm Beach, Fla.

The enhanced engines -- called Block II Main Engines -- incorporate an improved high-pressure fuel turbopump with a stronger integral shaft/disk and tougher bearings. The improvements make the "new" engines safer and more reliable, potentially increasing the number of flights between major overhauls.

"NASA's suppliers and their products are an integral part of the Space Shuttle program," said Art Stephenson, director of the Marshall Center.

"Each individual who contributes to the production and delivery of the Shuttle Main Engine is a valued member of our NASA team," Stephenson added. "Each should be proud of the Space Shuttle technologies that have benefited U.S. industry, improved our quality of life and created jobs for Americans."

A single Block II Main Engine was demonstrated in July 2001 on the STS-104 mission, and again on the STS-108 mission in December 2001. The upcoming mission marks the first time the Shuttle will be powered by three of the new engines.

Developed in the 1970s by engineers at the Marshall Center and Rocketdyne, the Shuttle Main Engine performs at greater temperature extremes than any mechanical system in common use today. At minus 423 degrees Fahrenheit, the liquid hydrogen fuel is second only to liquid helium as the coldest liquid on Earth. When it and the liquid oxygen are combusted, the temperature in the main combustion chamber of the engine is 6,000 degrees Fahrenheit, hotter than the boiling point of iron.

If the three engines pumped water instead of fuel, they could drain an average-sized home swimming pool in 25 seconds. At lift off, each engine produces 417,975 pounds of thrust.

"Our suppliers' diligent attention to detail is critical to the safe and reliable performance of the Shuttle's Main Engine," said George Hopson, manager of the Space Shuttle Main Engine Project Office at the Marshall Center. "Each one is responsible for preserving the safety of the world's astronaut corps."

The new fuel turbopump -- made by Pratt and Whitney -- is not much larger than an automobile engine, yet it generates 360 times the horsepower.

Boeing Rocketdyne is responsible for the manufacture of the Space Shuttle Main Engine. NASA's Stennis Space Center in Mississippi tests the engines.

The Marshall Center is a key leader in NASA's development of space transportation and propulsion systems. The Space Shuttle Projects Office at Marshall oversees the Main Engines, the Space Shuttle's Solid Rocket Boosters and Reusable Solid Rocket Motors, and the External Tank.

Editor's Note: The companies providing parts and supplies to the Shuttle Main Engine program are located in Alabama, Arizona, California, Connecticut, Florida, Indiana, Massachusetts, Michigan, Minnesota, New Jersey, New York, New Hampshire, Ohio, Pennsylvania, Tennessee, Virginia and West Virginia.
Apollo 16
NEW! The latest in Apogee Book's acclaimed NASA Mission Reports series features the Apollo 16 expedition to the lunar highland area of Descartes. Includes CD-ROM.

U.S. STORE
U.K. & WORLDWIDE STORE
Apollo 12 tribute DVD set

New! Featuring the jovial crew of Pete Conrad, Dick Gordon and Alan Bean, the Apollo 12 mission was struck by lightning shortly after liftoff but proceeded on the second successful exploration voyage to the lunar surface. This three-disc DVD brings the mission to life with extraordinary detail.

Choose your store:
U.S. - U.K. - E.U. - Worldwide
Fallen Heroes special patch
This special 12-inch embroidered patch commemorates the U.S. astronauts who made the ultimate sacrifice, honoring the crews of Apollo 1, Challenger and Columbia.

Choose your store:
U.S. - U.K. - E.U. - Worldwide
Women in Space
Women of Space: Cool Careers on the Final Frontier is for girls, young women, and anyone else interested in learning about exciting careers in space exploration. Includes CD-ROM.

Choose your store:
U.S. - U.K. - E.U. - Worldwide
Mars rover poster
This new poster features some of the best pictures from NASA's amazing Mars Exploration Rovers Spirit and Opportunity.

Choose your store:
U.S.
Apollo 11 special patch
Special collectors' patch marking the 35th anniversary of the historic Apollo 11 moon landing is now available.

Choose your store:
U.S. - U.K. - E.U. - Worldwide
Inside Apollo mission control
An insider's view of how Apollo flight controllers operated and just what they faced when events were crucial.

Choose your store:
U.S.
The ultimate Apollo 11 DVD
This exceptional chronicle of the historic Apollo 11 lunar landing mission features new digital transfers of film and television coverage unmatched by any other.

Choose your store:
U.S. - U.K. - E.U. - Worldwide
Next ISS crew
Own a little piece of history with this official patch for the International Space Station's Expedition 11 crew. We'll ship yours today!

Choose your store:
U.S.
Columbia Report
The official accident investigation report into the loss of the space shuttle Columbia and its crew of seven. Includes CD-ROM.

Choose your store:
U.S.
John Glenn Mission Patch
Free shipping to U.S. addresses!

The historic first orbital flight by an American is marked by this commemorative patch for John Glenn and Friendship 7.

U.S. STORE
WORLDWIDE STORE
Final Shuttle Mission Patch
Free shipping to U.S. addresses!

The crew emblem for the final space shuttle mission is available in our store. Get this piece of history!

U.S. STORE
WORLDWIDE STORE
Celebrate the shuttle program
Free shipping to U.S. addresses!

This special commemorative patch marks the retirement of NASA's Space Shuttle Program. Available in our store!

U.S. STORE
WORLDWIDE STORE
Anniversary Shuttle Patch
Free shipping to U.S. addresses!
This embroidered patch commemorates the 30th anniversary of the Space Shuttle Program. The design features the space shuttle Columbia's historic maiden flight of April 12, 1981.

U.S. STORE
WORLDWIDE STORE
Mercury anniversary
Free shipping to U.S. addresses!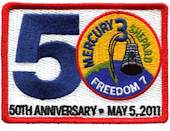 Celebrate the 50th anniversary of Alan Shephard's historic Mercury mission with this collectors' item, the official commemorative embroidered patch.

U.S. STORE
WORLDWIDE STORE
Fallen Heroes Patch Collection

The official patches from Apollo 1, the shuttle Challenger and Columbia crews are available in the store.

U.S. STORE
WORLDWIDE STORE
Hubble Posters
Stunning posters featuring images from the Hubble Space Telescope and world-renowned astrophotographer David Malin are now available from the Astronomy Now Store.

U.S. STORE
U.K. & WORLDWIDE STORE