Researchers: Mars' features not eroded by running water
AMERICAN GEOPHYSICAL UNION NEWS RELEASE
Posted: March 13, 2002


Scientists have provided new evidence that liquid carbon dioxide, not running water, may have been the primary cause of erosional features such as gullies, valley networks, and channels that cover the surface of Mars. Research suggesting that condensed carbon dioxide found in Martian crust carved these features is reported by Kenneth L. Tanaka and colleagues at the U.S. Geological Survey in Flagstaff, Arizona, and the University of Melbourne, Australia, will appear this month in Geophysical Research Letters, published by the American Geophysical Union.

Using Mars Orbiter Laser Altimeter (MOLA) data, Tanaka and his colleagues constructed elevation profiles of the Hellas basin, which, at 2000 kilometers [1,240 miles] wide and nine kilometers [six miles] deep, is the largest well-preserved impact basin on Mars. By examination of digitally created elevation profiles with 500-meter [2,000 foot] resolution, they found that the volcanic regions of Malea and Hesperia Plana, along the rim of the Hellas basin, are several hundred meters [yards] lower than adjacent rim sectors. Additionally, these areas lack the prominent triangular peaks, called massifs, that are common in nearby areas.

Along the inner slopes of these regions, the researchers found, however, evidence of old massifs covered by volcanic rocks. They are too low to be covered, if there were volcanic activity today. The researchers suggest as an explanation that prior to volcanic activity, these regions along the rim of the basin resembled nearby areas, but were eroded to their present-day elevations following the emplacement of the volcanic rocks.

Tanaka and his colleagues propose a "magmatic erosion model" to explain the features of the volcanic areas of Malea and Hesperia Plana, suggesting that they underwent catastrophic erosion associated with explosive eruptions of molten rock. They suggest that liquid in the Martian crust was heated when molten rock, or magma, rose to the surface. As the liquid was heated, it expanded, until the pressure of overlying material was too great, and an explosive eruption occurred, shattering overlying rock, and causing it to move with the magma in an erosive debris flow.

The authors believe that the fluid in the crust along this area of the rim of the Hellas basin was mainly liquid carbon dioxide. A debris flow dominated by carbon dioxide would flow faster and farther than a water-based flow, they say. Also, carbon dioxide is more volatile than water at lower temperatures, and the cold temperatures found on Mars would mean that less carbon dioxide- based magma would be required to produce the observed erosion than magma containing mainly water.

The researchers suggest that this mechanism of erosion can also explain collapse features and channels elsewhere on Mars. They also note, however, that their model is based on a variety of assumptions that must be further tested.

The paper by Kenneth L. Tanaka, Jeffrey S. Kargel, David J. MacKinnon, Trent M. Hare [Astrogeology Team, U.S. Geological Survey], and Nick Hoffman [University of Melbourne], "Catastrophic Erosion of Hellas Basin Rim on Mars Induced by Magmatic Instrusion in Volatile-Rich Rocks," will be published online within the next two weeks and later in the print edition of Geophysical Research Letters. Its citation, which is to the online version, is 10.1029/2001GL13885, 2002.
ERROR: Random File Unopenable
The random file, as specified in the $random_file perl variable was unopenable.

The file was not found on your file system. This means that it has either not been created or the path you have specified in $trrandom_file is incorrect.

Apollo 11 special patch

Special collectors' patch marking the 35th anniversary of the historic Apollo 11 moon landing is now available.

Choose your store:
U.S. - U.K. - E.U. - Worldwide

Inside Apollo mission control

An insider's view of how Apollo flight controllers operated and just what they faced when events were crucial.

Choose your store:
U.S.

The ultimate Apollo 11 DVD

This exceptional chronicle of the historic Apollo 11 lunar landing mission features new digital transfers of film and television coverage unmatched by any other.

Choose your store:
U.S. - U.K. - E.U. - Worldwide

Next ISS crew

Own a little piece of history with this official patch for the International Space Station's Expedition 11 crew. We'll ship yours today!

Choose your store:
U.S.

Apollo 12 tribute DVD set


New! Featuring the jovial crew of Pete Conrad, Dick Gordon and Alan Bean, the Apollo 12 mission was struck by lightning shortly after liftoff but proceeded on the second successful exploration voyage to the lunar surface. This three-disc DVD brings the mission to life with extraordinary detail.

Choose your store:
U.S. - U.K. - E.U. - Worldwide

Fallen Heroes special patch

This special 12-inch embroidered patch commemorates the U.S. astronauts who made the ultimate sacrifice, honoring the crews of Apollo 1, Challenger and Columbia.

Choose your store:
U.S. - U.K. - E.U. - Worldwide

Women in Space

Women of Space: Cool Careers on the Final Frontier is for girls, young women, and anyone else interested in learning about exciting careers in space exploration. Includes CD-ROM.

Choose your store:
U.S. - U.K. - E.U. - Worldwide

Mars rover poster

This new poster features some of the best pictures from NASA's amazing Mars Exploration Rovers Spirit and Opportunity.

Choose your store:
U.S.

Apollo patches

The Apollo Patch Collection: Includes all 12 Apollo mission patches plus the Apollo Program Patch. Save over 20% off the Individual price.

Choose your store:
U.S. - U.K. - E.U. - Worldwide

John Glenn Mission Patch


Free shipping to U.S. addresses!


The historic first orbital flight by an American is marked by this commemorative patch for John Glenn and Friendship 7.

U.S. STORE

WORLDWIDE STORE


Final Shuttle Mission Patch


Free shipping to U.S. addresses!


The crew emblem for the final space shuttle mission is available in our store. Get this piece of history!

U.S. STORE

WORLDWIDE STORE


Celebrate the shuttle program


Free shipping to U.S. addresses!


This special commemorative patch marks the retirement of NASA's Space Shuttle Program. Available in our store!

U.S. STORE

WORLDWIDE STORE


Anniversary Shuttle Patch


Free shipping to U.S. addresses!

This embroidered patch commemorates the 30th anniversary of the Space Shuttle Program. The design features the space shuttle Columbia's historic maiden flight of April 12, 1981.

U.S. STORE

WORLDWIDE STORE


Mercury anniversary


Free shipping to U.S. addresses!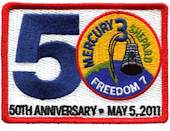 Celebrate the 50th anniversary of Alan Shephard's historic Mercury mission with this collectors' item, the official commemorative embroidered patch.

U.S. STORE

WORLDWIDE STORE


Fallen Heroes Patch Collection


The official patches from Apollo 1, the shuttle Challenger and Columbia crews are available in the store.

U.S. STORE

WORLDWIDE STORE