NewsAlert





Sign up for our NewsAlert service and have the latest space news e-mailed direct to your desktop.


Privacy note: your e-mail address will not be used for any other purpose.





Odyssey nudged into position to hear Curiosity's landing
BY JUSTIN RAY
SPACEFLIGHT NOW
Posted: July 24, 2012

After fears of losing the ability to hear in real-time whether the Curiosity rover lands successfully on the Red Planet next weekend, NASA Tuesday maneuvered its decade-old Mars Odyssey orbiter into position to relay the touchdown news as it happens.

An artist's concept of Mars Odyssey. Credit: NASA/JPL



Earth will set below the Martian horizon as the $2.5 billion spacecraft descends toward the floor of Gale Crater next Sunday night, preventing a direct line of communications back to Mission Control during the landing.

The solution was using Odyssey to receive UHF transmissions from Curiosity and to beam that information back to Earth. But that primary plan looked to be in doubt when the orbiter suffered a technical problem and entered a "safe mode" July 11.

"Odyssey lost a reaction wheel a few weeks ago," Doug McCuistion, director of the Mars Exploration Program at NASA headquarters, told reporters in a recent news briefing. "That was totally unexpected. Reaction wheels are utilized to help manage spacecraft attitude and momentum in space."

To be clear, he said, "it won't have any impact on (the rover's) landing. It's all a communications issue."

Only Odyssey, circling Mars since 2001, can relay near-real-time telemetry from the rover back to Earth. NASA's Mars Reconnaissance Orbiter will record data from atmospheric entry until a few minutes after touchdown, but the satellite must record the data and play back the transmissions a few hours later, creating the potential for not knowing the landing's outcome for an extended period.

But, after the handwringing, NASA announced Tuesday that Odyssey had been restored to normal operations and executed a six-second thruster firing that resulted in boosting the orbiter about six minutes ahead in its orbit to achieve the proper landing geometry.

"Information we are receiving indicates the maneuver has been completed as planned," said Gaylon McSmith, Mars Odyssey project manager at NASA's Jet Propulsion Laboratory. "Odyssey has been working at Mars longer than any other spacecraft, so it is appropriate that it has a special role in supporting the newest arrival."

Confirmation of landing should be received on Earth at 1:31 a.m. EDT (0531 GMT) Aug. 6, as originally intended.
John Glenn Mission Patch
Free shipping to U.S. addresses!

The historic first orbital flight by an American is marked by this commemorative patch for John Glenn and Friendship 7.

U.S. STORE
WORLDWIDE STORE
Final Shuttle Mission Patch
Free shipping to U.S. addresses!

The crew emblem for the final space shuttle mission is available in our store. Get this piece of history!

U.S. STORE
WORLDWIDE STORE
Celebrate the shuttle program
Free shipping to U.S. addresses!

This special commemorative patch marks the retirement of NASA's Space Shuttle Program. Available in our store!

U.S. STORE
WORLDWIDE STORE
Anniversary Shuttle Patch
Free shipping to U.S. addresses!
This embroidered patch commemorates the 30th anniversary of the Space Shuttle Program. The design features the space shuttle Columbia's historic maiden flight of April 12, 1981.

U.S. STORE
WORLDWIDE STORE
Mercury anniversary
Free shipping to U.S. addresses!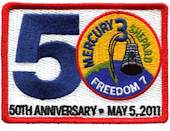 Celebrate the 50th anniversary of Alan Shephard's historic Mercury mission with this collectors' item, the official commemorative embroidered patch.

U.S. STORE
WORLDWIDE STORE
Fallen Heroes Patch Collection

The official patches from Apollo 1, the shuttle Challenger and Columbia crews are available in the store.

U.S. STORE
WORLDWIDE STORE