International interplanetary networking succeeds
NASA/ESA NEWS RELEASE
Posted: February 12, 2004


A pioneering demonstration of communications between NASA's Mars Exploration Rover Spirit and the European Space Agency (ESA) Mars Express orbiter succeeded.

On February 6, while Mars Express was flying over the area Spirit was examining, the orbiter transferred commands from Earth to the rover and relayed data from the robotic explorer back to Earth.

Mars Express in orbit around the Red Planet. Credit: NASA



"This is the first time we have had an in-orbit communication between ESA and NASA spacecraft, and also the first working international communications network around another planet," said Rudolf Schmidt, ESA's project manager for Mars Express. "Both are significant achievements, two more 'firsts' for Mars Express and the Mars Exploration Rovers."

Jennifer Trosper, Spirit mission manager at NASA's Jet Propulsion Laboratory (JPL), Pasadena, Calif., said, "We have an international interplanetary communications network established at Mars."

ESA and NASA planned this demonstration as part of continuing efforts to cooperate in space and to enable plans to use joint communications assets to support future missions to the surface of Mars.

The commands for the rover were transferred from Spirit's operations team at JPL to ESA's European Space Operations Centre in Darmstadt, Germany, where they were translated into commands for Mars Express.

This artist's concept shows Mars rover sitting on the Red Planet. Credit: NASA/JPL



The translated commands were transmitted to Mars Express, which used them to successfully command Spirit. Spirit used its ultra-high frequency antenna to transmit telemetry information to Mars Express. The orbiter relayed the data back to JPL, via the European Space Operations Centre.

"This is excellent news," said JPL's Richard Horttor, project manager for NASA's role in Mars Express. "The communication sessions between Mars Express and Spirit were pristine. Not a single bit of data was missing or added, and there were no duplications."

This exercise demonstrated the increased flexibility and capabilities of interagency cooperation and highlighted the spirit of close support essential in undertaking international space exploration.

Spirit and its twin Mars Exploration Rover, Opportunity, frequently use two NASA orbiters, Mars Odyssey and Mars Global Surveyor, for relaying communications. The rovers also can communicate directly with the Earth-based antennas of NASA's Deep Space Network in California, Spain and Australia, another layer of international cooperation.

JPL, a division of the California Institute of Technology in Pasadena, manages the Mars Exploration Rover Project and NASA participation in Mars Express for NASA's Office of Space Science, Washington.
Status quicklook
NASA has approved an extended mission for the Mars Exploration Rovers, handing them up to five months of overtime assignments as they finish their three-month prime mission.


Check the status center for complete coverage.

Apollo 12 tribute DVD set

New! Featuring the jovial crew of Pete Conrad, Dick Gordon and Alan Bean, the Apollo 12 mission was struck by lightning shortly after liftoff but proceeded on the second successful exploration voyage to the lunar surface. This three-disc DVD brings the mission to life with extraordinary detail.

Choose your store:
U.S. - U.K. - E.U. - Worldwide
Fallen Heroes special patch
This special 12-inch embroidered patch commemorates the U.S. astronauts who made the ultimate sacrifice, honoring the crews of Apollo 1, Challenger and Columbia.

Choose your store:
U.S. - U.K. - E.U. - Worldwide
Women in Space
Women of Space: Cool Careers on the Final Frontier is for girls, young women, and anyone else interested in learning about exciting careers in space exploration. Includes CD-ROM.

Choose your store:
U.S. - U.K. - E.U. - Worldwide
Mars rover poster
This new poster features some of the best pictures from NASA's amazing Mars Exploration Rovers Spirit and Opportunity.

Choose your store:
U.S.
Columbia Report
The official accident investigation report into the loss of the space shuttle Columbia and its crew of seven. Includes CD-ROM.

Choose your store:
U.S.
John Glenn Mission Patch
Free shipping to U.S. addresses!

The historic first orbital flight by an American is marked by this commemorative patch for John Glenn and Friendship 7.

U.S. STORE
WORLDWIDE STORE
Final Shuttle Mission Patch
Free shipping to U.S. addresses!

The crew emblem for the final space shuttle mission is available in our store. Get this piece of history!

U.S. STORE
WORLDWIDE STORE
Celebrate the shuttle program
Free shipping to U.S. addresses!

This special commemorative patch marks the retirement of NASA's Space Shuttle Program. Available in our store!

U.S. STORE
WORLDWIDE STORE
Anniversary Shuttle Patch
Free shipping to U.S. addresses!
This embroidered patch commemorates the 30th anniversary of the Space Shuttle Program. The design features the space shuttle Columbia's historic maiden flight of April 12, 1981.

U.S. STORE
WORLDWIDE STORE
Mercury anniversary
Free shipping to U.S. addresses!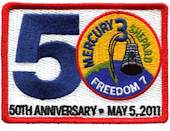 Celebrate the 50th anniversary of Alan Shephard's historic Mercury mission with this collectors' item, the official commemorative embroidered patch.

U.S. STORE
WORLDWIDE STORE
Fallen Heroes Patch Collection

The official patches from Apollo 1, the shuttle Challenger and Columbia crews are available in the store.

U.S. STORE
WORLDWIDE STORE
Apollo Collage

This beautiful one piece set features the Apollo program emblem surrounded by the individual mission logos.

U.S. STORE
WORLDWIDE STORE

Get e-mail updates
Sign up for our NewsAlert service and have the latest news in astronomy and space e-mailed direct to your desktop (privacy note: your e-mail address will not be used for any other purpose).