Dragon return cargo
SPACEFLIGHT NOW
Posted: February 21, 2013


NOTE: On its first operational resupply flight to the International Space Station, the Dragon spacecraft will launch with 1,268 pounds of crew supplies, experiments and spare parts. The capsule will return to Earth with approximately 2,668 pounds of equipment from the space station.
Return Cargo
2,668 pounds (3,020 pounds w/ packaging)
Crew supplies (210 pounds)

Crew preference items


Crew provisions


Empty food containers



Utilization payloads (1,455 pounds for NASA, ESA, JAXA, CSA)

GLACIER - General Laboratory Active Cryogenic ISS Experiment Refrigerator, ultra-cold freezers that will store samples at temperatures as low as - 301 degrees F (-160 degrees C).


Double Cold Bags - Five bags used to refrigerate samples for transport.


HRP - Human Research Program investigations


BCAT - Binary Colloidal Alloy Test - Over time, a crewmember photographs microscopic particles (colloids) suspended in a liquid. This experiment investigates the competition between crystallization and the separation of solids from liquids. An improved understanding of these processes will lead to more improved manufacturing processes and commercial products.


BRIC - Biological Research in Canisters


CGBA- Commercial Generic Bioprocessing Apparatus


Cell Bio Tech - Cell culture experiments and biotechnology will be studied in an incubator on ISS to examine the cell and molecular biology function and response in a spaceflight environment.


Fluids and Combustion Facility supplies


Microgravity Science Glovebox gloves


LEGO model


Energy - Astronaut's Energy Requirements for Long-Term Space Flight (Energy) wil measures changes in energy balance in crew members.


Microflow - Microflow is a miniaturized version of a flow cytometer (a common research or clinical laboratory instrument used for a range of bioanalysis and clinical diagnoses). Microflow could pave the way for a gadget to offer real-time analysis of everything from infections, to stress, blood cells, cancer markers, and could even be used to test food-quality levels here on Earth.


VASCULAR - This is an investigation focusing on the cardiovascular impacts of long-duration spaceflight.


BIOLAB - Pumps for the Biological Experiment Laboratory's life support module


HICARI - Materials science investigation Growth of Homogeneous SiGe Crystals in Microgravity by the TLZ Method (Hicari) aims to verify crystal-growth by traveling liquidous zone method, and to produce high-quality crystals of silicon-germanium (SiGe) semiconductor using the Japanese Experiment Module-Gradient Heating Furnace (JEM-GHF).


Medaka - Medaka (Oryzias latipes) fish serve as a model for researching the impact of microgravity environments on osteoclasts - the cells responsible for the process by which bone breaks down during remodeling. The space station's aquatic habitat was home to 32 medaka fish launched to the complex in October.


MIB2 - Message in a Bottle 2 - A small cylinder exposed to the environment of space during a spacewalk. Message in a Bottle is an outreach experiment.


EPO - Education Payload Operations - EPO includes curriculum-based educational activities that will demonstrate basic principles of science, mathematics, technology, engineering and geography. These activities are videotaped and then used in classroom lectures.


SPHERES - Synchronized Position Hold, Engage, Reorient Experimental Satellites - SPHERES are basketball-sized free-flying satellites that have been on the space station since 2006
VCAM - Vehicle Cabin Atmosphere Monitor
Sample collection kit
Stem cells
Hair samples


Surplus ice bricks


EXPRESS rack stowage lockers


PIG



Vehicle hardware (884 pounds)

CHeCS - Crew Health Care System (Tissue Equivalent Proportional Counter; Crank handle; GSCs; Compound Specific Analyzer - Combustion Products; Compound Specific Analyzer - Oxygen; Radiation Area Monitor; IV supply rack; injection medication pack; oral medication pack)


ECLSS - Hydrogen sensor; Urine Filter Hose Assembly; Microbial Check Valve; control panel; pump sep. ORU; Two beds for Carbon Dioxide Removal Assembly; Ion Exchange Bed; Portable Breathing Apparatuses; silver biocide kit; High-Efficiency Particulate Air filters


Electrical Power System - Two UOPs; Two Remote Power Control Modules


TCTT - portable filters; two double cargo transfer bags; CCP and PMM relocation equipment



Russian cargo (35 pounds)

Voltage and current stabilizer

Spacewalk hardware (84 pounds)


Ion filter
Gloves
Wire tie caddy
REBA - Rechargeable EVA Battery Assembly
ECOKs - EMU Crew Options Kits
CCAs - Communications Carrier Assemblies
LCVGs - Liquid Cooling and Ventilation Garments

Data source: NASA

STS-134 Patch
Free shipping to U.S. addresses!

The final planned flight of space shuttle Endeavour is symbolized in the official embroidered crew patch for STS-134. Available in our store!

U.S. STORE
WORLDWIDE STORE
Final Shuttle Mission Patch
Free shipping to U.S. addresses!

The crew emblem for the final space shuttle mission is now available in our store. Get this piece of history!

U.S. STORE
WORLDWIDE STORE
Apollo Collage

This beautiful one piece set features the Apollo program emblem surrounded by the individual mission logos.

U.S. STORE
STS-133 Patch
Free shipping to U.S. addresses!

The final planned flight of space shuttle Discovery is symbolized in the official embroidered crew patch for STS-133. Available in our store!

U.S. STORE
WORLDWIDE STORE
Anniversary Shuttle Patch
Free shipping to U.S. addresses!

This embroidered patch commemorates the 30th anniversary of the Space Shuttle Program. The design features the space shuttle Columbia's historic maiden flight of April 12, 1981.

U.S. STORE
WORLDWIDE STORE
Mercury anniversary
Free shipping to U.S. addresses!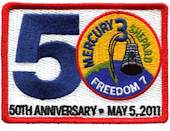 Celebrate the 50th anniversary of Alan Shephard's historic Mercury mission with this collectors' item, the official commemorative embroidered patch.

U.S. STORE
WORLDWIDE STORE