NewsAlert





Sign up for our NewsAlert service and have the latest news in astronomy and space e-mailed direct to your desktop.


Privacy note: your e-mail address will not be used for any other purpose.




Space Launch Complex 17
FACT SHEET

File image of a Delta 2 rockets sitting atop pads 17A and 17B at Cape Canaveral. Photo: U.S. Air Force



Space Launch Complex 17 (SLC-17, pronounced "slick") at Cape Canaveral Air Force Station, Fla., was built by the U.S. Air Force for the Thor intermediate range ballistic missile (IRBM) research and development program. Construction of pads 17A and 17B began in April 1956 and cost $3.5 million per pad. The original site included the two pads and a blockhouse.

The Air Force partially occupied SLC-17B in September 1956 and the pad supported its first Thor launch in January 1957. Pad 17A was engaged in April 1957 and completed its first Thor launch in August 1957.

The Air Force modified SLC-17 for the first time in the early 1960's to support Thor-related launch vehicles. Between January 1960 and December 1965, 35 Delta missions were launched from SLC-17 facilities.

In the spring of 1965, the Air Force transferred SLC-17 and other Thor-related facilities to NASA seeing no further military use for Thor facilities at the Cape. However, following the Challenger accident in January 1986, military and commercial launch services shifted back to expendable launch vehicles. In response, Boeing built a new generation of launch vehicle, Delta 2, to meet the growing military and commercial space launch requirements.

The Air Force eventually transferred all of its new NAVSTAR 2 Global Positioning System (GPS) payloads from the Space Shuttle to Delta 2. Civilian customers also began signing up for launches on Delta 2. Launch Complex 17 was chosen as the launch site for the Delta 2, and transfer of responsibility for SLC-17 from NASA back to the Air Force was completed in October 1988.

SLC-17 underwent major modifications to support the larger Delta 2. Structural changes included the installation of new platforms and a hydraulic lifting system, as well as a liquid hydrogen storage and supply system. A major reconstruction effort raised the complex's mobile service tower 10 feet to accommodate the taller launch vehicle. The Air Force launched the first Delta 2 from Pad 17A in February 1989. Work on Launch Complex 17 continued, and the first commercial Delta mission was launched from Pad 17B in August 1989. Since then, SLC-17 has supported more than 90 commercial, Air Force, and NASA launches.

Boeing developed the Delta 3 with twice the payload of Delta 2. The Delta 2 and Delta 3 shared SLC 17B, and modifications to that pad to accommodate both vehicles were completed in October 1997.

Because the blockhouse on Complex 17 was considered inadequate for Delta 3's heavier launches, the Air Force built a new 39,000-square-foot administrative and launch-operations facility, called the 1st Space Launch Squadron Operation Building (1 SLS OB). The new facility, completed in June 1996, is located two miles south of Complex 17 and houses the new "soft blockhouse" or Launch Control Center (LCC).
John Glenn Mission Patch
Free shipping to U.S. addresses!

The historic first orbital flight by an American is marked by this commemorative patch for John Glenn and Friendship 7.

U.S. STORE
WORLDWIDE STORE
Final Shuttle Mission Patch
Free shipping to U.S. addresses!

The crew emblem for the final space shuttle mission is available in our store. Get this piece of history!

U.S. STORE
WORLDWIDE STORE
Celebrate the shuttle program
Free shipping to U.S. addresses!

This special commemorative patch marks the retirement of NASA's Space Shuttle Program. Available in our store!

U.S. STORE
WORLDWIDE STORE
Anniversary Shuttle Patch
Free shipping to U.S. addresses!
This embroidered patch commemorates the 30th anniversary of the Space Shuttle Program. The design features the space shuttle Columbia's historic maiden flight of April 12, 1981.

U.S. STORE
WORLDWIDE STORE
Mercury anniversary
Free shipping to U.S. addresses!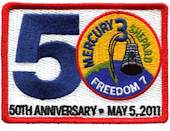 Celebrate the 50th anniversary of Alan Shephard's historic Mercury mission with this collectors' item, the official commemorative embroidered patch.

U.S. STORE
WORLDWIDE STORE
Fallen Heroes Patch Collection

The official patches from Apollo 1, the shuttle Challenger and Columbia crews are available in the store.

U.S. STORE
WORLDWIDE STORE